Puerto Rico ZIP / Postal Codes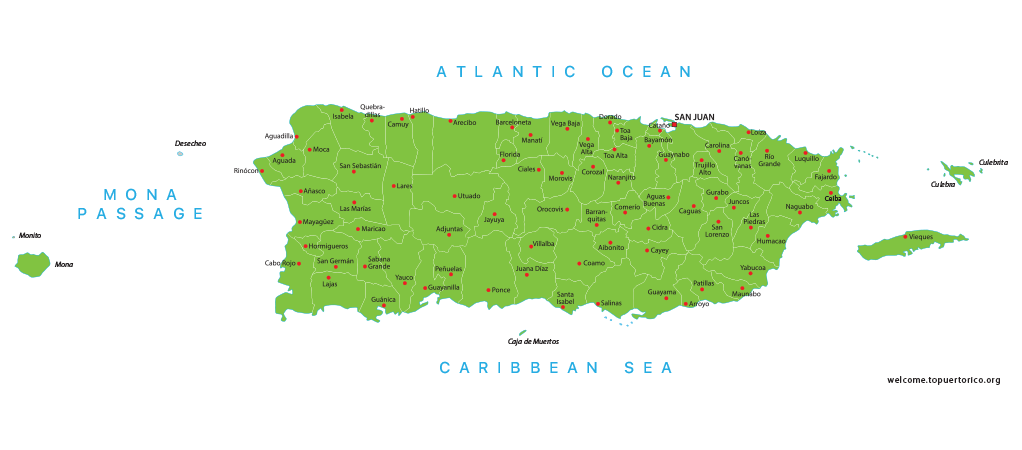 As of August 10, 2017, Puerto Rico has 173 ZIP codes. In 1963 the U.S. Postal Service numbered every American post office with a five-digit ZIP code. The first digit of a five-digit ZIP Code divides the United States into 10 large groups of states numbered from 0 in the Northeast to 9 in the far West - 00601 for Adjuntas, Pueto Rico.
The list includes the postal codes (ZIP codes) and the associated cities, listed in alphabetical order by city. View this list sorted by numerical order.
City/Area
ZIP Code
Adjuntas
00601
P.O. Boxes
00631
Aguada
00602
Aguadilla
00603
Ramey Station
00604
P.O. Boxes
00605
San Antonio
00690
Aguas Buenas
00703
Aibonito
00705
La Plata
00786
Añasco
00610
Angeles
00611
Arecibo
00612
P.O. Boxes
00613
00614

Bajadero
00616
Garrochales
00652
Sabana Hoyos
00688
Arroyo
00714
Barceloneta
00617
Barranquitas
00794
Bayamón
00956
00957
00959
00961

Brach P.O. Boxes
00960
Gardens P.O. Boxes
00958
Cabo Rojo
00623
Boquerón
00622
Caguas
00725
00727

P.O. Boxes
00726
Camuy
00627
Canóvanas
00729
00745

Carolina
00979
00982
00983
00985
00987

P.O. Boxes
00981
00984

Pueblo P.O. Boxes
00986
Plaza P.O. Boxes
00988
Cataño
00962
P.O. Boxes
00963
Cayey
00736
P.O. Boxes
00737
Ceiba
00735
P.O. Boxes
00742
Ciales
00638
Cidra
00739
Coamo
00769
Comerio
00782
Corozal
00783
Culebra
00775
Dorado
00646
Fajardo
00738
Puerto Real
00740
Florida
00650
Guánica
00653
Ensenada
00647
Guayama
00784
Aguirre
00704
P.O. Boxes
00785
Guayanilla
00656
Guaynabo
00965
00966
00968
00969
00971

P.O. Boxes
00970
Gurabo
00778
Hatillo
00659
Hormigueros
00660
Humacao
00791
P.O. Boxes
00792
Punta Santiago
00741
Isabela
00662
Jayuya
00664
Juana Díaz
00795
Juncos
00777
Lajas
00667
Lares
00669
Castañer
00631
Las Marías
00670
Las Piedras
00771
Loíza
00772
Luquillo
00773
Manatí
00674
Maricao
00606
Maunabo
00707
Mayaguez
00680
00682
P.O. Boxes
00681
Moca
00676
Morovis
00687
Naguabo
00718
Rio Blanco
00744
Naranjito
00719
Orocovis
00720
Patillas
00723
Peñuelas
00624
Ponce
00716
00717
00728
00730
00731

Atocha
00733
Coto Laurel
00780
Mercedita
00715
Pámpanos
00732
Playa
00734
Quebradillas
00678
Rincón
00677
Río Grande
00721
00745

Palmer
00721
Sabana Grande
00637
Salinas
00751
San Germán
00683
Rosario
00636
San Juan
00921
65 de Infantería
00923
00924
00929

Barrio Obrero
00915
00916

Caparra Heights
00920

Fernández Juncos
00909
00910

Fort Buchanan
00934
General Post Office
00936
Hato Rey
00917
00919

Loíza Street Station
00911
00912
00913
00914

Minillas Station
00940
Old San Juan
00901
00902

Puerta de Tierra
00906
Río Piedras
00925
00926
00927
00928

San José
00930
Santurce
00907
00908

UPR Station
00931
Veterans Plaza
00933
San Lorenzo
00754
San Sebastián
00685
Santa Isabel
00757
Toa Alta
00953
P.O. Boxes
00954
Toa Baja
00949
Levittown
00950
P.O. Boxes
00951
Sabana Seca
00952
Trujillo Alto
00976
P.O. Boxes
00977
Saint Just
00978
Utuado
00641
Angeles
00611
Vega Alta
00692
Vega Baja
00693
P.O. Boxes
00694
Vieques
00765
Villalba
00766
Yabucoa
00767
Yauco
00698