Fajardo
(fah-HAHR-do)

Fajardo is known as "La Metrópolis del Sol Naciente" (the city that guards the sun of the Caribbean). Fajardo was founded in 1772. It was originally named Santiago de Fajardo.
Fajardo is one of the most originally beautiful spots on the island's shores. Located in the east region of the island, bordering the Atlantic Ocean, north of Ceiba and east of Luquillo. Fajardo is a major boating center, with a wide range of rentals and charters available, with daily and sport-diving excursions as well as scheduled ferries and air service carrying passengers and cargo to Culebra and Vieques. For information call: (787) 863-0705 or (787) 863-0852. Puerto del Rey Marina, home of 750 ships, is the largest in the Caribbean.
Fajardo's perfect beaches are bounded by calm, clear water ideal for snorkeling, Seven Seas Beach, offers plentiful water sports facilities, offshore points for sailing, snorkeling and plenty of scuba diving.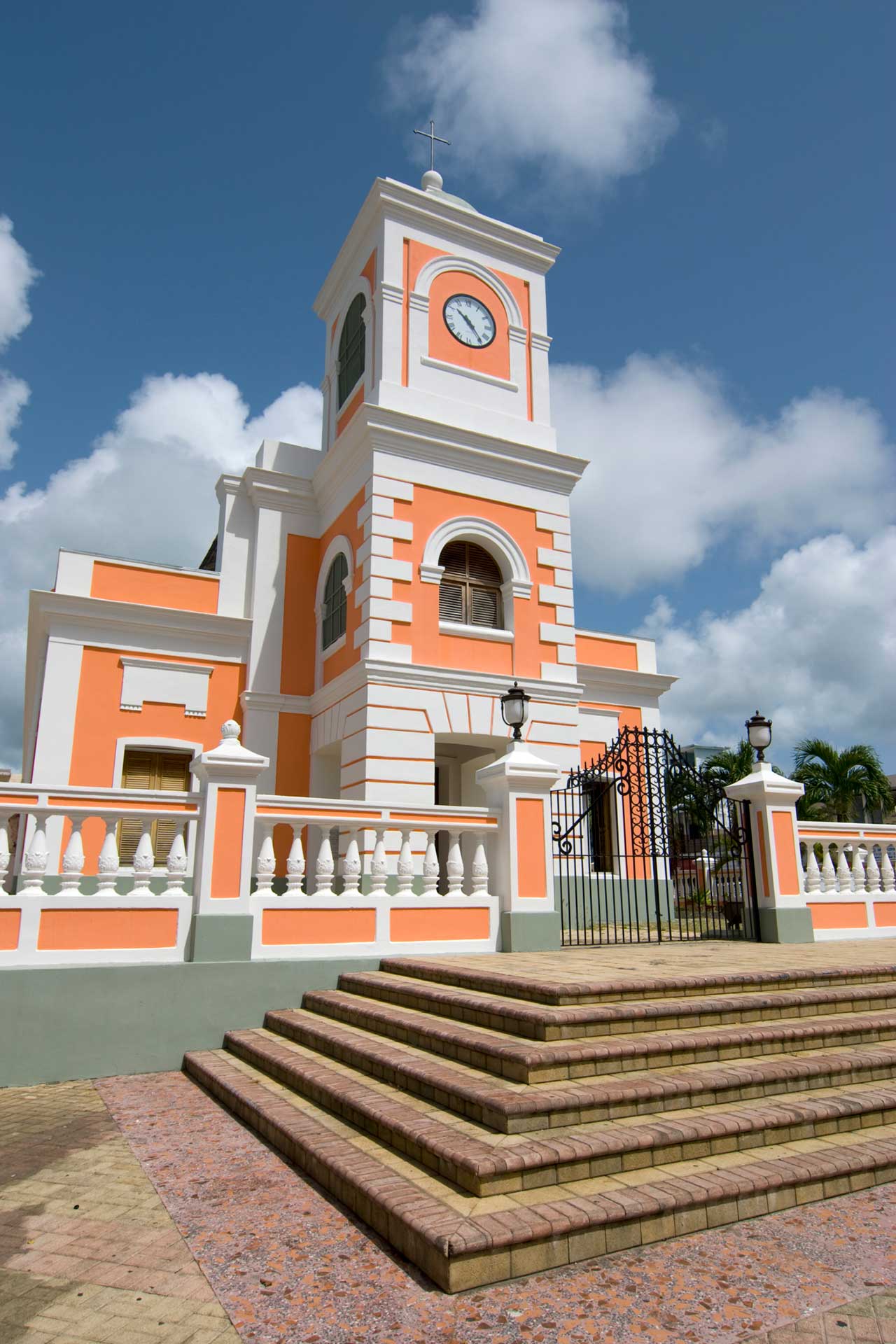 Las Cabezas de San Juan in Fajardo is one of the most important natural areas in Puerto Rico. Las Cabezas, which means "headlands," refer to 3 promontories that extend into the Atlantic Ocean. Impressive representation of seven different ecological systems including coral reefs, beaches, lagoons, mangroves and dry forest within its 316 acres/128 hectares. The preserve is home to many endangered species. A 19th century lighthouse (built in 1880), known as "El Faro de las Cabezas de San Juan", beautifully restored by the Conservation Trust, caps on of these. The lighthouse has an information center and observation deck, from which you can have a breathtaking view of El Yunque. Open Fri-Sun. Reservations are required for all visitors. For information call: (787) 722-5882 or (787) 860-2560.
Off shore near Fajardo few islets can be found: Icacos, Palominos, Palominitos and Diablo, uninhabited coral islands.
Economy
Principal manufactures of the area include cigars, furniture, metal and electronic components.
Notable People
There are many well-known "fajardeños", among them: politician Antonio R. Barcelo.
Things to See and Do In Fajardo
Want to know what to see and do in Fajardo? Discover few ideas for exploring and enjoying the city.
Festivals and Events
Festival Cocolia - November

Festival de Bomba y Plena - May

Festival de Chiringas - April

Fiestas del Paraiso - August

Fiestas Patronales de Santiago Apostol - July
Every year, Fajardo celebrates a patron saint festival. The festivities include dances, food, parades and religious processions. (787) 863-4013
La Bicicletada Fajardena - April

Regata de Veleros Copa Kelly - April

Symbols
Anthem: Fajardo que aquí en el oriente...
Education
There are 15 public schools in Fajardo, education is handled by the Puerto Rico Department of Education. Fajardo is also home of 2 colleges and universities.
Geography
Fajardo is made up of 17 barrios (wards/districts):
Cabezas
Demajagua
Florencio
Naranjo
Quebrada Fajardo
Quebrada Vueltas
Pueblo
Río Arriba
Climate
Other Resources
Demographics *
36,993
Population
35,034 (July 2013 est.)
Land Area: 29.86 sq mi
Density: 1238.9 per sq mi
Median Age: 37.4
Economics *
$7,235
Per capita income (2013)
Puerto Rico: $11,068
Median household income: $21,544
Puerto Rico: $19,624
Persons below poverty line: 41.80 %
Housing, families and educational attainment *
13,922
Number of households
Housing units density: 649.4
Persons per household: 3.16
High school grad or higher: 76.7%
* U.S. Census Bureau 2010 data unless otherwise noted.
Map References
Coordinates: 18.3258° N, 65.6525° W
Zip Code: 00738, 00740
Driving Distance from San Juan: 29.1 miles
Driving Time: 54 minutes