Government of Puerto Rico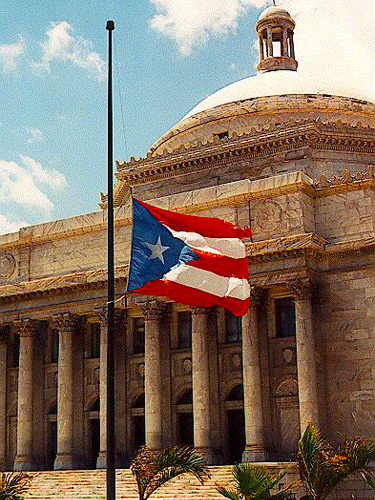 Puerto Rico is a self-governing commonwealth in association with the United States. The chief of state is the President of the United States of America. The head of government is an elected Governor. There are two legislative chambers: the House of Representatives, 51 seats, and the Senate, 27 seats.
Puerto Rico has authority over its internal affairs. United States controls: interstate trade, foreign relations and commerce, customs administration, control of air, land and sea, immigration and emigration, nationality and citizenship, currency, maritime laws, military service, military bases, army, navy and air force, declaration of war, constitutionality of laws, jurisdictions and legal procedures, treaties, radio and television--communications, agriculture, mining and minerals, highways, postal system; Social Security, and other areas generally controlled by the federal government in the United States. Puerto Rican institutions control internal affairs unless U.S. law is involved, as in matters of public health and pollution.
The major differences between Puerto Rico and the 50 states are exemption from some aspects of the Internal Revenue Code, its lack of voting representation in either house of the U.S. Congress (Senate and House of Representatives), the ineligibility of Puerto Ricans residing on the island to vote in presidential elections, and its lack of assignation of some revenues reserved for the states.
As noted, because Puerto Rico is a territory and not a State, Puerto Rico has no representation in the Electoral College, nor have voting representation in Congress like the States. Puerto Ricans cannot vote in general presidential elections unless they establish residency in one of the 50 states. Since 1902, Congress has authorized Puerto Rico to be represented in Washington, DC, by one Resident Commissioner. The Resident Commissioner of Puerto Rico is a non-voting member of the United States House of Representatives and elected by the voters of the U.S. Commonwealth of Puerto Rico every four years.
Executive
The Executive Power is exercised by the Governor, who leads a cabinet conformed by the heads of the commonwealth's executive departments, who in turn must be ratified by the Legislature. The Governor is elected by popular vote for a four-year term (no term limits), which begins on the second day of January after the year of his election and ends on the date his successor takes office.
In the case of the death, resignation, or removal, of the Governor, the Secretary of State of Puerto Rico succeeds the Governor. In case the Secretary of State is unwilling or unable to assume it, the Attorney General (or, as the position is known, the Justice Department Secretary) would assume the governorship, followed by the Secretary of Treasury.
Legislature
The Legislative Power resides in the Senate and in the House of Representatives. The Senate consists of 30 seats statutory, 27 members current, 2 per electoral district (8), and 11 elected according to the different districts proportion of population. Two extra seats are granted in each house to the opposition if necessary to limit any party's control to two thirds.
The House of Representatives consists of 51 members, one per electoral district and 11 elected proportionally. Legislators are popularly elected to four-year terms. The bicameral legislature determines how to spend the island's tax revenue. Unless specifically stated, Puerto Rico is also subject to all laws and most regulations of the U.S. government, which sometimes cause jurisdictional problems. Most U.S. agencies are represented on the island.
Judiciary
The Judicial System is directed by the Supreme Court. The Supreme Court is formed by 8 judges (a chief justice and six associate justices) named by the Governor. The structure of the Judicial System includes a Court of Appeals, Superior Court, a District Court (civil & criminal), and Municipal Court. There are 12 judicial districts.
The Commonwealth of Puerto Rico also has a district court comparable to those of the states of US. Each district court has at least one district judge and can have more than a score of district judges, as well as a clerk, a United States Attorney, a United States Marshall, one or more United States Magistrates, bankruptcy judges, probation officers, court reporters, and their staffs.
The federal government, located in San Juan, is represented by 2 district judges and the procurator, who is named by the President of the United States. The Federal Court has final authority of the ELA.
Capital
San Juan is the capital of Puerto Rico and the most populous municipality in Puerto Rico, with a population of two million. The city was founded in 1508, by Juan Ponce de León. It is also Puerto Rico's main port of entry and has one of the best harbors in the Caribbean. San Juan is located on the north east of the island.
Administrative Divisions
None (Commonwealth associated with the U.S.); there are no first-order administrative divisions as defined by the U.S. Government, but Puerto Rico is divided into 78 "municipios" (municipalities). Each is governed by a popularly elected mayor and municipal assembly. The mayor appoints a secretary-auditor and a treasurer. Municipalities are further subdivided into barrios, and those into sectors.
A municipality (municipio) is an administrative local area generally composed of a clearly defined territory and commonly referring to a city, town, or village government. In Puerto Rico, a municipality is a city and the government unit that is the primary legal subdivision; each municipality has an elected mayor. However, the Census Bureau treats the municipio as the statistical equivalent of a county.
Other territories include: Mona (5,517 hectares), Monito (15 hectares), Desecheo (122 hectares), and Caja de Muertos (202 hectares). Numerous other small cays lie offshore of Puerto Rico.
Mona and Monito are located between Puerto Rico and the Dominican Republic. These small islands are considered the Galápagos Islands of the Caribbean Sea. No other reef and offshore island habitat within U.S. jurisdiction possesses such ecological uniqueness, invaluable habitat, and biological diversity within such a reduced surface area. For these reasons, Mona and Monito Islands have been recognized by the Commonwealth of Puerto Rico as a Natural Reserve. The islands are a critical habitat of endangered marine turtles, sea birds and occasional migratory marine mammals.
Major Cities
San Juan, Ponce, Caguas, Mayagüez, Bayamón, Carolina, Arecibo, Guaynabo, Cayey, Aguadilla, and Fajardo.
Metropolitan Area
San Juan, Bayamón, Carolina, Guaynabo, Trujillo Alto and Caguas.
Interesting Fact
On June 4, 1951, Puerto Rican voters approved in a referendum a U.S. law that granted them the right to draft their own constitution. The constituent assembly began its deliberations in the following September. In March 1952 the electorate approved the new constitution, and on July 25 Governor Muñoz proclaimed the Commonwealth of Puerto Rico.
Political Division: 8 senatorial districts, 40 representative districts, 78 municipalities.
The major political parties are: Popular Democratic Party (PPD) 787-725-1992, which supports an enhanced commonwealth status. The New Progressive Party (PNP) 787-721-1992, which supports full U.S. statehood for the island. And the Puerto Rican Independence Party (PIP) 787-782-1455 which supports the independence from the US.
Other parties: Citizens' Victory Movement (MVC), Proyecto Dignidad (PD).
Partido Popular Democratico (PPD) followers are known as "los populares", identified by color red. Partido Nuevo Progresista (PNP) followers are known as "los penepes", identified by color blue. Partido Independentista Puertorriqueño (PIP) follorwers are known as "los pipiolos", identified by color green.
Other political groups are: Armed Forces for National Liberation (FALN); Volunteers of the Puerto Rican Revolution; Boricua Popular Army (also known as the Macheteros); and, Armed Forces of Popular Resistance.


Official Name:
Commonwealth of Puerto Rico
. (Estado Libre Asociado de Puerto Rico).
Original Name:
In 1493, during his second voyage, Christopher Columbus landed in Puerto Rico. He named the island "San Juan Bautista", in honor of John the Baptist. In 1508 the Spanish government appointed Juan Ponce de León the first governor of the island, under this command the original settlement was relocated to a nearby coastal islet and named Puerto Rico (Rich Port). Sometime during the 1520s, confusion over the names led to a switch, the island took the name of Puerto Rico and the town became San Juan.
Digraph: PR/QR
Type: Commonwealth

associated with the US. The island's inhabitants possess all the rights and obligations of United States citizens such as paying Social Security, receiving federal welfare and serving in the armed forces, except for the right to vote in presidential elections and the obligation to pay federal taxes.
The term "United States" when used in a geographical sense on official documents, acts and/or laws; includes the Commonwealth of Puerto Rico, the Virgin Islands, Guam, and American Samoa.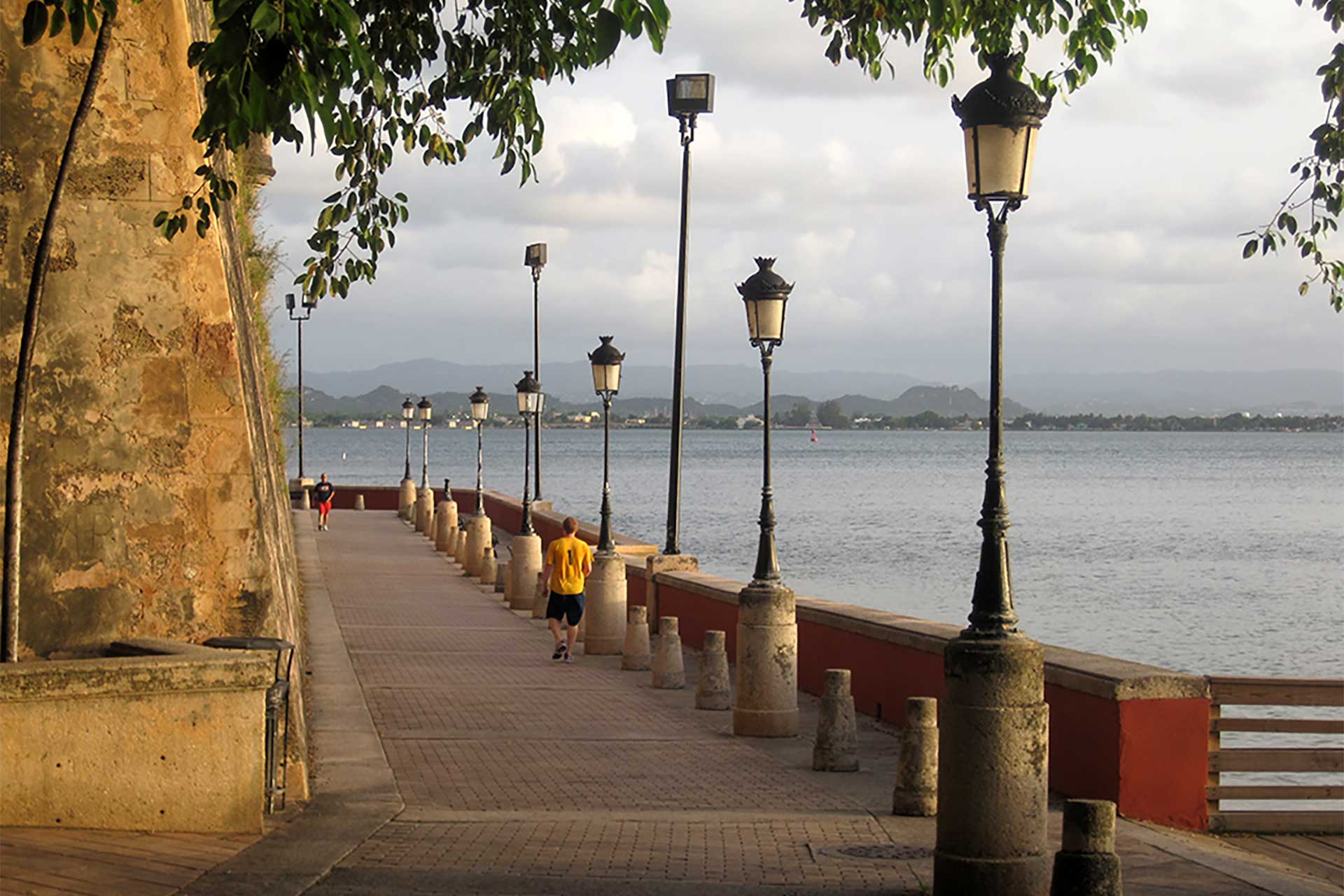 The U.S. has twelve unincorporated territories, also known as possessions, and two commonwealths. The major possessions are American Samoa, Guam, and the U.S. Virgin Islands. All of these have a non-voting representative in the U.S. Congress. The major commonwealths are Puerto Rico and the Northern Marianas. Commonwealths have their own constitutions and greater autonomy than possessions, and Guam is currently in the process of moving from the status of unincorporated territory to commonwealth. The residents of all of these places are full U.S. citizens, with the exception of those on American Samoa who are U.S. nationals, but not citizens.
U.S. Commonwealths, Territories and include: American Samao (AS), Baker Island*, Howland Island*, Guam (GU), Jarvis Island*, Johnston Atoll*, Kingman Reef*, Midway Islands, Navassa Island*, Palmyra Atoll*, Puerto Rico (PR), U.S. Virgin Islands (St. Croix, St. John and St. Thomas) (VI), and Wake Island*.
* Uninhabited
Puerto Rico's political relationship with the U.S. has been a continuing source of debate in Puerto Rico, the United States Congress, and the United Nations. The issue revolves around whether Puerto Rico should remain a U.S. territory, become a U.S. state, or become an independent country. The debate has spawn several referendums, presidential executive orders and bills in the U.S. Congress. Ultimately the U.S. Congress is the only one who can make decisions regarding the political status of Puerto Rico, as stated under the Territorial Clause.
Although Puerto Rico is considered a territory of the United States, the island has its own Olympic team and competes in the Miss Universe pageant as an independent nation.
Chief of State: President of the United States.
Head of Government: Governor, elected by the voters to a four-year term.
Government Officials:
| | |
| --- | --- |
| President | Joseph R. BIDEN Jr. (since 20 January 2021) |
| Vice President | Kamala D. HARRIS (since 20 January 2021) |
| Governor | Pedro Pierluisi |
| Resident Commissioner | Jenniffer González |
| President of the Senate | Jose Luis Dalmau |
| Speaker of the House of Representatives | Rafael "Tatito" Hernandez Montanez |
Government Form: Republican; executive, legislative, and judicial branches.
Ruling Party: New Progressive Party (NPP)
Percentage of votes cast in last election (Governorship): (2020)
| | |
| --- | --- |
| Pedro Pierluisi Urrutia - New Progressive Party (NPP) | 33.24% |
| Carlos Delgado Altieri - Popular Democratic Party (PDP) | 31.6% |
| Alexandra Lugaro Aponte - Citizen's Victory Movement | 13.95% |
| Juan Dalmau Ramon - Puerto Rican Independence Party (PIP) | 13.58% |
| Cesar Vazquez Muniz - Project Dignity | 6.80% |
| Eliezer Molina Perez - Independent | 0.68% |
| Write-in | 0.24% |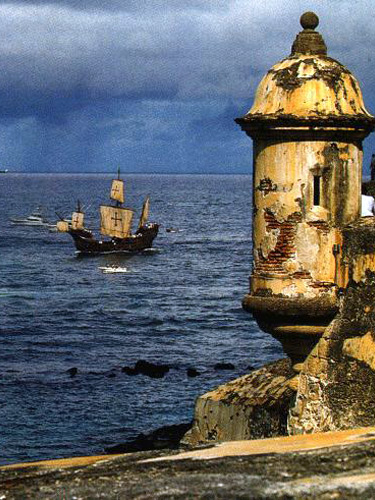 House of Representatives Seats: (51 members)
Popular Democratic Party: 26 Seats
New Progressive Party: 21 Seats
Citizen Victory Movement (MVC) Party: 2 Seats
Puerto Rican Independence (PIP) Party: 1 Seat
Project Dignity (PD) Party: 1 Seat (2020)
Senate: (27 members)
Popular Democratic Party: 12 Seats
New Progressive Party: 10 Seats
Citizen Victory Movement Party: 2 Seats Puerto Rican Independence Party: 1 Seat
Project Dignity Party: 1 Seat
Independent: 1 Seat 2020
Next Elections: November 5, 2024
Constitution: ratified 3 March 1952; approved by U.S. Congress 3 July 1952; effective 25 July 1952.
Suffrage: 18 years of age; universal; Puerto Ricans are U.S. citizens, but island residents do not vote in U.S. presidential elections.
Voter Participation and Registered Voters:
Registered to vote: 2,355,894
Turnout: 55.02% (2020)
Interesting Fact
During election year, automobile caravans are among the activities planned for political mobilization and propaganda. People gather in town squares to show their support for candidates and parade through the cities to encourage others to vote.
Electoral Commission: Comisión Estatal de Elecciones, 787-724-4979.
How to Register to Vote:
Register in person at your local election office. Visit the State Election Commission for more information.
Fiscal Year: 1 July - 30 June
Legal System:
Puerto Rican civil and commercial codes are fashioned after Spanish models; penal, procedural, and public (including constitutional) law are fashioned after U.S. models.
Member of:
CARICOM (observer), ECLAC (associate), FAO (associate), ICFTU, INTERPOL (sub-bureau), IOC, WCL, WFTU, WHO (associate), WTO (associate).
U.S. Diplomatic Representation: none (commonwealth associated with the US).
International disputes: None.
Defense Forces:
The defense of Puerto Rico has been the responsibility of the United States since 1898, as part of the Treaty of Paris.
Military branches:
no regular indigenous military forces; paramilitary National Guard, Police Force
Manpower reaching militarily significant age annually:
male: 30,517
female: 29,010 (2010 est.)
Military Facilities/Bases: There is currently only one active military installation in Puerto Rico (and the Caribbean). Fort Buchanan is a U.S. Army Base located in Guaynabo, about 12 miles south of downtown San Juan, in northern Puerto Rico. The base was established in 1923 in honor of Coronel James A. Buchanan who was the commander of the 1st Puerto Rico U.S. Army unit, commonly known as the Porto Rico Regiment. After defending the Panama Canal Zone in WW I, the regimen was officially designated the 65th Infantry Regument.
Throughout the 20th century Puerto Rico had as many as 25 military installations. Most installations have been deactivated and partially turned over to the local government. The largest installations were: Roosevelt Roads Naval Station in Ceiba (closed on March 21, 2004), the Borinquen Coast Guard Air Station in Aguadilla, the Puerto Rico Air National Guard at Muņiz Air Force base in San Juan, the Atlantic Fleet Weapons Training Facility (AFWTF) in Vieques the U.S. Air Force Ramey Air Force Base, and the National Guard training facility at Camp Santiago in Salinas.
Flag:
Five equal horizontal bands of red (top and bottom) alternating with white; a blue isosceles triangle based on the hoist side bears a large white five-pointed star in the center; design based on the Cuban flag.
In addition, each of the municipalites of Puerto Rico have city flags that represent what each city stands for.
National Holiday: November 19 (The Discovery of Puerto Rico date).
All U.S. government holidays are celebrated in Puerto Rico. Additionally, there are nine local holidays, which usually honor important leaders or events in the island's history. Government offices, banks, the post office and most stores are closed on the official holidays.
National Hymn (Anthem): "La Borinqueña"
The national hymn reflects the character of the people very accurately. The air, "La Borinqueña ", recalls the island's Indian past. It was originally a dance measure. Now in a slower tone, and the orchestration of Ramón Collado, the Puerto Rican anthem has a gracious, melancholic tone, agreeably free of the bombast that often characterizes national anthem.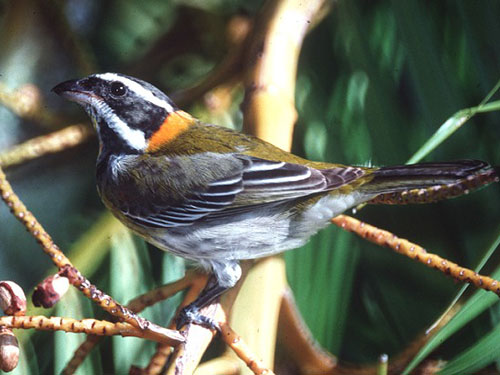 National Bird: Reina Mora
Spindalis portoricensis (formerly called the Stripe-headed Tanager (Spyndalis zena portoricensis))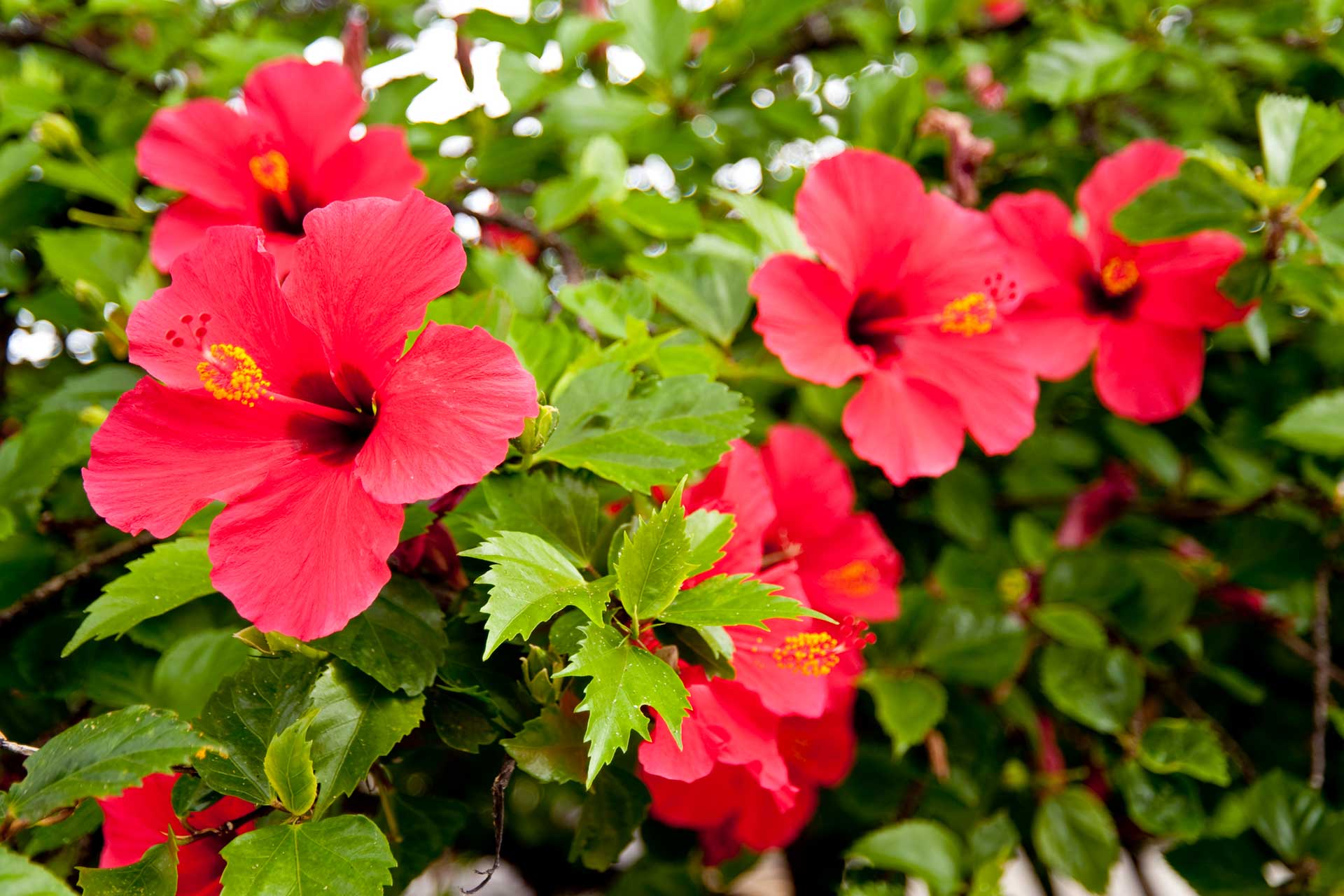 National Flower: Flor de Maga
Puerto Rican hibiscus (Thespesia grandiflora; Maga grandiflora; Montezuma)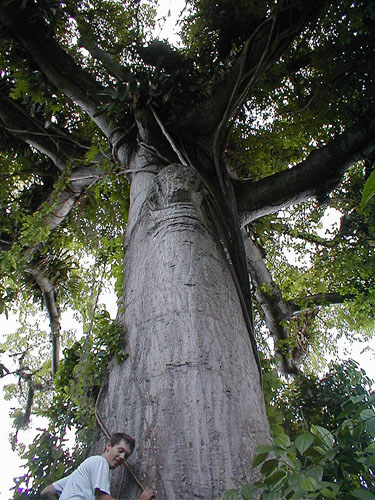 National Tree: Ceiba
Silk-cotton tree (ceiba pentandra)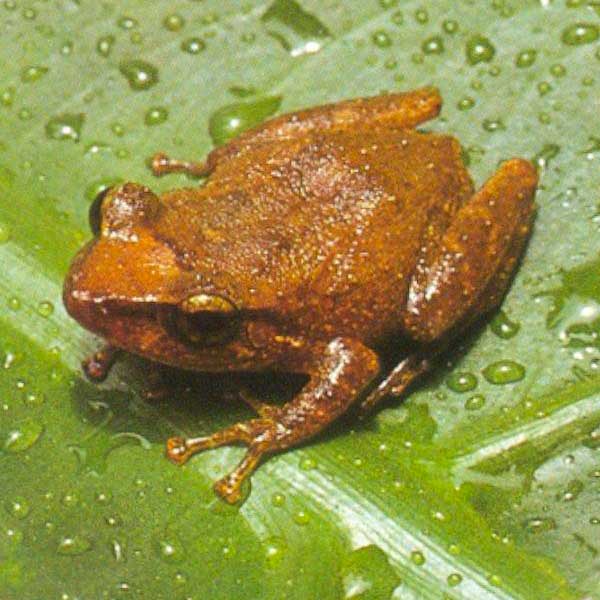 National Symbol:
While the coqui - a tiny frog found everywhere in the island- is only an "unofficial national symbol", its image figures prominently in Puerto Rican culture and heritage.
National Instrument: Puerto Rican Cuatro
The Puerto Rican cuatro is a plucked 10-string instrument with a neck. The word cuatro means "four", which was the total number of strings of the earliest Puerto Rican instrument.
Interesting Fact
When Puerto Ricans want to express their nationality, they say: Soy de aquí como el coquí (I'm as Puerto Rican as a coquí).
Motto: Joannes Est Nomen Eius (John is his name)
Tourism Motto: Puerto Rico lo hace mejor! (Puerto Rico does it better!)
Related Materials
Maps
Other Resources