Ponce, Puerto Rico
(PON-sai)

With a population of 194,636, Ponce is Puerto Rico's second largest city (San juan is the first and Mayaguez is the third). Ponce is commonly known by several names: La Perla del Sur (Pearl of the South), La Ciudad de los Leones (City of Lions), or La Ciudad de las Quenepas (Genip City). Ponce is also known as the "Ciudad Señorial" (Majestic or Noble City), because of its many beautiful neoclassical buildings and facades.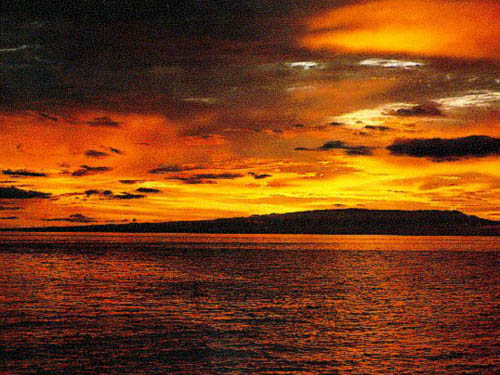 Ponce was founded in 1692 by Juan Ponce de León's great-grandson - Loíza Ponce de León. Ponce was Spain's capital of the southern region until it fell to the U.S. in 1898.
Nearly one half a billion dollars have been spent preserving the colonial core of Ponce. The heart of Ponce dates from the late 17th century and has been declared a national treasure. It consists of plazas and churches and highly decorative colonial homes, some glorious fountains and a unique fire station.
Points of Interest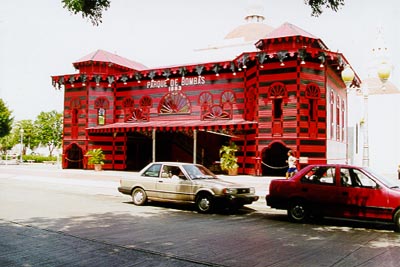 The beautiful downtown Plaza de las Delicias is a worthwhile stop, with lovely fountains, a cathedral and local bench sitting denizens. The unique red and black, century old wooden firehouse, commonly known as Parque de Bombas is a landmark and still in use. Parque de Bombas originally built in 1882 for an exposition and from 1883 to 1989 it served as headquarters of the Ponce Fire Corps. In 1990, the firehouse was reopened as a museum, there are exhibits on the second floor, and the municipal band plays a free concert every Sunday night. Open Wed-Mon 9:30am-6pm, free admission, (787) 284-4141, ext. 342.
Nearby sits Casa Armstrong-Poventud a magnificent example of the neoclassical architectural heritage of the island, its white-domed building on the west side of the main square houses the Puerto Rican Institute of Culture and the Puerto Rican Tourism Company's regional offices. Guided tours are available. Located in front of the town square. Mon-Fri 8am-noon, 1-4:30pm. (Closed, awaiting restoration.)
The Catedral de la Guadalupe was built in 1883, this beautiful church stands in the center of the plaza, surrounded by lovely fountains, bench sitting denizens, and a century old wooden firehouse. Located on the Plaza Degetau. (787) 842-0134
Teatro la Perla was built in the neoclassical style in 1864, remains one of the most visible symbols of the economic prosperity of Ponce during the mid-19th century. Designed by Juan Bertoli, an Italian-born resident of Puerto Rico who studied in Europe, it was destroyed by an earthquake in 1918, and rebuilt in 1940 according to the original plans; it reopened to the public in 1941. Located on Mayor St., (787) 843-4080.
Other interesting buildings around the plaza include Casa Alcaldía (city hall), the oldest colonial building in the city, dating to the 1840s. There is also the Central Mercedita, found in 1870 by Don Jose Ramón de Aponte. In 1938, the facilities packed about 60,000 tons of sugar.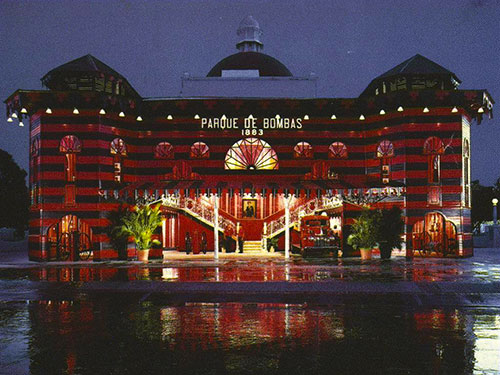 The Museum of Puerto Rican Music traces the rich musical history of the island through memorabilia of famous musicians and displays of Indian, Spanish and African musical instruments. Open Wednesday-Sunday 9 am - noon and 1-5:30 pm, admission $1. Located on 70 Christina St., (787) 844-9722.
The Ponce School of Fine Arts, a 19th-century building, originally served as the Spanish military headquarters and known as El Castillo. It later became the Ponce Jail, but in 1992 it was inaugurated as the Ponce School of Fine Arts.
The Art Museum of Frame Masters features fine arts, paintings, sculptures, canvas reproductions, expert framings, and moldings. Located on 715-A Tito Castro, (787) 848-0307.
The world class Ponce Museum of Art, designed by Edward Durrell Stone (Museum of Modern Art, NY), is the only museum of stature, houses the most extensive art collection in the Caribbean. The museum was donated by a foundation established by Luis A Ferré (Governor 1968-72). The building, with seven interconnected hexagons, glass cupolas and a pair of curved staircases, contains one of the most important pre-Raphaelite collections in the western hemisphere. The museum houses more than 1,000 paintings and 400 sculptures, including the finest collection of European works in the Caribbean, such as works by Velasquez, Van Dyck, Reubens, Rodin, Delacroix and Gainsborough. Many important Puerto Rican pieces are included in the collection, some Inca pottery and even Thai pieces. The museum also offers exhibits by contemporary Puerto Rican artists. Open daily 10am - 5pm. Admission: Adults $4, children $2, (787) 848-0511 or (787) 848-0505.
Casa Paoli located in Ponce houses exhibits on the singer's life as well as a shop displaying colorful papier-mache masks used in Ponce's annual Carnival celebrations. Mon-Fri 10am-noon, 2-5pm, (787) 840-4115.
Today, the House of the Ponce Massacre was build in recognition of one of the bloodiest events in Puerto Rico's political history. On March 21, 1937, a group of Nationalists, who were denied a permit to hold a demonstration, dressed in black shirts and assembled before this building. As they marched to the tune of the Puerto Rican national anthem, a shot was fired--the origin of which was never determined. An exchange of gunfire ensued between the marchers and police. Twenty people were killed and hundreds injured. (787) 284-4141.
La Guancha Paseo Tablado, the boardwalk, is a fun stop where you can loiter with lively local Ponceños-the teen scene, elders and the toddler-mamma set. The pier here is the departure point for a regularly scheduled weekend ferry to Caja de Muertos (Coffin Island or Dead Box Island), a small island of pristine beaches, an old lighthouse (built in 1887) and a marked snorkel trail (under construction). The island is approximately 2.75 km wide by 1.85 km long, with a total area of 202 hectares. The island has no permanent inhabitants. Ferry services: Saturday, Sunday and holidays from 9am and return to 5pm.
For a incredible view of how the mountains meet the sea at Ponce, drive to the summit of El Vigia Hill, where scouts once scanned for attacking ships. Visitors can ascend La Cruceta del Vigia, a 100-foot observation tower, and view of Ponce and Caja de Muertos. Built in 1984, the cross is a memorial to the Spanish garrison established atop of the hill to watch for smugglers' ships attempting to unload contraband on the southern coastline of Puerto Rico back in 1801.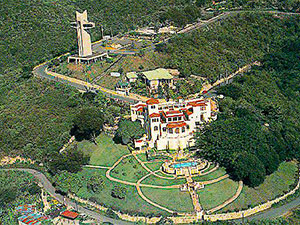 The Castillo Serralles (Serralles Castle) located near to El Vigia Hill, is a lovely landscaped former residence of the most powerful rum-producing families, the Serralles family, producers of Don Q rum. The Serralles Castle is a magnificent example of Spanish Revival architecture, popular in the 1920's; indoor patio with fountains, beautiful formal gardens paralleling the style of the house, well-manicured flame of jungle plants growing in a pattern that matches the ironwork on the house. It was designed by architect Pedro de Castro and was completed in the early 1930's. Today stands as museum dedicated to the history of the sugar and rum industries. Open Tue-Thr 9:30am-5pm; Fri-Sun 9:30am-5:30pm. Closed on Mondays. Free transportation from Plaza Las Delicias de Ponce via trolley. Admission $5 adults, $2.50 seniors, $2.50 children under 16. Call for group reservations, (787) 259-1774.
Nearby is the Tibes Indian Ceremonial Center discovered in 1975 after hurricane rains uncovered pottery and only a small portion has so far been excavated. This site is home of the oldest cemetery uncovered up to date in the Antilles, with 186 skeletons unearthed from A.D. 300. It is also considered the largest and the most important archaeological finds in the West Indies. This archeological discovery affirms that the Igneri Indians (pre-Taino) did not completely disappear without leaving traces of their existence other than samples of ceramic pottery.
At Tibes, there is proof that the Igneris were farmers, fishermen, and hunters of birds and small animals. On April 14, 1978, it was listed in the National Register of Historic Places.
Since April 30, 1982, the site opened its doors to the public. Today, it is a popular a tourist attraction, featuring seven bateyes (ball fields), some carved with petroglyphs, said to have been used for a soccer like game. On one of two dance grounds, stones line up with the sun during the equinox and solstice, making Tibes a pre-Columbian astronomical observatory.
There is a reconstructed Taíno village with thatched roof bamboo huts, a museum, an exhibition hall that presents a documentary about Tibes, a cafeteria, and a souvenir shop. Open Tue-Sun 8:30am-4pm. Admission: Adults $2, children $1, (787) 840-2255.
Built in 1911, the Museo de la Historia de Ponce (Museum of the History of Ponce) and lived in by the Salazar family. Soon after, the musuem opened its doors in 1992 and it was the first museum in Puerto Rico totally devoted to the history of the people of a city, displaying documents, objects and relics related to the historical development of the city. Located at 53 Calle Isabel. Open Wed-Mon, 9am-5pm, admission US $3 for adults, US $1 for children, (787) 844-7071.
The Museo Casa Wiechers-Villaronga a house designed by famous architect Alfredo Wiechers for his own family in the early 20th century, contains the original 1911 furniture and architectural details traditional in Ponce urban homes. Recently restored by the Instituto de Cultura Puertorriquena. Open Wed-Sunday, 8am-4:20pm, (787) 848-7016.
Hacienda Buena Vista Buena Vista Plantation) also known as Hacienda Vives was built in 1833 by Don Salvador de Vives, originally devoted to growing fruits, then converted into a coffee plantation and corn mill in 1845 with continued operation until 1937.
Hacienda Buena Vista was beautifully restored by Puerto Rico Conservation Trust and has been operating as a museum since 1986. All the machinery still in working condition (the metal parts are original) and is operated by water channeled from the 360m Vives waterfall; the hydraulic turbine which turns the corn mill is unique and the only remaining example of the Barker hydraulic turbine. The plantation features a main house, slave quarters, farm buildings, and processing areas providing visitors with a unique insight into Puerto Rican last century history and best remaining example of a Puerto Rican coffee plantation. The rooms of the hacienda have been furnished with authentic pieces from the 1850s.
Located on Rte. 10, Barrio Magũeyes, km 16.8. Open Fri-Sun, 2-hour tours at 8:30am, 10:30am, 13:30am and 15:30am; groups of 20 or more admitted Wed and Thur; US$5 adults, US$2 children under 12. Reservations are required. Weekdays (787) 722-5882, weekends (787) 848-7020.
If you are looking for shopping malls, Plaza del Caribe is the most elegant shopping mall in Ponce. You will find over 100 shops as well as six theaters and a restaurant area to satisfy their entertainment and gastronomic needs. Mon-Sat 9am-9pm; Sun 11am-5pm, (787) 259-8989. The Fox Delicias Mall, located in front of the plaza in Ponce. Restaurants occupy the entire bottom floor, while the many shops and a cafe-theater are on the second story. Mon-Thu 8am-9pm; Fri-Sat 8am-11pm; Sun 8am-9pm, (787) 259-6413. There is also the Centro del Sur Shopping Center houseing about 50 shops. Mon-Thu 9am-6pm; Fri 9am-9pm; Sat 9am-6pm; Sun 10am-5pm, (787) 725-4600.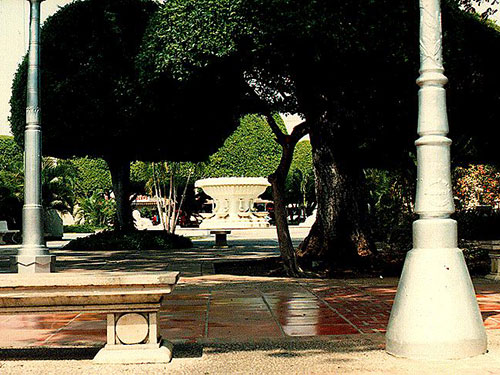 South of Ponce you can find Cardona island, where a 19th century lighthouse still stands.
Economy
Ponce is an important trading and distribution center, and has a port of entry; Playa de Ponce Port is one of the busiest ports in the Caribbean area, handles coffee, tobacco, molasses, rum, and bananas and other tropical fruits. Its principal manufactures include textiles, shoes, cement, paper, electrical devices, and metal products. Industries include tourism, the processing of agricultural products, rum distilling, canning, and diamond cutting.
Geography
Ponce is located in the Southern Coastal Plain region (about 5 km (3 mi) from the south central coast of the island), south of Adjuntas, Utuado and Jayuya; east of Peñuelas; and west of Juana Díaz.
Ponce is made up of 19 barrios (wards/districts):
Anón
Bucaná
Canas
Capitanejo
Cerrillos
Coto Laurel
Guaraguao
Machuelo
Maguelles
Maraguez
Marueño
Monte Llano
Portugués
Pueblo
Quebrada Limón
Real
Sabanetas
San Patricio
Tibes
Vayas
The town is bathed by many rivers including: San Patricio, Cerrillos, Chiquitos, Inabon, Pastillo, Canañas, Bucana, and Portugués.
Climate
Annual precipitation is approximately 36 inches on the coast and 48 inches in the interior and the average temperature is 75°F. Precipitation is the lowest in February, with an average of 1 inch. Most precipitation falls in October, with an average of 6 inches. August is the hottest month of the year.
Notable People
There are many well-known ponceños, among them:
composer and musician Juan Morel Campos
singer Ednita Nazario
former governor and founder of the New Progressive Party of Puerto Rico Luis A. Ferré
tenor Antonio Paoli
founder of Destilerķa Serralles Juan Serrallés
former governor Rafael Hernandez Colón
Juan Rosario Ferré
Symbols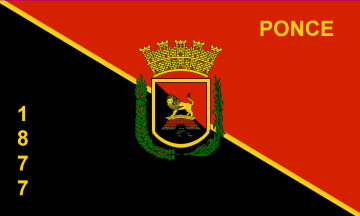 Flag
The flag consist of a rectangular cloth divided by a diagonal line, creating two equal isosceles triangles, starting from the top left hand corner and ending on the lower right hand corner. The top triangle is red; the bottom triangle is black. In the center of the flag sits the shield of the municipality. Under this shield is the number 1877, the year of the founding of the city, and above the shield is the word Ponce.

Coat of Arms
The coat of arms of the municipality is based on the design of the official mayoral seal that was adopted in 1844 under the administration of mayor Salvador de Vives. The coat of arms of Ponce consists of a escutcheon (shield) in the Spanish tradition. This shield has a field with a party per bend division. The division runs from top left to bottom right. The field is read and black, bordered with a fine golden line. In the center of the shield is the figure of an erect lion standing on a bridge. The top of the bridge is a golden, the middle is red bricks, and the base foundation is gray rocks. Under the bridge there are gray wavy lines. Over the shield rests a five-tower golden stone wall with openings in the form of red windows. To the left of the shield is a coffee tree branch with its fruit, and to the right of the shield is a sugar cane stalk. The symbols of the shield are as follows: The field represents the flag of the municipality of Ponce, divided diagonally in the traditional city colors: red and black. The lion over the bridge alludes to the last name of the conqueror and first governor of Puerto Rico, Juan Ponce de Leon. The waves under the bridge allude to the Rio Portugues, on the banks of which the city was born. The coronet in the form of a five-tower mural crown above the shield allude to the Spanish crown, through which the settlement obtained its city charter. The coffee tree branch and the sugar cane stalk represent the main agricultural basis of the economy of the young municipality.
Anthem: Oh, Ponce! En mi corazón...
Restaurants
Acqua Pazza (Italian), (787) 259-7676
Bohio Sport and Pool Bar (American), (787) 259-7676
Cafe Mediterraneo (Puerto Rican), (787) 840-0736
Cafe Tomas (Puerto Rican), (787) 840-1965
Candas (International),
Casa del Rey (Spanish), (787) 290-7740
Cava (International), (787) 844-1200
Chef Creations (International), (787) 848-8384
Chili's Grill & Bar (Ponce) (American), (787) 284-0570
Ciaccios (Puerto Rican), (787) 842-3674
Coche (International), (787) 840-1521
Criollisimo Restaurant (Puerto Rican), (787) 840-0818
Dennys Ponce (American), (787) 259-1750
El Ancla (Puerto Rican), (787) 840-2450
El Bohio Garden Bar (International), (787) 844-1200
El Sabor Restaurant (Puerto Rican), (787) 290-5050
Holiday Inn (International), (787) 844-1200
Il' Olio Pizzeria (Italian), (787) 841-0101
La Bohemia (International), (787) 259-7676
La Cava (Italian), (787) 259-7676
La Montserrate Seaport (Sea Food), (787) 841-2740
La Terraza (International), (787) 259-7676
Lydia's (Sea Food), (787) 844-3933
Mark's at the Melia (International), (787) 284-6275
Pito's Restaurant (Sea Food), (787) 841-4977
Ponce Pizza (Pizza), (787) 259-4671
Restaurante Maria Bonita (Mexican), (787) 813-2444
Sancho's (American), (787) 259-7676
Seasons Restaurant (International), (787) 290-5050
Taino (International), (787) 841-1000
Tanama Restaurant (Spanish), (787) 844-1200
Weekend's Grill & Bar (American), (787) 284-2227
Fax (787) 284-2332
Accommodations
Belgica (Hotel), (787) 844-3255

Complejo Turistico Recreativo El Tuque (Hotel), (787) 290-2000

Fox Delicias Hotel (Hotel), (787) 290-5050

Holiday Inn and El Tropical Casino Ponce (Hotel), (787) 844-1200

Howard Johnson Hotel Ponce (Hotel), 1 (866) 668-4577
(787) 841-1000

Melia Hotel (Small Inn), (787) 842-0260

Ponce Hilton Golf & Casino Resort (Hotel), (787) 259-7676
1-800-HILTONS

Efficiency Apartment (Rental), (561) 684-8635

Festivals and Events
Carnaval Ponceño - February 21, 2020 - February 25, 2020
The annual week-long celebration usually takes place in February, the week before Ash Wednesday, culminating with a fake funeral procession and the Burial of the Sardine.

It is believed that this carnival is one of the oldest celebrations in the western hemisphere, dating back to 1858.

Most of the events occur in the historic downtown of Ponce, at the Plaza Las Delicias and the Casa Alcaldia. Parades takes place every day, featuring musical events, artisans and the famous parades of Vejigantes. The Vejigantes are the stars of the Carnival, originating in centuries-old African, Caribbean, and Spanish customs and traditions. These local folk characters representing good and evil spirits and they wear colorful papier-mache mask and costumes. (787) 840-4141
Festival de Bomba y Plena - November
(787) 840-4141
Festival de Teatro Luis Torres Nadal - February
The Teatro La Perla in Ponce holds an annual theater festival in honor of Luis Torres Nadal. The festival features productions by local theater companies and musicians. Tickets $10-$11. (787) 843-4080
Festival Playa de Ponce - May

Fiestas Patronales de Nuestra Senora de la Guadalupe - December
Every year, Ponce celebrates a patron saint festival. The festivities include dances, food, parades and religious processions. (787) 840-4141
Las Mananitas - December 12
Every year on December 12 at 4 am, a religions procession that starts at Lolita Tizol Street and moves toward the city's Catholic church is led by Mariachis singing traditional Mexican songs including the lead song "Las Mananitas" to honor Our Lady of Guadalupe, the city's patron saint. The procession is followed by a morning mass at 6 am and breakfast. Rides, local cuisine, and parades continue through the weekend at the Plaza Las Delicias. (787) 284-4141
Ponce Crafts Fair - March
Ponce celebrates every year the famous "Feria Artesenal". the celebration includes dance, music, food and exhibits by artisans from several cities of the island. (787) 844-8240
Semana de la Danza - May 10-18, 2020
Ponce celebrates historical-cultural events commemorating the danza, a popular turn-of-the-century ballroom dance. The celebration lasts a week and takes place in mid-May and centers around the danza, a formal, elegant dance form that originated in the city of Ponce. Festivities (held in Teatro La Perla) includes conferences, danza concerts by string quartets, a parade, a danza competition and demonstrations by senior couples who danced danza in their youth, in period dress. (787) 284-4141
Education
There are 77 public schools in Ponce, education is handled by the Puerto Rico Department of Education. Ponce is also home of 14 colleges and universities.
Demographics *
Population
137,491

Puerto Rico: 3,285,874
Land Area: 114.76 sq mi
Density: 1,175.30 per sq mi
Median Age: 43.9
Sex: 52% female
Economics **
Per capita income
$11,680
Puerto Rico: $21,058
Median household income: $17,263
Puerto Rico: $21,058
Persons below poverty line: 51.2%
Housing, families and educational attainment *
Number of households
52,439
Housing units density:
606.7 (2013)
Persons per household: 2.52
High school grad or higher: 77.9%
Marital status: 33% married
* U.S. Census Bureau 2020 data, unless otherwise noted - Source: Quick Facts Puerto Rico.
** U.S. Census Bureau 2016-2020

Map References
Coordinates: 18.0000° N, 66.6167° W
Zip Code: 00715, 00716, 00717, 00728, 00730, 00731, 00732, 00733, 00734, 00780
Driving Distance from San Juan: 76.7 miles
Driving Time: 1 hour, 47 minutes
Other Resources