Getting In and Around Puerto Rico
No matter the time of year, there are several travel options for you to choose from, with international flights, cruises and domestic connections to Puerto Rico. Once you arrive, you'll find it easy to get around on foot, by renting a car or by using the public transportation system. Take your time, relax and enjoy it.
By Air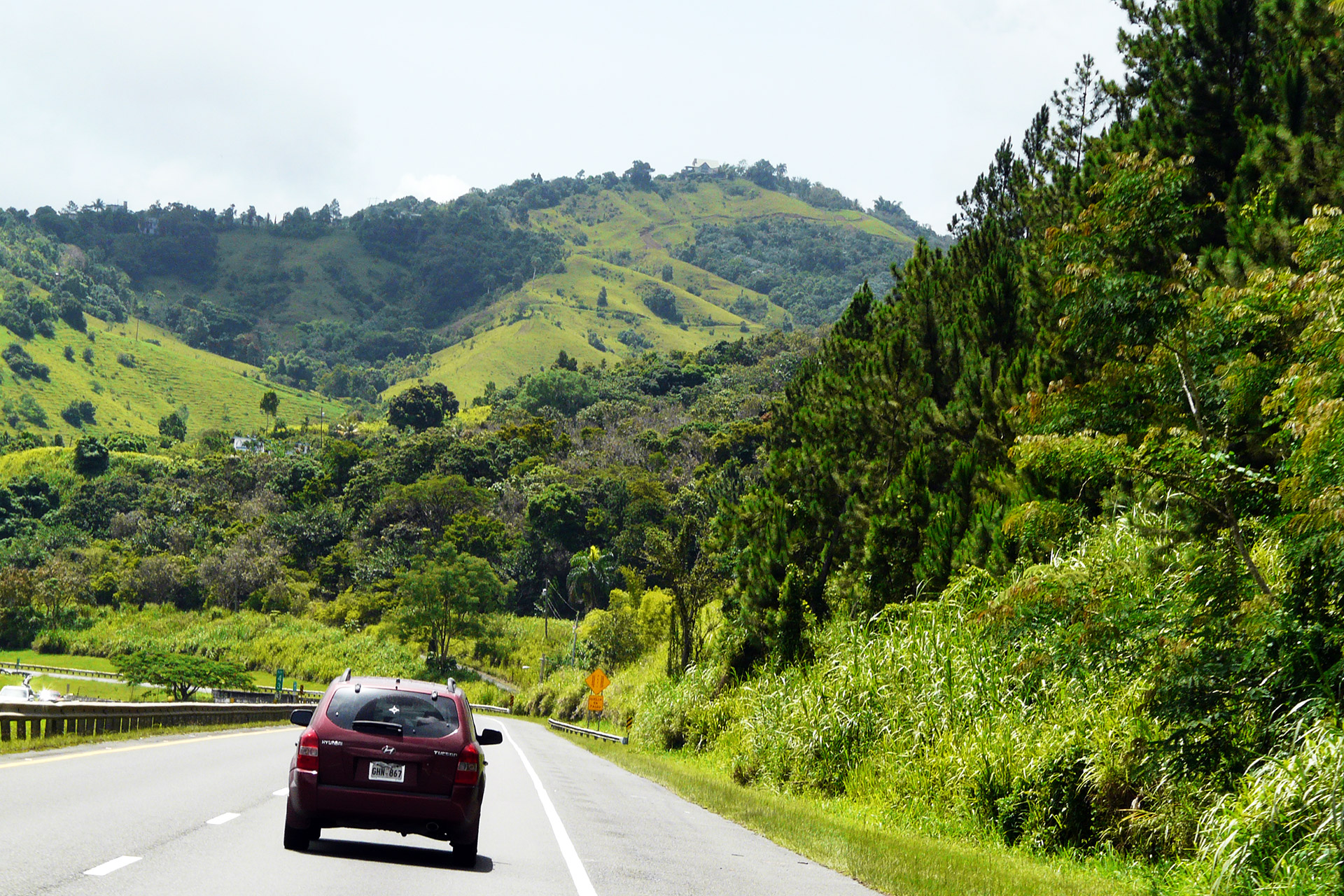 The easiest way to get to Puerto Rico is by plane.
Puerto Rico airports handle domestic, US and international flights to and from the Island on a daily basis. There is a total of 29 airports (23 usable) in Puerto Rico, 10 of them with scheduled flights, including Luis Muñoz Marín International Airport (SJU), which ranks 37th among passenger airports in the U.S., and 26th, out of 250 American airports, in cargo movement. The airport receives over 10 million passengers per year making it the busiest airport in the Caribbean in terms of movement of passengers.
The Luis Muñoz Marín International Airport in San Juan (SJU) is the island's main airport. Conveniently located 14km (9 miles) northeast of San Juan, in the area known as Isla Verde, the airport was, for many decades, known as Isla Verde International Airport, until 1985, when then Governor Rafael Hernández Colón decided to name it after Luis Muñoz Marín, Puerto Rico's first democratically elected governor.
The airport is owned and managed by the Puerto Rico Ports Authority. The airport facilities includes restaurants, bars and fast-food outlets, bank, post office, duty-free shops and car hire.
Ponce's airport is located two miles (3.2km) east of town. Flying time from San Juan is half an hour.
Airlines
San Juan has become the hub for flights from the US and Canada to other Caribbean destinations. Flights to San Juan from major US cities are served by American (1-800-433-7300; www.aa.com), American Eagle, American Trans Air, British Airways, Carnival, Continental (787-890-2990), Copa, Delta (1-800-221-1212; www.delta.com), Flamenco, jetBlue Airways (1-800-538-2583), Hill Aviation, Iberia, KLM, LASCA, LIAT, Mexicana, Northwest, PanAm, Spirit Airlines (787-772-7117), Sunaire Express, Towers Air, TWA, United (1-800-241-6522; www.united.com), US Airways (1-800-428-4322; www.usairways.com), Cape Air (1-800-capeair; www.capeair.com) and Vieques Air-link.
Several local airlines operate services within Puerto Rico, including American Eagle, Flamenco and Vieques Air Link, and they have offices either at the Luis Muñoz Marín International Airport, or the Isla Grande airport. There are 4 daily American Eagle flights between San Juan and Ponce. Flamenco Airways flies to Culebra and St Thomas from Fajardo and San Juan. Some charter or inter-island flights leave from the Isla Grande airport.
Gateways & Flying Times
| From Puerto Rico To | By Air | By Sea |
| --- | --- | --- |
| New York | 3 ½ hours | 2 ½ days |
| Los Angeles | 8 hours | 10 days |
| Miami | 2 ½ hours | 2 days |
| Atlanta | 3 ¼ hours | |
| Washington, DC | 3 ½ hours | |
| Chicago and Dallas | 4 ½ hours | |
| Toronto | 4 ¼ hours | |
| Europe | 8 hours | 14 days |
| Madrid | 7 ¾ hours | |
| Paris | 10 hours | |
| Brussels | 10 ¼ hours | |
| London | 12 hours | |
| Caracas | 2 1/2 hours | |
| Mexico City | 5 3/4 hours | |
| Sao Paolo | 11 hours | |
Estimated travel time to arrive to major cities and other attractions from San Juan.
From
To
Time (hours)
Kilometers/Miles
San Juan
Aguadilla
2
130km/81mi
Camuy Caverns
1 ½
80km/55mi
El Yunque
¾
55km/35mi
Fajardo
¾
54km/34mi
Mayagüez
2 ½
160km/98mi
Ponce
1 ½
112km/70mi
Airports with paved runways
total: 17
over 3,047 m: 2
2,438 to 3,047 m: 1
1,524 to 2,437 m: 2
914 to 1,523 m: 7
under 914 m: 5 (2021)
Airport with total unpaved runways
total: 12
1,524 to 2,437 m: 1
914 to 1,523 m: 1
under 914 m: 10 (2021)
Air transport
passenger arrivals/departures: 9.5 million
air cargo: 835.0 million pounds
ocean cargo: 9.3 million tons (1999)
On Land
Getting around Puerto Rico is easy, you can get around any way you like. There are taxis, car rentals, buses, public transportation and private limousines available throughout the island.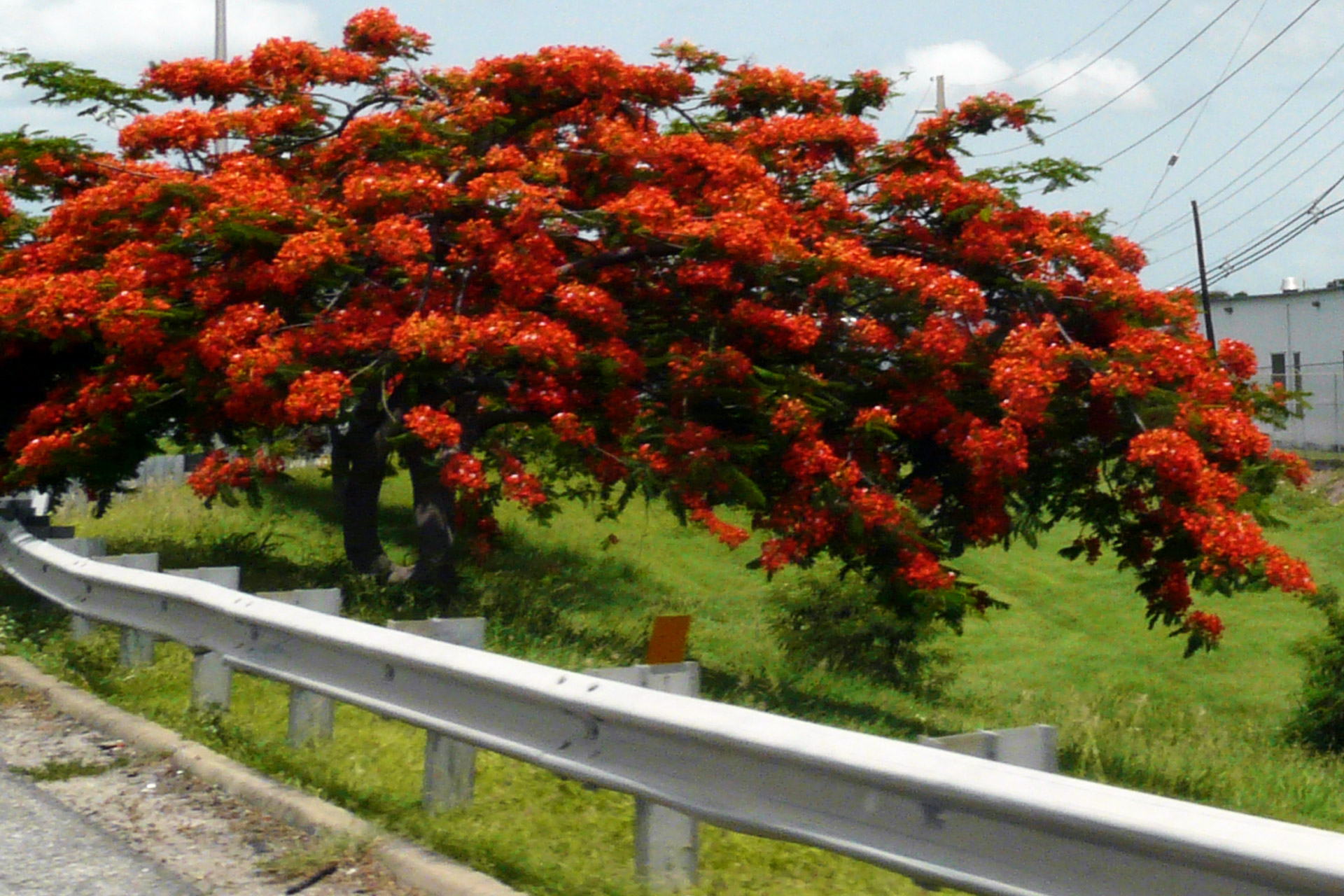 Driving is on the right-hand side of the road. All the same rules as any part of the United States, except that the signs are in Spanish, the distance markers in kilometers and the gas sold in liters.
Public Transportation
The Metropolitan Bus Authority (AMA and Metrobus) operates in the San Juan Metropolitan area, serving eight cities (San Juan, Trujillo Alto, Toa Baja (Levittown), Guaynabo, Cataño, Bayamón, Carolina and Loíza (vía Piñones)). Stops are marked by magenta, orange and white signs which read
Parada
. Buses run between certain hours, usually until 10:00 p.m. For
route, terminals
or schedule information, contact the AMA at (787) 767-7979.
Public transportation between cities is conducted in privately owned buses or mini-vans, called "guaguas". The "guaguas" or "carros publicos" usually stops in each town's main plaza, carrying 10 to 14 people. Públicos are a good way of getting around, but be prepare to wait for the car to fill up, which may take from 10 minutes to few hours, for additional information call (787) 765-7733.
In addition to public transportation some cities provide "Lineas". Lineas are private taxis you share with three to five other passengers. There are more than 20 companies, each usually specializing in a certain region. Most will arrange door-to-door service.
Taxis
The Tourism Taxi Program, recently instituted by the Puerto Rico Tourism Company, has simplified and established a flat-rate structure between the airport and several major tourism zones in the San Juan area. Fixed rates range between $10 and $20 for one-way trips.
To verify rates contact the Puerto Rico Tourism Company (Transportation Division) 787-999-2100 or 1-866-2GOTOPR to verify current tariffs during your traveling dates.
Car Rentals
Agencies are located around the island. Includes: AAA, Afro, Avis, Budget (1-800-527-0700), Charlie, Discount, Dollar (787-791-5500), Enterprise (787-253-3722), Hertz (1-800-654-3131), L & M, Leaseway, National (1-800-227-7368), Popular Leasing, Target, Thrifty, and Vias. Rates might be a little higher than U.S.
Highways

total: 25,328 km
paved: 23,665 km
unpaved: 1,363 km (2004 est.)
Roads
Las Americas Expressway has reduced travel time from San Juan, in the North, to Ponce, in the South, to approximately ninety (90) minutes.

Roadways
total: 26,862 km (includes 454 km of expressways) (2012)
Maps
You can buy maps practically at any store or gas station. Many recommend the Metro Data Map, which contains the most current and accurate map information available. If you are renting a car, the car rental agency may also provide you with a map, usually by request.
If you prefer to study your route before traveling you can purchase or download maps online.
Highway and Road Maps
Source: Mapa de Carreteras by DTOP
Driving in Puerto Rico
Driving
Driving is on the right-hand side of the road. All the same rules as any part of the United States, except that the signs are in Spanish, the distance markers in kilometers and the gas sold in liters.
Driver's License
Valid resident country or international driver's license required.
During the first 120 days since arrival, a non-resident may operate motor vehicles in Puerto Rico if that person possesses a valid, unexpired license issued by any state of the U.S.A. or by any foreign country that imposes requirements similar to Puerto Ricos to grant a driver's license. For longer stays, any person may obtain a Puerto Rico driver's license simply by requesting one and paying the corresponding fees. The license issued by the state or foreign country will not be withheld. A person must be at least eighteen years old to qualify for a driver's license. A person between sixteen and eighteen years old may be issued a license to drive with a legal guardian authorization.
Fuel Stations
There are fuel stations throughout Puerto Rico. Some open 24 hours a day and nearly all supply leaded and unleaded gasoline and diesel. Don't be surprised to find a lot of fuel stations providing both full and self service.
Speed Limits
Highways are 65mph/112kph. Two-lane roads are 55 mph/88kph. Built-up areas are 30 mph/48kph unless otherwise posted.
Drinking and Driving
The penalties for drinking alcohol and driving afterwards are severe and exactly the same for both residents and visitors (legal drinking age of 18).
Seat Belts
It is compulsory to wear seat belts, including the rear seats - if fitted. Very small children and babies must at all times be restrained in an appropriate child seat or carrier.
Vehicles/Automobiles: 3,167,862 (2000)
All vehicles available in Puerto Rico are imported, mainly from the U.S. Due to transportation costs and import taxes, prices may be higher than in the U.S. Taxes apply to both new and used vehicles.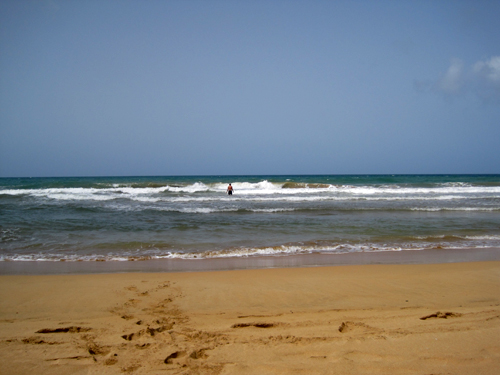 By Sea
The main passenger port is San Juan. The San Juan Harbor is the fourth busiest in the Western Hemisphere, and is ranked among the top 17 of the world's ports in terms of container movement.
There is no regular passenger service to Puerto Rico by sea, but more than a million passengers visit the island on cruise ships every year.
All maritime facilities in Puerto Rico are owned and administered by the Puerto Rico Ports Authority. Facilities include all the ports in San Juan, Guánica, Guayanilla, Guayama, Yabucoa, Mayaguez, Ponce, Arecibo, Fajardo, Vieques and Culebra.
Some of the ships scheduled to cruise operate between Puerto Rico, the rest of the world include: Carnival Cruises (1-800-327-9501; fax 1-305-406-4740; www.carnival.com), Celebrity Cruises (1-800-722-5941 or 1-800-280-3423; www.celebrity.com), Costa Cruises (1-800-462-6782; fax 1-305-358-7325; www.costacruises.com), Cunard Line, Holland America Line, Norwegian Cruise Line, Princess Cruises (1-800-421-0522; fax 310-284-2845; www.princess.com), Radisson Seven Seas Cruises (1-800-285-1835 or 954-776-6123; fax 954-772-3763; www.rssc.com) Royal Caribbean International (1-800-327-6700 or 305-539-6000; fax 800-722-5329; www.royalcaribbean.com), Seabourn Cruise Line, Silver Sea Cruise Line and Windstar Cruises.
Cruise ships and boats may depart from one of several piers located in Old San Juan and Isla Verde.
Piers 1 to 6 are located in the heart of Old San Juan at Marina Street and within walking distance of all the major points of interest. The Pan American Pier is located south of Old San Juan in Isla Grande and further away, because the docks serve larger cruise ships. There are no hotels near the Pan American Pier. The closest hotel is the Caribe Hilton, located approximately 5 minutes away by car.
Pier/Terminal Information:
Pier 1 - A modern two-tiered terminal 770 feet in length. Equipped with pier-side passenger and baggage gangways, elevators, parking and shopping concessions.
Pier 3 - Used for transit cruise ships, mainly used by the Royal Caribbean line.
Pier 4 - A modern terminal at the north shore of the harbor with a total length of 1,196 feet. Managed by Carnival Cruise Lines.
Pier 6 - A marginal wharf with a total length of 1,196 feet.
Frontier Pier - A single berth used for cruise vessels and conventional ocean carriers handling open storage cargo.
Pan American Pier - A modern, two-tiered passenger terminal with a marginal wharf 2,000 feet in length. Managed by Royal Caribbean International.
How to get to the Piers from the Luis Munoz Marin International Airport:
To Piers 1 to 6
Take Baldorioty Avenue (Carr 26). Follow Baldorioty Ave. to San Juan. Turn slight right onto Ponce de Leon Ave (Carr 25). Turn slight left onto Ave Fernandez Juncos which becomes Calle del Muelle. Turn right onto Calle Marina (Carr 1).
Reference Points
Calle Marina, Piers 1-6, Paseo Gilberto Concepcion de Gracia at Calle Brumbaugh, Old San Juan, Puerto Rico 00901
In addition, ferries to Vieques and Culebra are available from Fajardo.
Cataño - San Juan Ferries
Ferries operate daily, every half hour between 6:00am to 9:00pm.


Ponce - Caja de Muertos
Saturday, Sunday and holidays from 9:00am and return to 5:00pm.


Vieques/Culebra Ferries
Weekdays 9:30am, 4:30pm
Weekends and Holiday: 9:00am, 3:00pm, 6:00pm
Merchant Marine
total: 3 ships (1000 GRT or over) 87,789 GRT/50,138 DWT
by type: roll on/roll off 3
foreign-owned: 3 (US 3)
registered in other countries: 1 (St Vincent and the Grenadines 1) (2008)
By Rail
The Tren Urbano (urban train) is a 10.7 mile (17.2 km) metropolitan rapid-transit system which links the central business district to residential and employment areas in San Juan, Bayamón, and Guaynabo. At the present the Tren Urbano is composed of 16 stations, ten of which are elevated, four at grade or in open cuttings, and two underground.
Plans for other phases will extend the system to the Minillas Government Center in Santurce, the municipality of Carolina, Luis Muñoz Marín International Airport in Isla Verde, Old San Juan, and Caguas.
The train runs everyday with from 5:30am to 11:30pm. The one way rate is $1.50, students, Golden age (60 to 74 years of age) and handicaps .75¢ and free rides for passengers 75 years of age or older or 6 years of age and younger. The fare includes a one-way transfer to ride the bus. For information call: 1-866-900-1ATI (1284).
Railways
96 km rural narrow-gauge system for hauling sugar cane (2006)