Fast Facts About Puerto Rico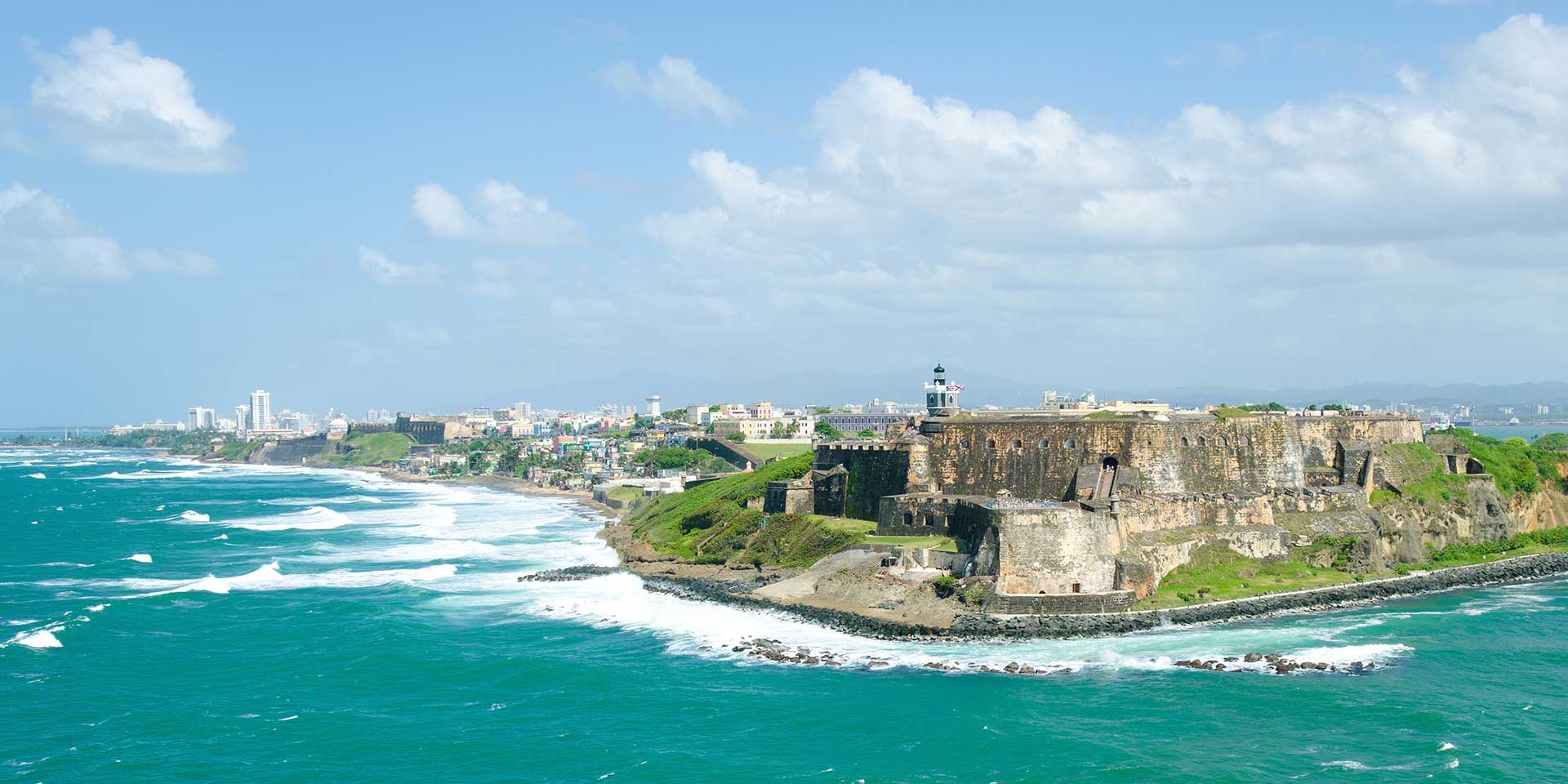 Puerto Rico is the smallest and most eastern of the Greater Antilles Islands which include, Cuba, Hispaniola (Republica Dominicana and Haiti), and Jamaica. Located between the Caribbean Sea and the North Atlantic Ocean.
Puerto Rico is also known as 1) Estado Libre Asociado de Puerto Rico, 2) Porto Rico, 3) San Juan Bautista, 4) Commonwealth of Puerto Rico or 5) Borinquen.
Geography
Location: Caribbean, island between the Caribbean Sea and the North Atlantic Ocean, east of the Dominican Republic.
Geographic coordinates: 18°15'N, 66°30'W
Region: North America
Subregion: Caribbean
Map References: Central America and the Caribbean
Total Area: 9,104 sq km (3,508 sq mi)
Land Area: 8,959 sq km
Comparative area: approximately three times the size of Rhode Island.
Water Area: 145 sq km
Land boundaries: 0 km
Limits: To the west by Haití and the Dominican Republic, separated by the Mona Passage, to the east by the Virgin Islands, to the north by the Atlantic Ocean, and to the south by the Caribbean Sea.
Borders: Puerto Rico is under the U.S. customs jurisdiction. Borders are open between P.R. and the U.S., allowing for free movement of people and merchandise.
Coastline: 501 km
Maritime claims:

Exclusive economic zone: 200 NM
Territorial sea: 12 NM
Elevation:

lowest point: Caribbean Sea 0 m
highest point: Cerro de Punta 1,338 m
mean elevation: 261 m
Climate:
The climate is Tropical Marine with average temperatures year round, near 80 °F (26.7 °C) in lower elevations and 70 °F (21.1 °C) in the mountains.
Time Zone: Atlantic Standard (AST).
Sunrise/Sunset Average: 6:54 am to 6:21 pm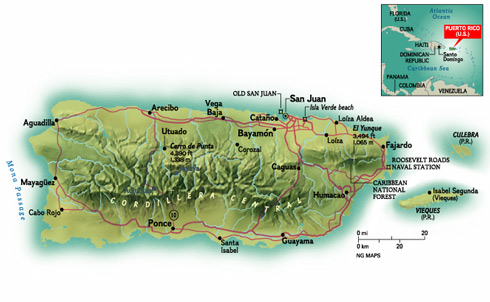 Source: National Georgraphic
---
People
Languages: Spanish and English
Population: 3,057,311 (2023 est.)
Population density: 904 density per sq mi/349 persons per sq km (2021 est.)
Population growth rate: -1.29% (2023 est.)
Age structure:

0-14 years: 12.84% (male 199,933/female 192,690)
15-64 years: 62.98% (male 921,003/female 1,004,395)
65 years and over: 24.18% (2023 est.) (male 317,522/female 421,768)
Median age:

total: 43.6 years
male: 41.6 years
female: 45.3 years (2020 est.)
Sex ratio:

at birth: 1.06 male(s)/female
0-14 years: 1.04 male(s)/female
15-64 years: 0.92 male(s)/female
65 years and over: 0.75 male(s)/female
total population: 0.89 male(s)/female (2023 est.)
Nationality: Noun Puerto Rican(s). Adjective Puerto Rican.
Primary Ethnicity: Hispanic
Ethnic composition: white (mostly Spanish origin) 80.5%, black 8%, Amerindian 0.4%, Asian 0.2%, mixed and other 10.9%.
Literacy Rate:

definition: age 15 and over can read and write
total population: 92.4%
male: 92.4%
female: 92.4% (2017)
Religion:
The Constitution guarantees freedom for all faiths. The major religions are: Catholic (85%), Protestants (8%), non religious (2.3%), and others (3%).
---
History
Taíno Indians who inhabited the territory, called the island Boriken or Borinquen which means: "the great land of the valiant and noble Lord" or "land of the great lords". On November 19, 1493 Christopher Columbus discovered the island in his second voyage to the New World. Originally the newcomers called the island San Juan Bautista, for St. John the Baptist and the town Puerto Rico because of its obvious excellent potentialities. It was not until later that the two names were switched. Thanks in part to the enthusiasm of ambitious Juan Ponce de León, quickly became Spain's most important military outpost in the Caribbean.
On December 10, 1898, the Treaty of Paris is signed, treaty concluding the Spanish-American War. Spain renounced all claim to Cuba, ceded Guam and Puerto Rico and its dependent islets to United States, and transferred sovereignty over the Phillipines to the United States for $20,000,000.
On March 2, 1917, United States granted Puerto Ricans U.S. statutory citizenship.
---
Economy
Puerto Rico has been one of the most dynamic and competitive economies in Latin America and the Caribbean region until recent years, Puerto Rico's economy relies mainly on federal aid from the United State government.
Currency: United States dollar (USD)
Currency Exchange Rate: 1 US dollar equals 0.92 Euro (Apr 2023)
Gross Domestic Product (GDP) - purchasing power parity - $106.5 billion (2021 est.)

GDP per capita: purchasing power parity - $32,600 (2021 est.)
Gross Domestic Product: real growth rate - 0.21% (2021 est.)

Population Below Poverty Level: 43.5% (2019)
According to the US Census Bureau - that's nearly double the poverty rate in Mississippi, the most impoverished of the fifty states.
Inflation Rate (consumer prices): -1.60% (August, 2020)
Taxes: In 2015, Puerto Rico general sales and use rate increased from 7% to 10.5% with an effective total tax rate of 11.5 percent on many transactions when combined with the municipal sales and use tax of 1 percent.
U.S. Federal Income Tax is paid only on income sources from the U.S. Social Security & Medicare are paid as in the U.S. The current tax rate for Social Security is 6.2% for employer and 6.2% for employees. The current rate for Medicare is 1.45% for the employer and 1.45% for the employee. Puerto Rico now has the highest sales tax in America.
Labor Force: 1.136 million of persons 16 years and over (2021 est.)
Unemployment Rate: 8.27% (2021 est.)
Export Commodities: Pharmaceuticals, chemicals, medical equipment & supplies, computers, electronics, electrical equipment, food, machinery. (2020)
Export Partners: US 75.7%, Netherlands 4.2%, Italy 2.9%, Belgium 2.8% and Spain 1.8%. (2019)
Imports Commodities: Pharmaceuticals, chemicals, petroleum products, food, computer and electronic products, motor vehicles, machinery, plastics and rubber products, electrical equipment. (2019)
Imports Partners: US 49.9%, Ireland 12.6%, Singapore 5.1%, South Korea 4.9% and Switzerland 4.0%. (2019)
Tourism:
Number of tourists: 3.07 million (2018)
Receipts from visitors: U.S. $3.28 billion (2018)
Receipts per tourist: $1,070 (2018)
---
Goverment
Puerto Rico is a self-governing commonwealth in association with the United States. The chief of state is the President of the United States of America. The head of government is an elected Governor. There are two legislative chambers: the House of Representatives, 51 seats, and the Senate, 27 seats.
Capital: San Juan
Chief of State: President Joseph R. BIDEN Jr. (since 20 January 2021); Vice President Kamala D. HARRIS (since 20 January 2021)
Head of Government: Governor Pedro Pierluisi
Major political parties are: Popular Democratic Party (PPD), New Progressive Party (PNP) and Puerto Rican Independence Party (PIP).
Digraph: PR/QR
Type: Commonwealth associated with the US.
Constitution: ratified 3 March 1952; approved by U.S. Congress 3 July 1952; effective 25 July 1952.
Administrative divisions: None (Commonwealth associated with the U.S.); there are no first-order administrative divisions as defined by the U.S. Government, but there are 78 municipalities. Municipalities are further subdivided into barrios, and those into sectors. Other territories include: Mona, Monito, Desecheo, and Caja de Muertos.
Political Division: 8 senatorial districts, 40 representative districts, and 78 municipalities.
Voter Participation: 52.8% (2020)
National Holiday: November 19 (The Discovery of Puerto Rico date).

National Hymn (Anthem): "La Borinqueña"

---
Culture
Puerto Rican culture is somewhat complex, - others will call it colorful. Culture is a series of visual manifestations and interactions with the environment that make a region and/or a group of people different from the rest of the world.
Lets consider that the people of Puerto Rico represent a cultural and racial mix. During the early 18-century, the Spaniard in order to populate the country took Taino Indian women as brides. Later on as labor was needed to maintain crops and build roads, African slaves were imported, followed by the importation of Chinese immigrants, then continued with the arrival of Italians, French, German, and even Lebanese people. American expatriates came to the island after 1898. Long after Spain had lost control of Puerto Rico, Spanish immigrants continued to arrive on the island. The most significant new immigrant population arrived in the 1960s, when thousands of Cubans fled from Fidel Castro's Communist state. The latest arrivals to Puerto Rico have come from the economically depressed Dominican Republic.
---
Tourist Information
Most popular city destinations: San Juan, Ponce, Mayagüez, Bayamón, Fajardo, San Germán Cayey, and Caguas.
Customs and Immigration: There are no passports or visas necessary for United States citizens. Citizens of other countries have the same requirements as for entering the USA.
Communications and Internet: Phone cards or calling cards and IDD service are readily available. Long-distance services from AT&T, MCI, and Sprint make calling home relatively convenient and let you avoid hotel surcharges.
Airmail to Western Europe takes up to a week.
The San Juan Star (English-language newspaper), El Vocero de Puerto Rico and El Nuevo Día.
To connect to the Internet visitors must call their service provider in the USA or Europe, and pay the long distance rates, or establish a temporary account with a local service provider.
Health and Medical Facilities: Health standards in Puerto Rico are generally comparable with those of the United States, its medical facilities are among the finest in the Caribbean. There are physicians and hospitals in all cities. "Departamento de Salud" (Department of Health), (787) 766-1616.
Electricity: The electrical current in Puerto Rico is 110 volts/60 cycles, exactly the same as in the continental U.S. and Canada.
Accommodations: Puerto Rico offers a huge variety of lodgings that will appeal to a multiplicity of personalities and pocketbooks.
Casinos: Casinos are located in many hotels around the Island. Proper dressing should be observed by men and women. People under 18 are not allowed.
Courtesy and dress: Light and loose cotton clothing is the best bet year-round for Puerto Rico's warm tropical climate.
Banking hours: 9am to 3:30pm.
Relative Costs:

Budget meal: US $3-15
Moderate restaurant meal: US $15-30
Top-end restaurant meal: US $30 and up
Budget room: US $40-75
Moderate hotel: US $75-200
Top-end hotel: US $200 and up
Transportation: You can get to Puerto Rico by air, or by sea. Once you arrive on the Island, there's a full menu of choices for getting around. You can rent a car or use their public transportation system.
Driving: Driving is on the right-hand side of the road. All the same rules as any part of the United States, except that the signs are in Spanish, the distance markers in kilometers and the gas sold in liters.
Liquor laws: You must be 18 years old to purchase liquor in stores or buy drinks in hotels, bars, and restaurants.
Helplines and Agencies
Emergency Services: 911
Police: (787) 343-2020
Ambulance: (787) 343-2222
Civil Defense: (787) 724-0124
Fire Department: (787) 343-2330
F.B.I: (787) 754-6000
U.S. Secret Service: (787) 766-5539
U.S. Coast Guard: (787) 729-6770