Jayuya, Puerto Rico
(hah-YOO-yah)

Jayuya is known as "La Capital Indigena" (the indigenous capital) because of it many Taino Indian sites. Jayuya was founded in 1883 but made an independent municipality on March 9, 1911. Derives its name from a local Indian Chief Hayuya which means "lugar de guayo" (place of guayo).
Tucked into the rugged northern border of Jayuya you'll find the Toro Negro Forest Reserve, a 7,000 acres of lush and thick vegetation and home of the highest point in Puerto Rico. The forest spans areas within the municipalities of Ponce, Jayuya, Orocovis, Ciales, and Juana Diaz. The largest contiguous segment of the forest is located in the municipalities of Ponce and Jayuya.
The forest is home of the three highest peaks in the island. Cerro de Punta is the highest with an elevation of 4,389 feet (1,338 meters) above sea level. Cerro Punta provides spectacular views extending to the Atlantic and the Caribbean. Cerro Jayuya is the second highest peak with an elevation of 4,252 feet (1,296 meters), and Cerro Rosa is the third, with an elevation of 4,144 feet (1,263 meters).
The forest has camping facilities with water, campfires, bathrooms, and showers. Mountain climbing for experienced climbers. Permits are required for campgrounds (7 campsites). Located on Route 143 Km. 31.8, (787) 722-1726, (787) 724-3724.
A former Jayuyan coffee estate has been converted into a parador (Parador Hacienda Gripiñas), with a little-used path to Cerro de Punta.
Jayuya is known as "La Capital Indigena" for a good reason. There are many relics found throughout Jayuya. The most popular, "La Piedra Escrita" (the written rock) is a huge boulder in the middle of Rio Saliente, carved with Taino petroglyphs, dating to between 600 and 1200 A.D.
The Cemi Museum opened its doors in 1989. It is a fish-like shape structure representing an cemi or a Taino talisman. The museum features a collection of Taino pottery, cemis and amulets. Open daily 10am - 3 pm. Admissions $1, Children $1. Located on Road 144, Km 9.3, (787) 828-1241.
The Casa Canales Museum, built in the early 1800s, was once home to the Canales family. Rosario Canales, Jayuya's first mayor and the father of Nemesio and Blance Canales, both recognized as important figures in the Puerto Rican nationalist movement, promoting Puerto Rico's independence. The home served as a meeting place to discuss independence and develop plans for a revolution. Today, this restored 19th-century coffee plantation home, serves as a museum, decorated with authentic furniture, decor and memorabilia, exactly as it was back in 1950. Open daily 9am - 3pm. Admissions $1, children 0.50. Located on Route 144, Km 9.2, (787) 828-4094.
You'll also find numerous monuments throughout Jayuya, including the Catholic church, the statue of Nemesio R. Canales and the bust of the Indian leader Jayuya, by the Puerto Rican sculptor Tomás Batista.
Economy
The surrounding areas produces coffee, tomato, and other vegetables. Jayuya is known for its skilled wood carvers.
Geography
Jayuya is located in the center region of the island, north of Ponce; east of Utuado; and west of Ciales.
Affluent rivers flow through Jayuya, including Grande de Jayuya, Jauca, Saliente, Limon, Yunes, and Caricaboa.
Jayuya is made up of 10 barrios (wards/districts):
Coabey
Collores
Jauca
Jayuya Abajo
Mameyes Arriba
Pica
Pueblo
Río Grande
Saliente
Veguitas
Climate
Notable People
There are many well-known "jayuyanos", among them:
Restaurants
Cafe Tres Picachos (American), (787) 828-2121
Don Pedro (International), (787) 828-1717
Hacienda Gripinas (International), (787) 828-1717
Accommodations
Hacienda Gripiñas (Bed & Breakfast), (787) 721-2884

Posada Jayuya (Hotel), (787) 828-7250

Festivals and Events
Festival Jibaro de Tomate - February

Fiestas Patronales Nuestra Senora de la Monserrate - September
Every year, Jayuya celebrates a patron saint festival. The festivities include dances, food, parades and religious processions. (787) 828-0900
Jayuya Indian Festival - November
Jayuya celebrates the culture of the Taino Indians, this festival brings together more than 100 artists and performers. The festivities include dances, food, parades and a Miss Taino Indian pageant. (787) 828-5010
Symbols
Flag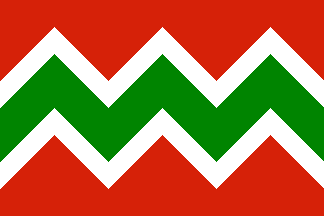 The flag is rectangular in shape and derives its symbolism from the coat of arms. It symbolizes the spirit of people proud of their Taino heritage and their hospitality.
Anthem
The anthem of Jayuya was written by Miguel Requena Maldonado. The title is Ante nos se yergue....
Education
There are 13 public schools in Jayuya, education is handled by the Puerto Rico Department of Education.
Demographics *
Population
14,779

Puerto Rico: 3,285,874
Land Area: 44.53 sq mi
Density: 319.7 per sq mi
Median Age: 40.4
Sex: 51% female
Economics **
Per capita income
$7,536
Puerto Rico: $21,058
Median household income: $16,003
Puerto Rico: $21,058
Persons below poverty line: 57.9%
Housing, families and educational attainment *
Number of households
5,017
Housing units density:
146.9 (2013)
Persons per household: 2.83
High school grad or higher: 77.6%
Marital status: 41% married
* U.S. Census Bureau 2020 data, unless otherwise noted - Source: Quick Facts Puerto Rico.
** U.S. Census Bureau 2016-2020

Map References
Coordinates: 18.2186° N, 66.5917° W
Zip Code: 664
Driving Distance from San Juan: 64.3 miles
Driving Time: 1 hour, 50 minutes