Carolina, Puerto Rico
(kah-ro-LEE-nah)

Carolina is known as "La Tierra de Gigantes" (land of giants), in honor of one of its inhabitants: Don Felipe Birriel, who was the tallest man in Puerto Rican history, with an unconfirmed height of 2.413 meters or seven feet eleven inches (7' 11").
Carolina is also known as "El Pueblo de los Tumba Brazos" (arm hackers' town), because in old days, it is said that people resolved their conflicts with a duel.
Carolina was originally founded by Spanish colonizer Alonzo Pizarro Hermona in 1816 as San Miguel de Trujillo Bajo (lower Trujillo), along with its counterpart Trujillo Alto, after Trujillo, a city located in Caceres, Spain, where he came from.
The story is told that the origin of the name "San Fernando de la Carolina" was in honor of Don Fernando de Norzagaray, Captain General of the Island and Don Fernando Cotoner, Civil Governor and Captain General who certified the foundation of the new town. The name "de la Carolina" corresponds to the name of Don Gaspar Martinéz' daughter, Carolina de San Juan, the person who donated the land to establish the municipality.
Another story states that, Trujillo Bajo was renamed to San Fernando de la Carolina, but later shortened to Carolina, after Charles II of Spain.
Located about 12 miles (19 km) east of the capital, on the northeast coast of Puerto Rico. Carolina is home of the island's main and busiest airport, the Luis Muñoz Marín International Airport is located in Isla Verde.
Points of Interest and Landmarks
The Club Gallístico de Puerto Rico cockfighting pit hosts fights twice a week. The facilities include a closed circuit TV, two bars and a restaurant. Open Thu and Sat 2:00pm-9:00pm. Located on 6600 Isla Verde Ave., (787) 791-1557.
The city has several museums that are well worth visiting. El Museo del Niño (Children's Museum) is home of over 100 fun and interactive exhibitions where children can play, explore and learn. Located on Sabcgez Vilella Ave. (Campo Rico) with Fidalgo Diaz Ave., (787) 257-0261. Museo Galería de los Gigantes
pays tribute to eight Carolina-natives: Felipe Birriel, Roberto "El Boquio" Alberty, Julia de Burgos, Cecilia Orta, Roberto Clemente, Jesús Maria Sanromá, José E. Aponte De La Torre and Jesús T. Piñero. Located on Ignacio Arzuaga Street, the corner of Jose de Diego Plaza de Recreo Rey Fernando, (787) 757-2626. Museo de Arte e Historia features exhibits about the evolution of Latin America. Located on 2-12 Cll Dr Barbosa, (787) 701-0245,
The Casa Escuté Museum, also known as the Escuté Building, is a Spanish colonial style structure, built in 1805. Once served as a mayor's house, court and casino. Today serves as a museum, featuring works of local and international plastic artists. Open Mon-Fri 8am-4:30pm. Located on Arzuaga St & Amadeus, (787) 757-2626 Ext. 3902.
Other places worth exploring include:
Buena Vista Ruins
Carolina Beach
Grande de Loiza River
Jesus T. Piñero Monument
Julia de Burgos Park
Isla Verde Beach
Isla Verde Club Gallistico
Plaza Carolina Simon Mall
Piñones Beach
Roberto Clemente Ciudad Deportiva
Economy
Carolina once was an important center for sugar production. Today, Carolina is Puerto Rico's fourth largest city and is dubbed the Industrial Capital of Puerto Rico for its concentration of factories, with over 100 factories. Manufacturing plants produce pharmaceuticals, medical equipment, and chemicals. Carolina is also considered one of the most important tourist centers in the island.
Geography
Carolina is bordering the Atlantic Ocean; south of Gurabo and Juncos; east of Trujillo Alto and San Juan; and west of Canóvanas and Loíza. Its rivers are: Grande de Loíza, and Canovanillas.
The Grande de Loíza river runs through the center from west to east. The Canovanillas River also flows through the city and serves as a boundary between Canovanas and Carolina, and receives from Gonzalez, Las Lajas, Limones and Cambute streams. The Maracuta, Pastrana and Hoya Fría streams are part of the Grande de Loiza river basin. The lagoons of Pinones, San Jose and La Torrecilla are part of its hydrographic system.
Carolina is made up of 13 barrios (wards/districts):
Barrazas
Cacao
Cangrejo Arriba
Canovanillas
Carruzos
Cedro
Hoyo Mulas
Martín González
Pueblo
Sabana Abajo
San Antón
Santa Cruz
Trujillo Bajo
Climate
Carolina annual precipitation is 74 inches, and its average temperature is 86°F. August is the warmest month of the year. January is the coldest month of the year.
Notable People
There are many well-known "carolinenses", among them:
Alfredo Escalona
Domingo Gonzalez
Elsie Van thin
Esteban de Jesus
Ezequiel Quillin Angulo
Felipe Birriel Fernandez, "El Gigante de Carolina"
Fortunato Vizcarrondo, poet and musician
Guillermo Angel Luciano
Jesús Maria Sanromá
Jesús T. Piñero, first U.S. appointed governor
Jose Ezequiel Angulo Luciano, boxer
Julia de Burgos, poet
Maria Teresa Serrano
Ramón Hernández
Ramón Mellado Parsons
Roberto Clemente, baseball player
Wilfredo Benitez, boxer
Restaurants
Basilico Ristorante (Italian), (787) 727-6380
Borinquen Grill and Brewing Company (American), (787) 268-1900
Cafe Tierra Gigante (Puerto Rican), (787) 276-0195
Caribbean Grill (International), (787) 253-1700
Casa Dante (Puerto Rican), (787) 726-7310
Chili's Grill & Bar (Carolina) (American), (787) 750-5375
Chili's Grill & Bar (Plaza Carolina) (American), (787) 701-1515
Ciao Mediterranean Cafe (International), (787) 791-6100 x 240
Dennys Carolina (American), (787) 253-3080
Fontana di Roma (Italian), (787) 982-3992
Fuddruckers (Carolina) (American), (787) 769-3344
Gelo's Bagel (Cafe), (787) 791-2575
Grand Market (Steak/Italian/Puerto Rican), (787) 791-6100
Il Nonno (Italian), (787) 728-8050
La Gran Movida (Puerto Rican), (787) 768-6507
La Llave Del Mar (Puerto Rican), (787) 791-7227
La Playita Lounge (American/Deli/Sandwich), (787) 791-1115
La Torre de Pizza (Italian), (787) 752-2230
Lin's Restaurant (Chinese), (787) 791-6635
Mangos Cafe (Puerto Rican), (787) 727-9328
Marcelo Restaurant (Sea Food), (787) 750-1290
Momoyama (Japanese), (787) 791-6100
Ocean Bar & Grill, The (Puerto Rican), (787) 253-1700
Passaggio Ristorante (Italian), (787) 791-6100
Pepin's Café & Tasca (International), (787) 728-6280
Pizzaiolo (International), (787) 268-0622
Soleil Beach Club (Sea Food), (787) 253-1033
Steaks & Co. Grill and Bar (American), (787) 727-7882
Tangerine (International), (787) 728-3666
The Bistro (International), (787) 791-1000
The Casino Lounge (American), (787) 253-1700
Fax (787) 253-0909
The Lobby Lounge (American), (787) 253-1700
Fax (787) 253-0909
The Vineyard Room (American), (787) 253-1700
Fax (787) 253-0909
Tiramisu Cafe Ristorante (Italian), (787) 726-3162
Accommodations
There are several well-known hotels, along other types of accommodation.
Caribe Mountain Villas (Small Inn), (787) 769-0860
787-863-5296

Casa de Playa (Hotel), (800) 916-2272 or (787) 728-9779

Coral by the Sea Hotel & Restaurant (Hotel), (787) 791-6868

Courtyard by Marriott Isla Verde Beach Resort (Hotel), Toll Free: 1-800-791-2553
(787) 791-0404

ESJ Towers (Hotel), 1-800-468-2026
(787) 791-5151

Holiday Inn Carolina (Hotel), (787) 253-9000

Howard Johnson Hotel Carolina (Hotel), (787) 728-1300

Ritz Carlton San Juan Hotel, Spa and Casino (Hotel), (787) 253-1700

San Juan Water & Beach Club Hotel (Hotel), (787) 253-0100

Festivals and Events
Feria de Artesania Femenina - April

Feria de Artesanias - July

Fiestas Patronales de San Fernando - May
Every year, Carolina celebrates a patron saint festival. The festivities include dances, food, parades and religious processions. (787) 752-0665
Semana de Roberto Clemente - August

Symbols
Flag

The flag consists of three vertical bands, the laterals white and the middle red. The laterals are seeded with black ermine tails in the heraldic way as for the coat of arms. The middle band of the flag shows a red field with the sword and crown of the coat of arms.
Coat of Arms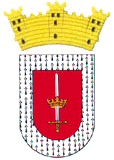 Education
There are 46 public schools in Carolina, education is handled by the Puerto Rico Department of Education. Carolina is also home of 8 colleges and universities.
Demographics *
Population
154,815

Puerto Rico: 3,285,874
Land Area: 45.32 sq mi
Density: 3,371.90 per sq mi
Median Age: 44.8
Sex: 55% female
Economics **
Per capita income
$16,992
Puerto Rico: $21,058
Median household income: $29,398
Puerto Rico: $21,058
Persons below poverty line: 30.5%
Housing, families and educational attainment *
Number of households
61,898
Housing units density:
1,761.7 (2013)
Persons per household: 2.42
High school grad or higher: 86%
Marital status: 30% married
* U.S. Census Bureau 2020 data, unless otherwise noted - Source: Quick Facts Puerto Rico.
** U.S. Census Bureau 2016-2020

Map References
Coordinates: 18.4061° N, 65.9672° W
Zip Code: 00979, 00981, 00982, 00983, 00984, 00985, 00986, 00987, 00988
Driving Distance from San Juan: 6.9 miles
Driving Time: 16 minutes
Other Resources