Cayey
(ka-YAI)

Cayey is known as "La Ciudad del Torito" (town of the little bull) and "La Ciudad de las Brumas" (city of the fog). Cayey was founded on August 17, 1773 by Juan Mata Vázquez, who became its first mayor. It is said that Cayey derives its name from the Taino Indian word for "a place of waters". Its original name was "Cayey de Muesas".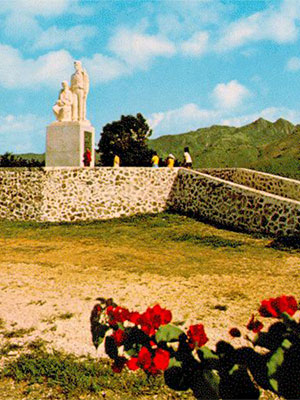 Cayey territory is very mountainous because the city it is located on the Central Mountain range, north of Salinas and Guayama; south of Cidra and Caguas; east of Aibonito and Salinas; and west of San Lorenzo. Major rivers include: Guavate, Jajome, Maton, La Plata, and Grande de Loíza.
The Carite Forest Reserve located between Cayey and Yabucoa offers more than 6,000 acres of protected parkland.
Cayey is home of the Cayey University College (1967), a branch of the University of Puerto Rico. This is the only liberal arts college in Puerto Rico.
Cayey is famous for its two twin peaks known as "Las Tetas de Cayey," (the teats of Cayey), nicknamed for their similarity to a female body part, which were formed by volcanic activity.
Another famous tourist attraction is the Monumento al Jíbaro Puertorriqueño, (Monument to the Puerto Rican Countryman) an homage to the Puerto Rican Jibaro, a humble, hardworking and wise man, living in poverty and with little or no education.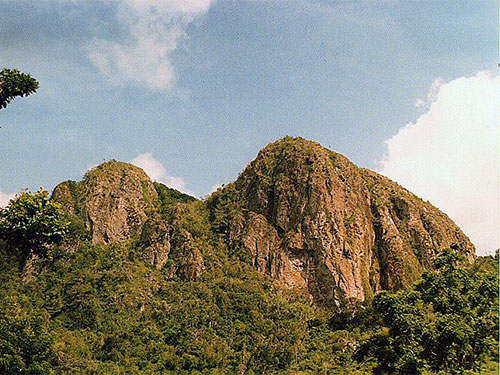 Economy
The surrounding areas produces sugar, tobacco, and poultry. Cigars and clothing are also manufactured. Coca-Cola and Procter & Gamble have manufacturing facilities in Cayey.
Notable People
There are many well-known "cayeyanos", among them:
Ramon Frade
Miguel Melendez Munoz
singer Danny Rivera
writer Jesús Colón
Eugenio Fernandez Mendez
Benigno Fernandez Garcia
Baltazar Mendoza
Things to See and Do In Cayey
Want to know what to see and do in Cayey? Discover few ideas for exploring and enjoying the city.
Festivals and Events
Fiestas Patronales Nuestra Senora de Asuncion - August
Every year, Cayey celebrates a patron saint festival. The festivities include dances, food, parades and religious processions. (787) 738-3211
Olimpiadas del Torito - April

Symbols

The flag derives its design and colors from the Coat of Arms, which is in the center of the flag encirled by a solid black ring. The centered Coat of Arms and has four triangles pointing to it, two white and two red.

Anthem: Alma Boricua
Education
There are 22 public schools in Cayey, education is handled by the Puerto Rico Department of Education. Cayey is also home of 2 colleges and universities.
Geography
Cayey is made up of 17 barrios (wards/districts):
Beatriz
Cedro
Cercadillo
Culebras Altos
Culebras Bajo
Farallón
Guavate
Jájome Alto
Jájome Bajo
Lapa,
Matón Abajo
Matón Arriba
Monte Llano
Pasto Viejo
Pedro Avila
Piedras
Pueblo
Quebrada Arriba
Rincón,
Sumido
Toita
Vegas
Climate
Demographics *
48,119
Population
47,033 (July 2013 est.)
Land Area: 51.93 sq mi
Density: 926.6 per sq mi
Median Age: 37.4
Economics *
$7,235
Per capita income (2013)
Puerto Rico: $11,068
Median household income: $21,223
Puerto Rico: $19,624
Persons below poverty line: 39.00 %
Housing, families and educational attainment *
17,681
Number of households
Housing units density: 403.1
Persons per household: 3.15
High school grad or higher: 70.4%
* U.S. Census Bureau 2010 data unless otherwise noted.
Map References
Coordinates: 18.1144° N, 66.1681° W
Zip Code: 00736, 00737
Driving Distance from San Juan: 37.3 miles
Driving Time: 1 hour, 1 minute