Aibonito
(ei-bo-NEE-to)

Aibonito is known as La Ciudad de las Flores (city of the flowers). The town was founded in March 13, 1824 by Manuel Vélez.
Aibonito derives its name from a name given by the Indians, "Jatibonucu" which literally means "Great People of the Sacred High Waters". The tribe or yucayeque living in the area was known as Jatibonicu and it was lead by Cacique Orocobix (Indian chief). In fact, the Jatibonicu region covered the same area as the current towns of Aibonito, Orocovis, Barranquitas, Morovis and Corozal.
A legend also claims that one day a Spaniard wake up over the Asomante mountain and overwhelm by the beauty of the place he exclaim "Ay, que bonito" (Oh, how beautiful!).
Points of Interest
The Iglesia San José was built in 1825. The building was later replaced by the current church, which was started in 1887 and completed in 1897. This beautiful church is a fine example of Gothic architecture. Open Mon-Wed & Fri 8:30am-noon 1pm-3:30pm, Thu 8:30am-noon, Sat 9am-noon (tel. 787- 735-3741).
The Casa Degetau is the former home of Federico Degetau, who was Puerto Rico's first Resident Commissioner in Washington (tel. 787-735-3871).
The San Cristobal Canyon, one of the most notable topographic features of the island, it is the largest canyon in Puerto Rico (and in the Caribbean). Three rivers cascade through its ravines, some of which are over 750 feet deep. It is also home to the highest waterfall in Puerto Rico, right on the Rio Usabon.
Aibonito is known for its flowers, and since 1969, a two-weekend event draws big crowds of locals and visitors. The Festival de las Flores (Flowers Festival) is celebrated every year from the last weekend of June up to the first weekend of July. It's considered the most important flower event on the island, the festivities include flower shows, handcrafts displays, kid rides, music and food.
Additional Places and Sights
Other places worth exploring include:
Casa Manresa
La Piedra de Degetau
La Trinchera de Asomante
Economy
Aibonito's main industries are chicken, followed by flowers, some tobacco, coffee and cattle.
Geography
Aibonito is territory is mountainous, located in the Mountain Range of Cayey, north of Salinas; south of Barranquitas and Comerio; east of Coamo; and west of Cidra and Cayey. Aibonito reaches one of the highest elevation point in the island. The town's highest peaks are Verdún (760 m), Piedra Degetau (730 m), El Indio (620 m), and Amoldadero (530 m). Many rivers cross the town including Aibonito, La Plata, Usabón, and Cuyón.
Aibonito is made up of 9 barrios (wards/districts):
Asomante
Algarrobo
Caonillas
Cuyón
Llanos
Pasto
Plata
Pueblo
Robles
Climate
The annual precipitation is approximately 90 inches and the average temperature is 75ºF.
Notable People
There are many well-known "aiboniteños", among them:
Rubén Berrios Martínez, politician
Rafael Pont Flores, journalist
Juan Martínez Capó, writer
Manuel Alvarez Nazario, writer
Restaurants
El Rincon Familiar (Puerto Rican), (787) 735-7425
La Piedra (Puerto Rican), (787) 735-1034
Tio Pepe Restaurant (Puerto Rican), (787) 735-9615
Accommodations
La Posada El Coqui (Guest House), (787) 735-3150

Casa Aurora (Rental), (787) 306-2694

Festivals and Events
Aibonito Flower Festival - June/July
Aibonito celebrates every year the famous "Festival de las Flores", featuring exhibits and sale of the most popular and newest varieties of tropical flower and plants, as well as crafts. The annual flower festival features exhibits of lilies, anthuriums, carnations, roses, gardenias, begonias and other tropical plans as well as food, music, and merrymaking. The festivities also features music and food. (787) 735-3871
(787) 735-4070
Festival de la Montana - November

Festival del Pollo - August

Fiestas Patronales de Santiago Apostol - July/August
Every year, Aibonito celebrates a patron saint festival. The festivities include dances, food, parades and religious processions. (787) 735-3871
Maraton del Pavo - November

Symbols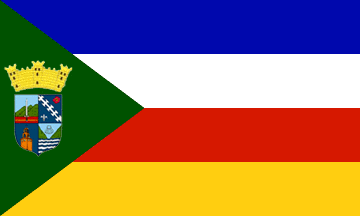 Flag
Blue for the sky, white for air purity, red for love of theown motherland, and gold (yellow) for the traditional Hispanic values.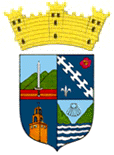 Coat of Arms
The shield is divided in four corners or quarters. The superior left corner represents the Asomante where last battles of the Hispano-American War took place, symbolized by the sword. In the right corner we find: a white band symbolizing the fog that covers the Aiboniteños valleys and mountains in winter; on a blue field, a purple color flower typical of the region and declared official by the organizers of the First Festival of the Flowers in 1969; and in the inferior end a golden lily to remember San José, patron of the Parochial Church of the town and also symbolizing the Eminence Cardinal Luis Aponte Martinez, first Puerto Rican Cardinal of the Catholic Church. The bottom left corner on a blue background is placed the gold tower of the Manresa House to symbolize the spiritual value that such institution represents for all Puerto Rico. In the right corner a divided mountain of green color which represents the San Cristóbal Canon with a seashell in the superior part that symbolizes Apostle Santiago.
The anthem of Aibonito was written by Santa Guevara Marrero. The title is Aibonito
Education
There are 14 public schools in Aguadilla, education is handled by the Puerto Rico Department of Education. Aguadilla is also home of 3 colleges and universities.
Demographics *
25,900
Population
24,991 (July 2013 est.)
Land Area: 31.31 sq mi
Density: 827.2 per sq mi
Median Age: 37.7
Economics *
$7,235
Per capita income (2013)
Puerto Rico: $11,068
Median household income: $16,189
Puerto Rico: $19,624
Persons below poverty line: 47.50 %
Housing, families and educational attainment *
9,265
Number of households
Housing units density: 332.4
Persons per household: 3.19
High school grad or higher: 72.6%
* U.S. Census Bureau 2010 data unless otherwise noted.
Map References
Coordinates: 18.1400° N, 66.2661° W
Zip Code: 00705, 00786
Driving Distance from San Juan: 48.8 miles
Driving Time: 1 hour, 23 minutes