Barranquitas, Puerto Rico
(bahr-rahn-KEE-tahs)

Barranquitas is known as La Cuna de Próceres (cradle of great people). The town was founded in 1803 by Antonio Aponte Ramos.
Luis Muñoz Rivera former home has been converted into a museum and library. Nearby, the Mausoleo Familia Muñoz Rivera holds the bodies of Muñoz Rivera and his son Luis Muñoz Marín, the island's first elected governor.
Barranquitas is home to the largest canyon in Puerto Rico (and in the Caribbean), the San Cristóbal Canyon. Located between the towns of Aibonito and Barranquitas, the canyon is nine kilometers long and approximately 750 feet deep, with two rivers flowing through it, the Usabon and Barranquitas rivers. It is also home to the highest waterfall in Puerto Rico, right on the Río Usabón. Guided hiking trips are available, for more information, call the San Cristobal Hiking Tour at: (787) 857-2094 or (787) 647-3402.
Additional Places and Sights
Other places worth exploring include:
Museo Casa Natal de Luis Munoz Rivera, Open Fri-Sun 8:00am-noon 1:00pm-4:30pm, (787) 857-0230
Munoz Marin Mausoleum, Open daily 8:00am-noon 1:00pm-4:30pm, (787) 857-3810
Economy
The surrounding areas produce coffee, fruits and flowers.
Geography
Barranquitas is located in the central region, north of Aibonito and Coamo; south of Corozal and Naranjito; east of Orocovis; and west of Comerío. Barranquitas rivers include Piñonas, Usabón, Rio Hondo, Barranquitas, La Plata and Grande de Manatí rivers.
Aibonito is made up of 8 barrios (wards/districts):
Barrancas
Cañabón
Helechal y Honduras
Palo Hincado
Quebrada
Grande,
Pueblo
Quebradillas
Rivers
Rio de Barranquitas, Rio Grande de Manati, Río de la Plata, Piñonas, Río Hondo, and Río Usabón.
Climate
Barranquitas annual precipiation is 34.45 inches and its average temperature is 83deg;F. August is on average the warmest month, at around 83°F. January is on average the coolest month, at around 77°F.
Notable People
There are many well-known "barranquiteños", among them: politician Luis Muñoz Rivera, Luis Muñoz Marín, José Colón, Efrain Colón Torres, José A. Negrón Sanjurjo, Antonio Aponte Ramos, Naldo de la Loma, and Pedro Pereales.
Restaurants
La Tosca Steak House (Puerto Rican), (787) 857-4288
Mofongo Criollo (Puerto Rican), (787) 857-0480
Porkys Restaurant (Puerto Rican), (787) 798-3360
Festivals and Events
Barranquitas Artisans' Fair - July
Barranquitas is the center of rich artistic traditions. This fair is the oldest crafts fair features exhibitions by more than 130 artisans from around Puerto Rico. You will find your self surrounded of a variety of handcrafts, paintings, sculptures and more. Daytime and evening musical concerts take place in the town's plaza. (787) 857-0520
Festival de la Vega - May

Fiestas Patronales de San Antonio de Padua - June
Every year, Barranquitas celebrates a patron saint festival. The festivities include dances, food, parades and religious processions. (787) 857-2065
Symbols
Coat of Arms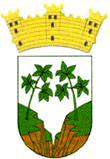 The anthem title is Aquí en el centro de nuestra tierra....
Education
There are 16 public schools in Barranquitas, education is handled by the Puerto Rico Department of Education. Barranquitas is also home of 2 colleges and universities.
Demographics *
Population
28,983

Puerto Rico: 3,285,874
Land Area: 34.25 sq mi
Density: 818.2 per sq mi
Median Age: 37.5
Sex: 51% female
Economics **
Per capita income
$9,187
Puerto Rico: $21,058
Median household income: $18,924
Puerto Rico: $21,058
Persons below poverty line: 53%
Housing, families and educational attainment *
Number of households
8,829
Housing units density:
333 (2013)
Persons per household: 3.14
High school grad or higher: 73.8%
Marital status: 38% married
* U.S. Census Bureau 2020 data, unless otherwise noted - Source: Quick Facts Puerto Rico.
** U.S. Census Bureau 2016-2020

Map References
Coordinates: 18.1867° N, 66.3064° W
Zip Code: 794
Driving Distance from San Juan: 40.7 miles
Driving Time: 1 hour, 24 minutes