Coamo
(ko-AH-mo)

Coamo is located in the southern region of Puerto Rico, about 90-minute car ride away from Luis Muñoz Marín International Airport (SJU). Coamo is known as "La Villa Añeja" (old villa) or "La Villa de San Blas de Illescas" (San Blas de Illescas villa) in honor of the San Blas Half Marathon celebrated every year in February.
Coamo is the third-oldest town in Puerto Rico, established by Spanish settlers and founded on July 15, 1570 by Cristobal y Blas de Illescas. Coamo was the capital of the south until the 1880's, when political power moved to Ponce. The town original name was San Blas de Illescas, later changed to Coamo, named after a local Indian chief Coamex or Coamey.
By 1582, there were twenty families living in Coamo, in the same area where the Tainos had had their village of Guayama. Coamo became officially a town in 1616, and given the title of "Villa" by Spanish Royal Decree in 1778.
Coamo is famous for its thermal springs, the Coamo Thermal Baths. Long before the Europeans arrived, Indians bathed in a thermal spring at Coamo; according to one legend, this was the fountain of youth the Indians described to Ponce de León. Today, a parador -Los Baños de Coamo- surrounds the famous spring. It was considered the islands most fashionable resort from 1847 to 1958.
Highlights of the town's include the historical 18th-century Church of San Blas de Illescas located on the center plaza, considered one of the most important works of religious architecture in Puerto Rico. Open daily, 6:30am-12:00pm. Be sure to explore nearby buildings and sites like the City Hall, Efren Bernier residence (Casa Blanca), and Jose Ignacio Quinton residence.
Coamo is also home of Museo Historico de Coamo, an elegant masonry home converted into a museum with turn-of-the-century furnishings and local history displays. Open daily, 8:00am-noon 1:00pm-4:00pm, (787) 825-1150 Ext. 206.
Another attraction in Coamo is the Coamo Springs Golf and Tennis Club, located in Barrio Las Flores. Open Mon-Sun, 7:30am - 3:30pm, (787) 758-1212.
Every year in February Coamo hosts the San Blás de Illescas Marathon, inaugurated in 1963 by Phi Delta Fraternity in honor to the founder of the town. International and local runners compete in a 13.1-mile half marathon. It's Puerto Rico's biggest race, and the crowds are always large.
If you are looking for a place to stay during your next trip, Baños de Coamo offers air-conditioned rooms with a pleasing blend of contemporary and period furnishings. Located on Route 546, Km 1, (787) 825-2186.
Economy
The town is a trading center for machinery, aircraft radio components, machines, and clothing.
The surrounding areas produces corn, mangos, oranges and plantains.
Geography
Coamo is made up of 11 barrios (wards/districts):
Coamo Arriba
Cuyón
Hayales
Los Llanos
Palmarejo
Pasto
Pedro Garcia
Pueblo
Pulgillas
San Idelfonso
Santa Catalin
Rivers
Coamo, Cuyón, Descalabrado, Lapa, Jueyes and Mina.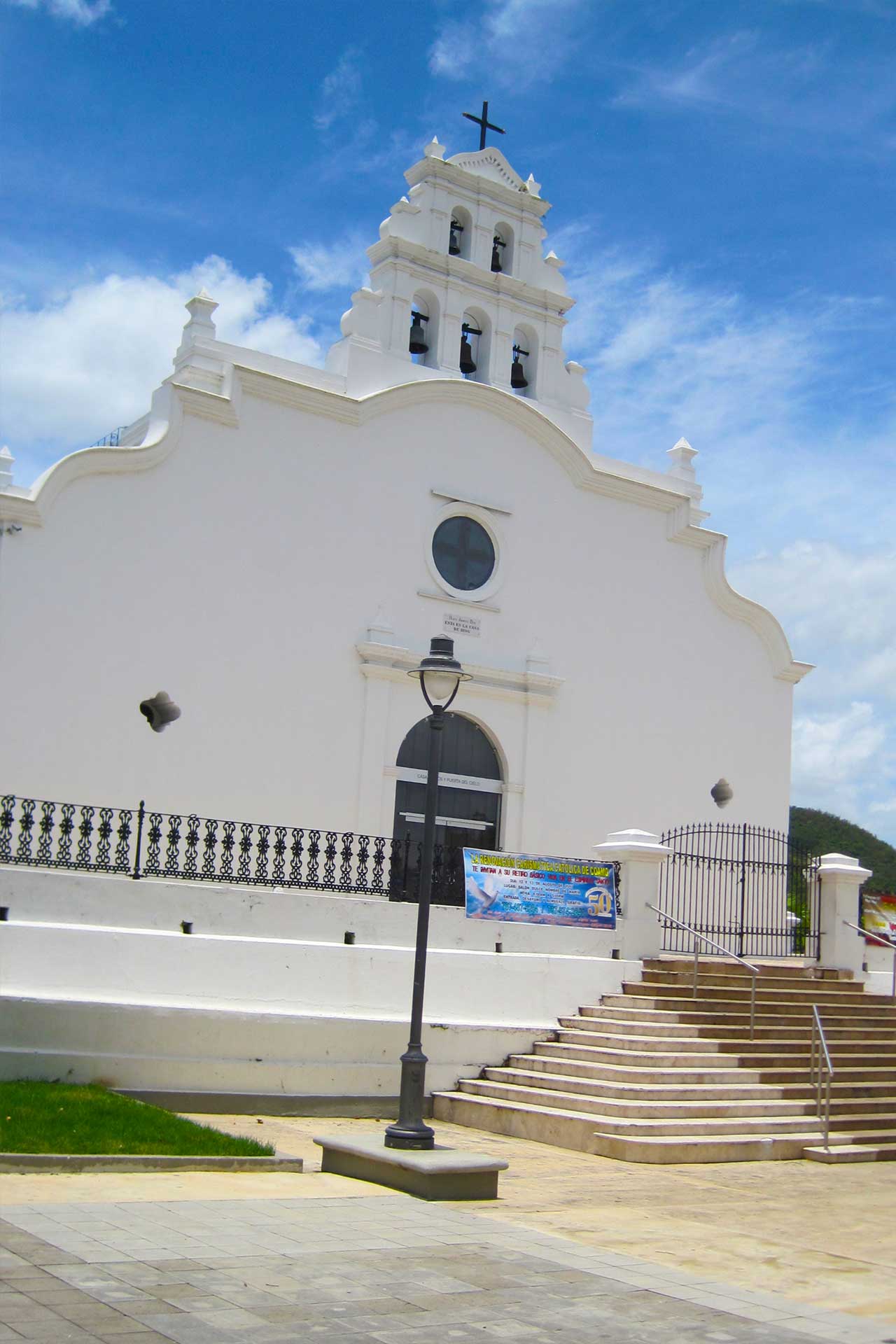 Climate
Annual precipitation is approximately 78 inches and the average temperature is 78 F. August is the warmest month of the year. January is the coldest month.
Notable People
There are many well-known "coameños", among them:
Bobby Capo, singer, composer, television director, and government official
Maria Teresa Babin, college professor, writer, and founder of the Puerto Rican Studies Department at Lehman College in Nueva York.
Juan Rivera-Ortiz, teacher and political figure
Jose Garriga Pico, former senator
Alejandro Garcia Padilla, politician and attorney who served as the 11th governor of Puerto Rico from 2013 to 2017
Restaurants
Banos de Coamo (Puerto Rican), (787) 825-2239
Festivals and Events
Carnaval de la Yuca - August

Carnaval del Juey - October

Carnaval Flor de Mayo - May

Festival de Bomba y Plena - November

Fiestas Patronales de San Blas Illescas y La Virgen Candelaria - February
Every year, Coamo celebrates a festival to honor the two Patron Saints. The festivities include dances, food, parades and religious processions. (787) 825-1150
San Blas de Illescas Marathon - February
Every year in February Coamo celebrates San Blas de Illescas Marathon, inaugurated in 1963 by Phi Delta Fraternity in honor to the founder of the town. International and local runners compete in a 13.1-mile half marathon. It's Puerto Rico's biggest race, and the crowds are always large. (787) 825-2775 or (787) 825-4077
Symbols
Both the flag and coat of arms were adopted on August 5, 1969.
Flag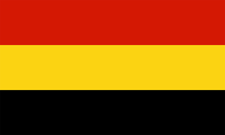 The flag design consists of three equal horizontal stripes. The red, yellow, and black colors are derived from the municipal coat of arms. The red represents martyrs and refers to the fact that Saint Blas was decapitated. The gold yellow alludes to the excellent qualities of San Blas and the parched plains of Coamo. The black refers to the sorrows and tribulations endured by Coamo.
The flag should fly with the black stripe down.
Coat of Arms

The coat of arms is divided into four parts and characterized by the colors: red, black, yellow and white.
Symbolism of the coat of arms:
The bells represent the three city's Catholic churches, Altagracia, Valvanera and San Blas.
The bishops' hats represent the bishops that founded the city: Mercado and Salamanca.
The flames represents the city's patron, Our Lady of the Fire.
The crosses represent the cross of the Villa, property of Cristobal de Illescas.
The horse and bull represent the cattle industry. The gold color that serves as background recalls the yellowish reddish tone of the fields of Coamo during the droughts.
The circle whit blue lines represent the Thermal Baths of Coamo.
Anthem
The anthem of Coamo was written Manuel Torres Tapia. The title is Allá muy cerca del pueblo...
Education
There are 21 public schools in Coamo, education is handled by the Puerto Rico Department of Education.
Demographics *
40,512
Population
40,618 (July 2013 est.)
Land Area: 78.01 sq mi
Density: 519.3 per sq mi
Median Age: 34.8
Economics *
$7,235
Per capita income (2013)
Puerto Rico: $11,068
Median household income: $17,645
Puerto Rico: $19,624
Persons below poverty line: 51.30 %
Housing, families and educational attainment *
14,281
Number of households
Housing units density: 214.3
Persons per household: 3.27
High school grad or higher: 68.8%
* U.S. Census Bureau 2010 data unless otherwise noted.
Map References
Coordinates: 18.0800° N, 66.3581° W
Zip Code: 00769
Driving Distance from San Juan: 62.6 miles
Driving Time: 1 hour, 36 minutes
Other Resources