Guaynabo
(gwei-NAH-bo)

Guaynabo is known as "Capital del Deporte" (capital of the sport). It is also know as Puerto Rico's first settlement, Caparra was founded in the area in 1508 by Juan Ponce de León. Guaynabo derives its name from a Taino Indian term which means "lugar de aguas dulces".
The Caparra Ruins Historical Museum & Park includes ruins of the ancient fort and settlement founded by explorer Juan Ponce de Leon in 1508. The small Museum of the Conquest and Colonization of Puerto Rico located near the ruins features historical documents, exhibits and artifacts. The area is listed on the National Registry of Historical Monuments. Open Mon-Fri 9:00am-4:00pm, (787) 781-4795.
The Rafael Martinez Nadal Museum features furniture and memorabilia of Don Rafael who was the third president of the Senate of Puerto Rico, serving from 1933 to 1941. Open Mon-Fri 9:00 am - 2:00 pm, (787) 525-7950.
The San Patricio Plaza shopping mall includes over 120 specialty stores, Big K-mart, a food court, four family restaurants and a movie theater. Open Mon-Sat 9am-9pm Sun 11am-5pm, (787) 792-1255.
Economy
Fruits are the principal crops grown in the surrounding rural area.
Geography
Guaynabo is located in the northern coast of the island, north of Aguas Buenas; south of Cataño; east of Bayamón; and west of San Juan.
Guaynabo is made up of 10 barrios (wards/districts):
Camarones
Frailes
Guaraguao
Hato Nuevo
Mamey
Pueblo
Pueblo Viejo
Río
Santa Rosa
Sonadora
Climate
Notable People
There are many well-known "guaynabeños", among them:
Restaurants
Baby Bull Steakhouse (American), (787) 783-8927
Bottles (Steak), (787) 775-1210
Burbuja's Cafe (Puerto Rican), (787) 789-2167
Casa Lazaro (Spanish), (787) 720-1177
Chili's Grill & Bar (Guaynabo) (American), (787) 774-0295
Churrasqueria y Pasta Chimichurri (Argentine), (787) 449-1059
City Buffet (International), (787) 720-3688
Iche's International Cuisine (International), (787) 782-6910
Nina's (Italian), (787) 287-1785
Park Avenue Cafe (American), (787) 277-0791
Paya (International), (787) 782-7292
Puerto Esmeralda (Sea Food), (787) 720-8656
Reggio Pizza (Pizza), (787) 277-0677
Tacolandia (Mexican), (787) 789-0303
Festivals and Events
Carnaval Mabo - February

Ciudad Encantada en Navidad - November/December
Festivities take place in the Tablado del Rio parking lot. (787) 272-0101
Festival Bomba y Plena - October
Festivities take place in the Bo. Amelia. (787) 272-0101
Fiesta de Reyes - January
(787) 272-0101
Fiestas Patronales San Pedro Martir - April
Every year, Guaynabo celebrates a patron saint festival. The festivities include dances, food, parades and religious processions.
Iluminacion Navidena - November
(787) 272-0101
Symbols
Flag
Coat of Arms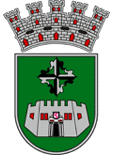 Anthem
Guaynabo's anthem was written by Rafael Velazquez Pericas. The title is Guaynabo, pueblo querido,...
Education
There are 24 public schools in Guaynabo, education is handled by the Puerto Rico Department of Education. Guaynabo is also home of 2 colleges and universities.
Demographics *
Population
89,780

Puerto Rico: 3,285,874
Land Area: 27.58 sq mi
Density: 3,233.50 per sq mi
Median Age: 47
Sex: 54% female
Economics **
Per capita income
$24,527
Puerto Rico: $21,058
Median household income: $36,073
Puerto Rico: $21,058
Persons below poverty line: 25.3%
Housing, families and educational attainment *
Number of households
31,465
Housing units density:
1,523.3 (2013)
Persons per household: 2.69
High school grad or higher: 85.5%
Marital status: 40% married
* U.S. Census Bureau 2020 data, unless otherwise noted - Source: Quick Facts Puerto Rico.
** U.S. Census Bureau 2016-2020

Map References
Coordinates: 18.1144° N, 66.1681° W
Zip Code: 00965, 00966, 00968, 00969, 00970, 00971
Driving Distance from San Juan: 15.8 miles
Driving Time: 27 minutes