Arecibo, Puerto Rico
(ah-re-SEE-boh)

Arecibo is known as La Villa del Capitán Correa, in memory of a battle fought successfully on its shores by Captain Antonio de los Reyes Correa and a handful of Spanish Army soldiers to repel a British invasion by sea lead by Admiral Whelstone in August 5, 1702.
Settled in 1556, Arecibo became the third Spanish settlement. Founded sixty years later, in 1616, when the King of Spain granted that section of land and the Indians on it to Lope Conchillos, under the governorship of Captain Felipe de Beaumont y Navarra. The leader (Indian chief) of these Indians was called Jamaica Aracibo, their yucayeque was named after him and ultimately the town was called by that same name.
The town is also known as La Muy Leal Villa (very loyal).
Points of Interest
You can visit La Cueva del Indio, an archeological site, the cave is located on the shores of the Atlantic Ocean, in Bo. Islote. It is called The Cave of the Indian, because drawings of the Indians that lived in this area in the Prehistoric Era were found in the walls of the cave. It is one of Arecibo's most popular destinations, located just few miles east from the Arecibo lighthouse on Route 681 Km 7.8. The area provides wonderful views, you'll find cliffs, arches, caves, and a natural bridge made of natural limestone. Inside the cave walls you can find a collection of Taino Indians petroglyphs, considered one of the largest collections in the area. Since 2017, access to the petroglyphs was removed.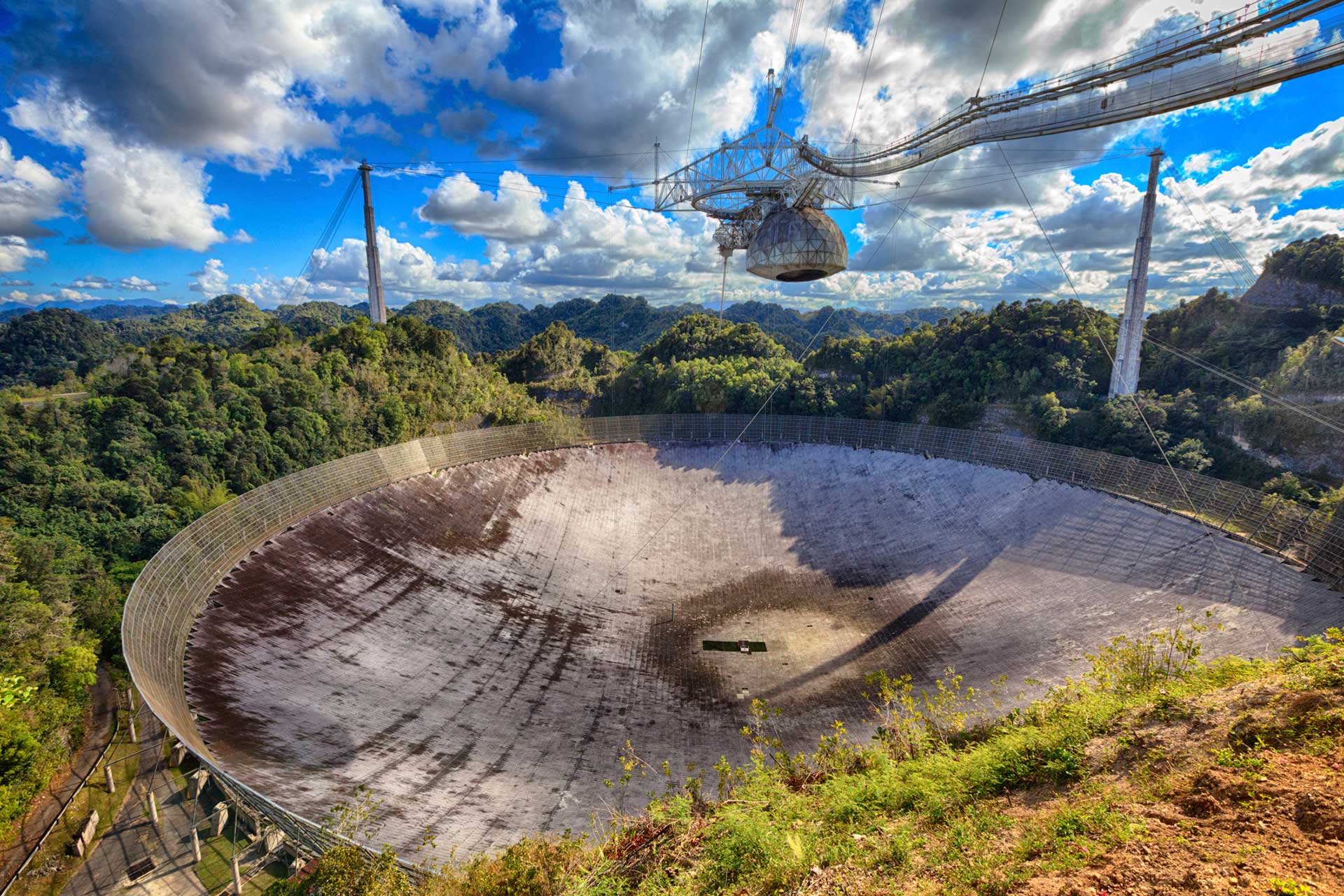 The town has an official U.S. port entry. It is also home of the world's largest single-dish radio telescope, located 16 km (10 mi) south of Arecibo. The Arecibo Observatory is an astronomical observatory, which is one of the world's most powerful radar-radio telescopes. This instrument, inaugurated in 1963, employs a 1,000-foot (300 meter) spherical reflector consisting of perforated aluminum panels that focus incoming radio waves on movable antenna structures positions about 500 feet (168 meter) above the reflector surface. The antenna can be moved in any direction, making it possible to track a celestial object in different regions of the sky. It collects radio astronomy, terrestrial aeronomy, and planetary radar data for scientists around the world. The telescope was featured in the movies GoldenEye (1995) and Contact (1997).
The National Astronomy and Ionosphere Center developed the observatory and it is operated and owned by Cornell University under a cooperative agreement with the National Science Foundation. Conceived in 1958 by William E. Gordon, a Cornell professor of electrical engineering, the radio observatory has been operated, since its completion in 1963. The Arecibo Observatory is powerful enough to receive signals transmitted by a comparable telescope located 1,000 light-years away. Scientists from all parts of the world come to this national observatory to carry out research projects. Open to the public for self-guided tours. The facilities are open to the public Wednesday-Friday noon-4 p.m., Saturday and Sunday 9am - 4pm. Admission is $12 for adults, $8 for kids and seniors. Route 625, Bo. Esperanza, (787) 878-2612.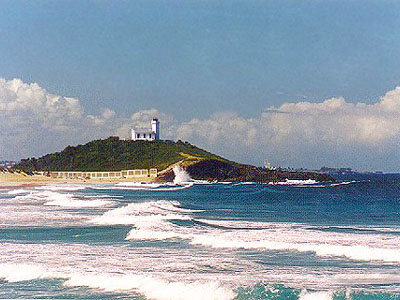 The Cambalache Forest Reserve located between Arecibo, Manati and Berceloneta, and covers an area of 1000 acres with an elevation raging from 5 to 50 meters above the sea level. IT is known as "vivero" (nursery) because it contains plantations of eucalyptus, teak, and mahoe trees. Camping allowed in two areas. Water and showers, 8 trails and nearby beach. Rd #682 km 6.6., (787) 724-3724.
The City Hall built in 1866, served as jail to "El Grito de Lares" participants in 1868. In 1918, the frontal section of the building was destroyed by a earth tremor. Repairs were made and a tower and clock were added to the building. In 1978, the building was restored to its original form.
The Antonio Nery Juarbe Airport is located five miles southeast of the central business district of Arecibo and 50 miles west of San Juan. Originally utilized for military purposes, today, the airport is utilized for the general aviation, with a daily average of eight takeoffs and landings. On March 31, 1947, the airport and all its installations were transferred by the Navy U.S. to the Authority of the Ports along with the Airport of MayagŁez and the old airport of Santa Isabel.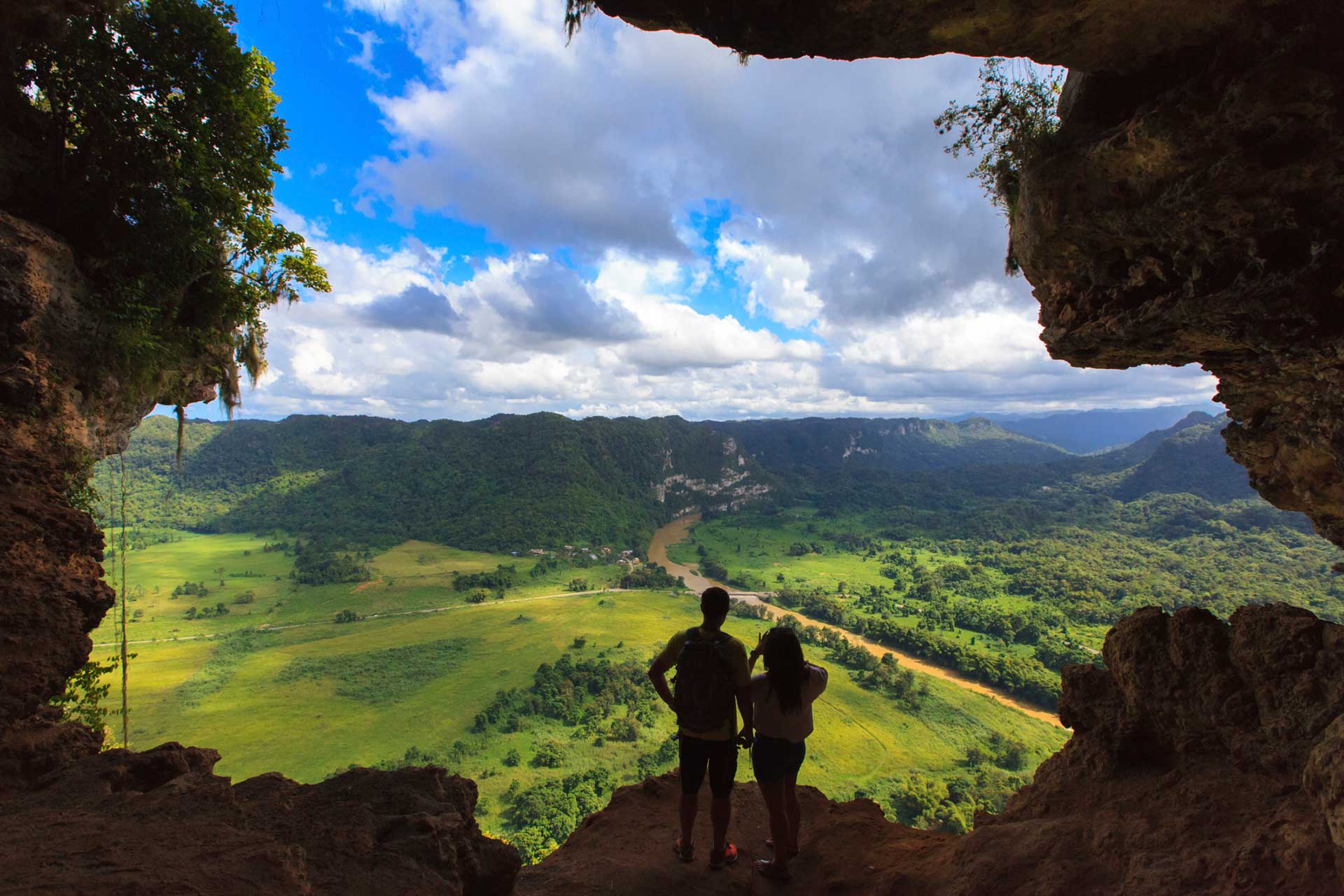 Cueva Ventana (window cave) is a large cave located a top a limestone cliff, overlooking the Rio Grande de Arecibo valley. Filled with stalagmites and stalactites. Route 10, Km 75. Guided tours $19, no children under 5 allowed. Open daily, 10:00 AM - 4:00 PM. 787-322-3554.
The Arecibo Lighthouse and Historical Park built by the Spaniards in 1898, the lighthouse still in use and was automated in 1964. In the premises, you'll find a museum with exhibits, a recreation area featuring a special area for children with replicas of ancient sailing ships and a pirate's island, a restaurant and sports facilities. Open Tue-Fri 9am-6pm, Sat-Sun 10am-7pm. Admissions: Adults $9, Children $7 and Parking $2. Carr. #655 Bo. Islote Sector El Muelle, (787) 880-7540.
The Dos Bocas Lake is a reservoir created in 1942, adjacent to the Río Abajo Forest, located 12 miles (19km) south of Arecibo. Free ferry ride across the lake are available, (787) 878-7279.
Other places worth exploring include:
La Casa Ulanga Sede del Instituto de Cultura Puertorriqueña - Open Mon-Fri 8am-noon, 1pm-4:30pm. 7 Gonzalo Marin St., (787) 880-8020.
Las Tunas Beach
Los Negritos Beach
Morillo Beach
Museo de Arte e Historia de Arecibo - 8 Santiago Iglesias St.
Plaza del Atlantico - Open Mon-Sat 9am-9pm, Sun 11am-5pm. 50 Stores. Rt 2, Km 80.1, (787) 878-0886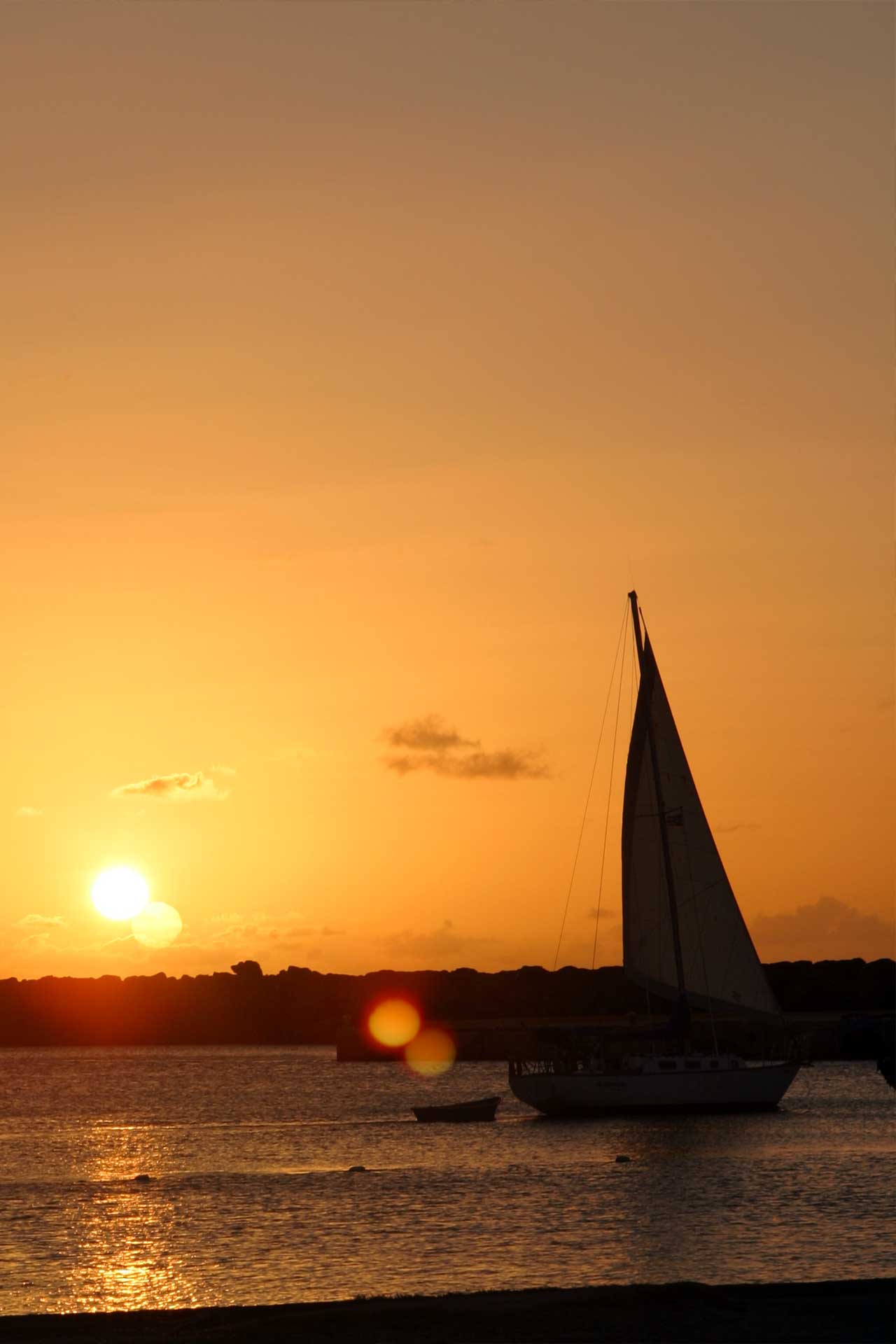 Economy
Arecibo produces agricultural machinery, clothing, plastics, paper and sporting goods.
Geography
Arecibo is the largest city in geographical size on the island. Located in the Northern Coastal Valley region, adjacent to karst zone characterized by the presence of caves and wooded hills. Arecibo is bordering the Atlantic Ocean, north of Utuado and Lares; east of Hatillo; and west of Barceloneta and Florida.
The city is bathed by two rivers, Grande de Arecibo, which runs through the middle of the city and the Tanamá River.
Arecibo is made up of 19 barrios (wards/districts):
Arenalejos
Arrozal
Cambalache
Carreas
Domingo Ruiz
Dominguito
Esperanza
Factor
Garrochales
Hato Abajo
Hato Arriba
Hato Viejo
Islote
Miraflores
Pueblo
Río Arriba
Sabana Hoyos
Santana
Tanamá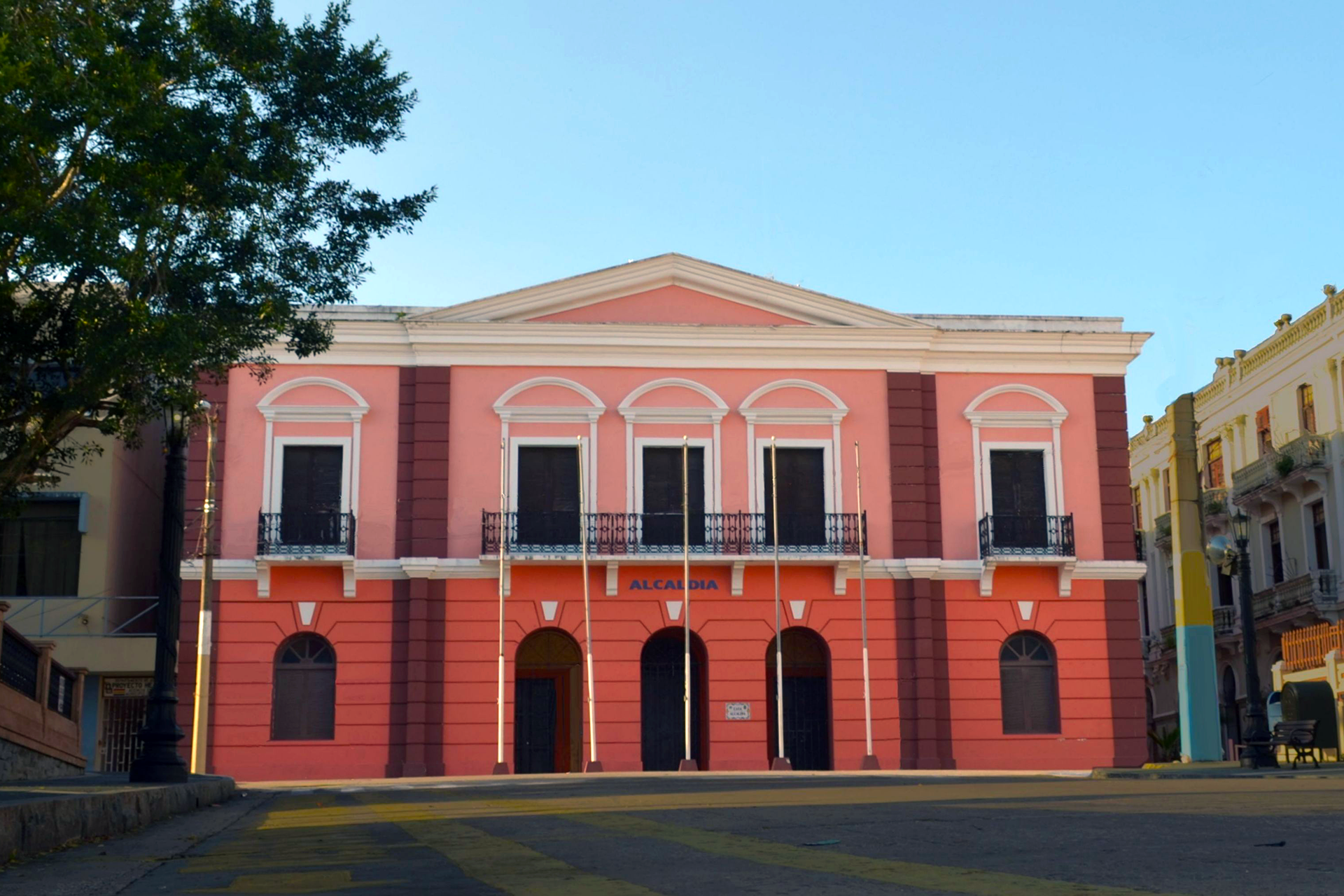 Climate
Arecibo annual precipitation is around 53.01 inches and the average temperature is 77.8°F. June is the warmest, February is the coolest, and May is the wettest month.
Notable People
There are many well-known "arecibeños", among them:
María Cadilla de Martinez, writer
Luisa Capetillo, Puerto Rico's most famous labor organizers
Cayetano Coll y Toste, historian
José Gomez Brioso
Francisco Gonzalo Marín, poet and politician
René Marquéz, dramatist
Antonio de los Reyes Correa, Captain of Infantry of the Spanish Army
Victor Rojas
Manuel Zeno Gandia, writer
Restaurants
Alamar Restaurant (Sea Food), (787) 878-5658
Accommodations
TJ Ranch (Guest House), (787) 880-1217

Festivals and Events
Carnaval del Capitan Correa - February
It's held in the Arecibo central plaza, where salsa groups and other groups mingle. (787) 879-1625
Festival del Ceti - November
The festival it's a tribute to fishermen. (787) 878-2500
Festival Folklorico - September

Festival Playero - July

Fiestas Patronales de San Felipe Apostol - May
Every year, Arecibo celebrates a patron saint festival. The festivities include dances, food, parades and religious processions.
Symbols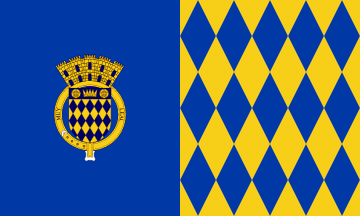 Flag
The flag of Arecibo derives its composition and colors from the Shield of the City. It is divided vertically in two equal parts. The left side is blue having a belt that stands for "Captain Correa", a local military hero from Spanish times. The right side is made up of blue and yellow diamonds alternating in a checkerboard pattern.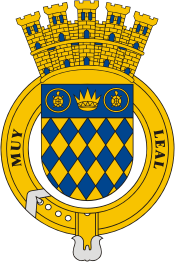 Coat of Arms
The shield is divided by diagonal lines in golden and blue rhombuses with a blue stripe in the superior part, in which resides an opened five-point crown and which is adorned with drawings characterizing the art of the Tainos. This combination of symbols represents the Indian Cacique (Chieftain) from whom the population's name derives, the governor that erected the town and the hero Captain Correa who defended it.
The anthem of Arecibo was written by Jose A. Monrouzeau. The title is Arecibo.
Demographics *
Population
87,754

Puerto Rico: 3,285,874
Land Area: 125.95 sq mi
Density: 691.2 per sq mi
Median Age: 45.1
Sex: 52% female
Economics **
Per capita income
$11,199
Puerto Rico: $21,058
Median household income: $19,266
Puerto Rico: $21,058
Persons below poverty line: 47%
Housing, families and educational attainment *
Number of households
32,405
Housing units density:
343.4 (2013)
Persons per household: 2.55
High school grad or higher: 77.5%
Marital status: 31% married
* U.S. Census Bureau 2020 data, unless otherwise noted - Source: Quick Facts Puerto Rico.
** U.S. Census Bureau 2016-2020

Map References
Coordinates: 18.3442° N, 66.7528° W
Zip Code: 00612, 00613, 00614, 00616, 00652, 00688
Driving Distance from San Juan: 54.5 miles
Driving Time: 1 hour, 16 minutes
Other Resources