Aguadilla, Puerto Rico
(ah-gwah-DEE-yah)

Aguadilla is known as La Villa del Ojo de Agua (village of the eye of water). Aguadilla is also known as El Pueblo de los Tiburones (town of the sharks), and recently El Nuevo Jardín del Atlántico (the new garden of the Atlantic). Aguadilla was founded in 1775 by Luis de Córdova. Aguadilla derives its name from a name given by the Indians Guadilla or Guadiya which means garden.
Points of Interest and Landmarks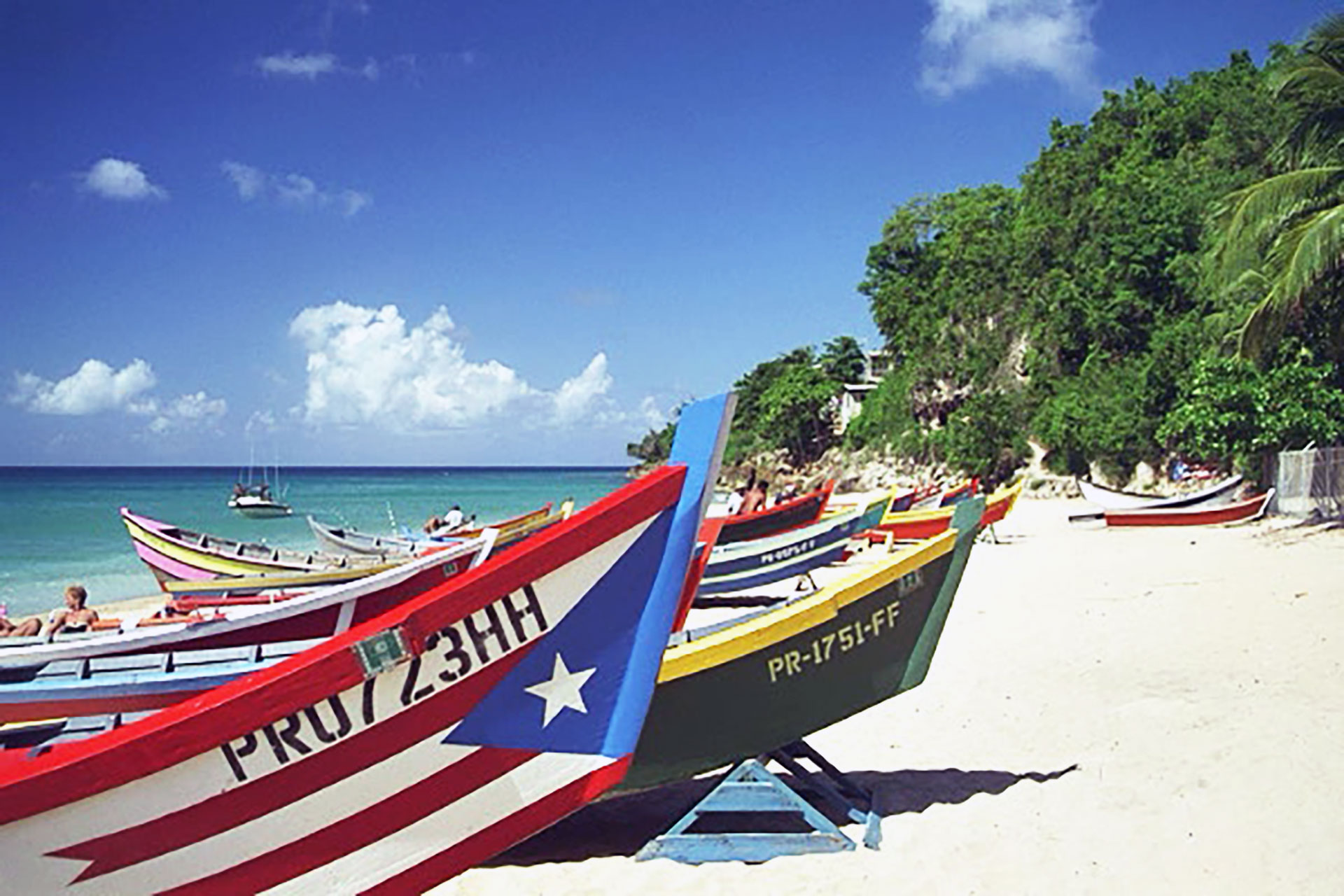 Aguadilla is best known to visitors for its beaches. Aguadilla's most popular surfing beaches include Crash Boat, famous for it's crystal clear waters, Gas Chambers, and Wilderness.
Among Aguadilla's main attractions you will find the popular Parque Acuático Las Cascadas, a modern aquatic theme park, the biggest in the Caribbean (tel. 787-819-1030), and the Merendero, with a beautiful view of the town's bay and the nearby Desecheo islet. The Christopher Columbus Park is located in a small forest at the southernmost beach of Aguadilla. The park harbors a romantic boardwalk along the beach.
The town center is known as Plaza de Recreo, located in front of the old catholic church and the Alcaldía (Major's House). Another of Aguadilla's attractions is the Ojo de Agua (water eye), this is an underground fresh water source that anciently was used by the Aguadilla Harbor in times of Spanish Occupation.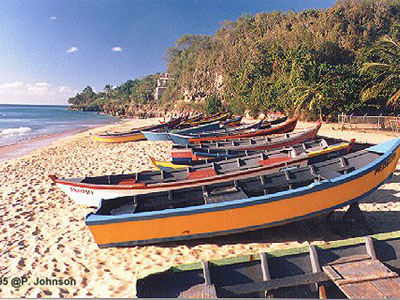 The city is also home of the Aguadilla Ice Skating Arena, the only ice skating facility in the Caribbean region. (tel. 787-819-5555).
Aguadilla was home of the Ramey Air Force Base and its former base airport was converted into Rafael Hernandez Airport, considered one of the most active commercial airports on the island. The paved runway extends for 11,701 feet. The facility is at an elevation of 238 feet at a distance of about 3 miles from Aguadilla, owned by Puerto Rico Ports Authority.
The Punta Borinquen Lighthouse, built in 1889, has been designated a historic site worthy of preservation by the National Register of Historic Places (tel. 787-891-1005).
Additional Places and Sights
Other places worth exploring include:
Aguadilla Bowling Center (tel. 787-891-3495)
Aguadilla Shopping Mall - Open Mon-Thu 9am-7pm, Fri-Sat 9am-9pm, Sun 11am-5pm, (tel. 787-882-0014)
Crash Boat Beach - A popular surfing and sports beach located just north of Aguadilla on the west coast. Located on Route 458, off Route 107.
La Ponderosa Beach
La Poza Beach
Punta Borinquen Golf Course - Built in 1940 for the US Air Force golf aficionados stationed at the former Ramey Base, this course was played by such well-known generals as Dwight D. Eisenhower. Course designed by Pete Dye around 1940. Punta Borinquen is now a public golf course. Green Fees: $31 weekdays, $33 on weekends. Open Mon-Sun 7:00am - 6:00pm. (tel. 787-890-2987)
Cathedral San Carlos
Paseo Miguel Garcia Mendez
Rafael Hernández Monument - Monument to the memory of such as composer Rafael Hernández considered one of the most important figures in 20th-century popular Puerto Rican music.
If you are looking for a place to stay during your next trip, you have few choices in Aguadilla. The Cielo Mar Hotel offers air conditioned rooms, equipped with private baths, refrigerator, cable TV, telephone, and the majority with private balcony and sea view, (787) 882-5959. La Cima Hotel offers 40 air conditioned rooms, with cable TV, phones and daily room service, (787) 890-2016. Parador El Faro is a hidden gem located between 17 acres of tropical terrain in Aguadilla, (787) 882-8000.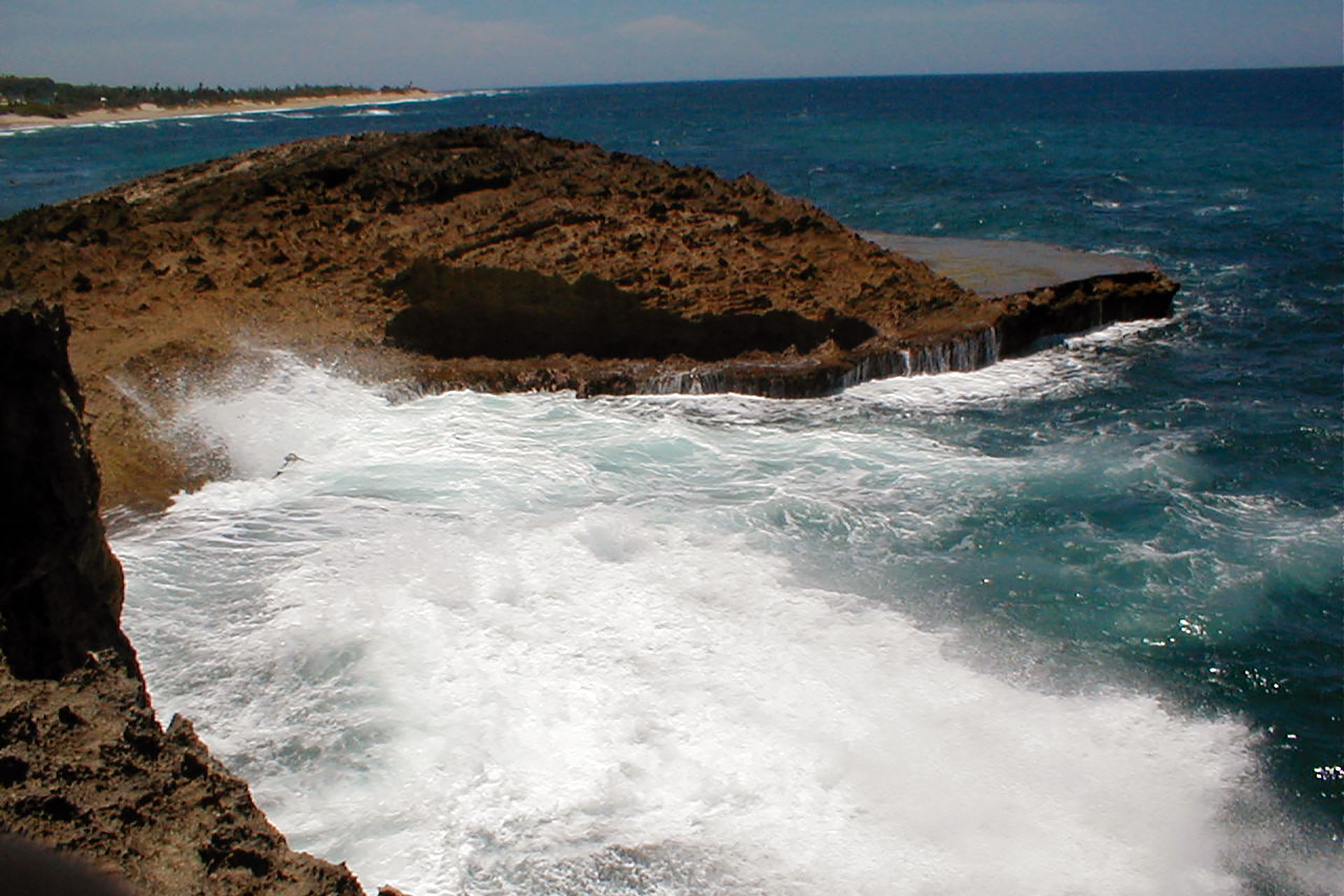 Economy
The town is a processing and trading center for agricultural products such as: sugar, coffee, fruits, tobacco, and cotton.
Geography
Aguadilla territory is mostly flat because the city it is located on the Western Costal Valley, bordering the Atlantic Ocean, north of Aguada and Moca; and west of Isabela. Aguadilla highest peak is Jimenez Peak (222mt, 728 ft) and the largest river is Culebrinas.
Aguadilla is made up of 16 barrios (wards/districts):
Aguacate
Aguadilla Pueblo
Arenales
Borinquén
Caimital Alto
Caimital Bajo
Camaceye
Ceiba Alta
Ceiba Baja
Corrales
Guerrero
Maleza Alta
Maleza Baja
Montaña
Palmar
Victoria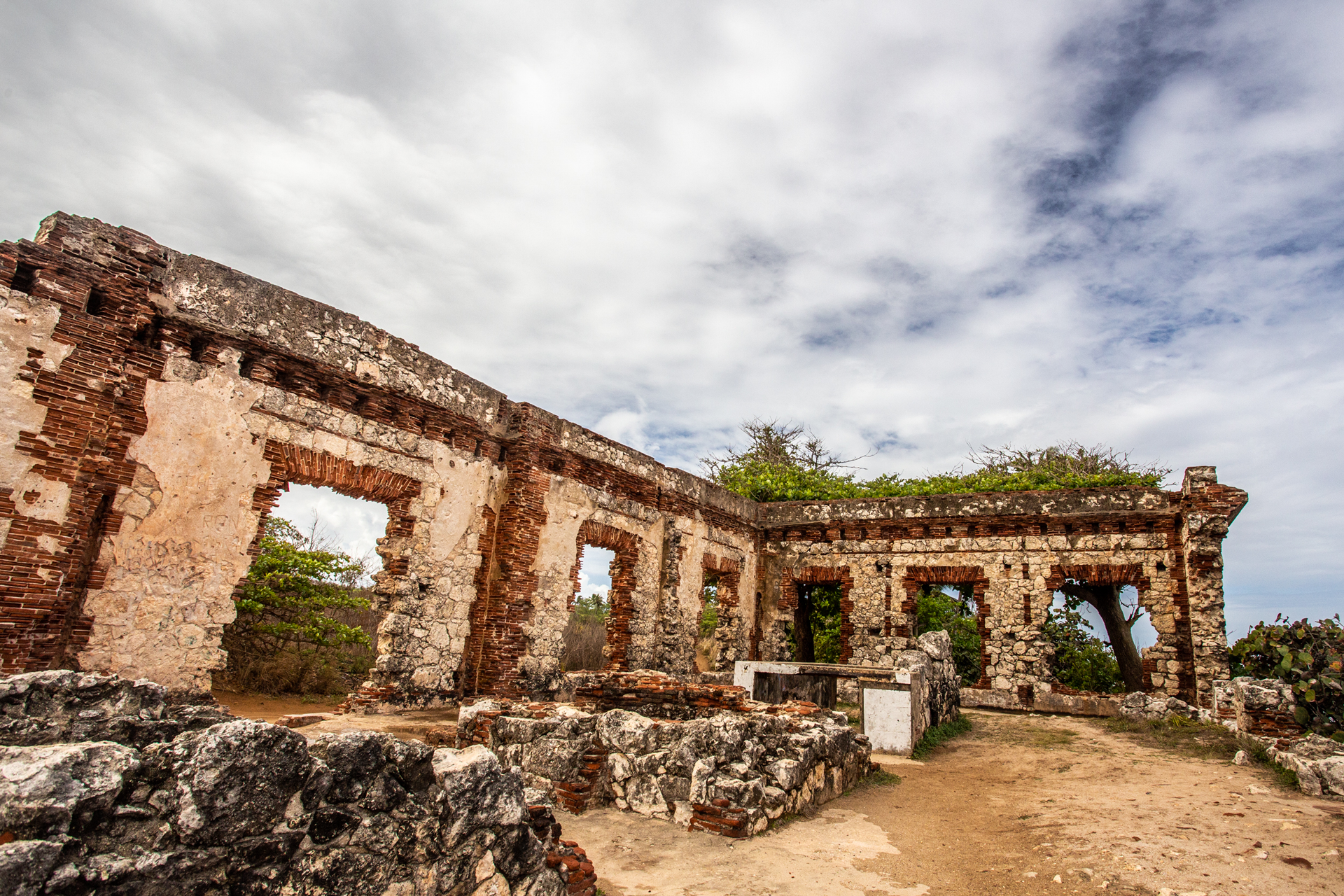 Climate
Aguadilla annual precipitation is 54 inches, and its average temperature is 78°F. September is the warmest, January is the coldest, October is the wettest and March is the driest month.
Notable People
There are many well-known "aguadillanos", among them:
Restaurants
Brisas del Atlantico Restaurant (Sea Food), (787) 890-5660
Chris (Steak), (787) 882-1896
Contrabando (International), (787) 890-2108
Dario's Gourmet (International), (787) 890-6143
El Faro (International), (787) 882-8000
Golden Crown (Chinese), (787) 890-2016
King of the Sea Restaurant (Sea Food), (787) 882-8000 ext. 315
Molina's Restaurant (Sea Food), (787) 882-1487
Tres Amigos (Puerto Rican), (787) 882-8000
Fax (787) 882-1030
Woopy's Restaurant (Sea Food), (787) 891-0388
Festivals and Events
Festival de Atun - July

Festival de Musica - July

Festival Playero - June

Fiestas de San Antonio - April

Fiestas Patronales de San Carlos Borremeo - October
Every year, Aguadilla celebrates a patron saint festival. The festivities include dances, food, parades and religious processions. (787) 891-1005
Velorio de Reyes - January

Verbena de Corrales - May

Symbols
Flag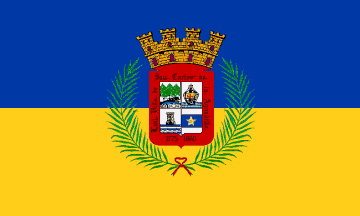 The flag was designed on 1972 following the recommendations of the Puerto Rican Institute of Culture for the occasion of the 200th Anniversary of the city foundation. It consists of two horizontal bands of equal size, blue the upper one and gold (yellow) the lower one, the predominant colors of the Coat of Arms, being this placed at the center of the flag.
Coat of Arms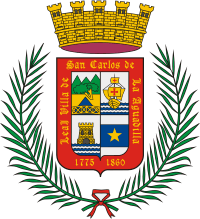 The coat of arms refer to the history of Aguadilla. The first quarter presents the famous "Ojo de Agua" (Spring of Water) and behind the Jaicoa Mountains. The second quarter shows the image of a "nao" or vessel that stands for the many ships that made seaport in past centuries and with reference to the discovery of Puerto Rico by Christopher Columbus. (Another contested site of landing). The third quarter illustrates a tower raised from the waters due to the battles at Fuerte de la Concepción (Fort of the Conception), where English and Colombian pirate's attacks were repelled in the XVII and XIX Centuries. The fourth quarter has a five-point star in reference to the many Aguadillan intellectuals that has given prestige to the arts, sciences, writings, military, and legislation; is an expression of light and clarity. The inscription thereof seen is due to the granting of the title of "Loyal Villa", in 1860, by Queen Elizabeth II and that responded to the cooperation that Aguadilla gave to the war that Spain was having in Africa. The green boughs refer to the palms that the Holy Virgin of Victory carries. The mural crown has four towers signifying its Villa status. The colors: red stands for courage, fearlessness, intrepidity (boldness), and honor. Blue, the classic sea color, is for serenity and sweetness. Green's for hope, abundance and liberty. Purple's for the citizen's dignity. Gold's for wealth, faith and constancy (steadfastness). White background stands for temperance and kindliness. (Source: "Banderas y escudos municipales" (Flags and Municipal Shields) by Anisa Productions Inc.)
Anthem
The anthem was written by Rafael Hernandez Marin. The title is Playita Aguadillana.
Education
There are 27 public schools in Aguadilla, education is handled by the Puerto Rico Department of Education. Aguadilla is also home of 3 colleges and universities.
Demographics *
Population
55,101

Puerto Rico: 3,285,874
Land Area: 36.53 sq mi
Density: 1,411.10 per sq mi
Median Age: 43
Sex: 52% female
Economics **
Per capita income
$11,733
Puerto Rico: $21,058
Median household income: $16,065
Puerto Rico: $21,058
Persons below poverty line: 51.3%
Housing, families and educational attainment *
Number of households
21,774
Housing units density:
778.3 (2013)
Persons per household: 2.31
High school grad or higher: 74%
Marital status: 42% married
* U.S. Census Bureau 2020 data, unless otherwise noted - Source: Quick Facts Puerto Rico.
** U.S. Census Bureau 2016-2020

Map References
Coordinates: 18.4300° N, 67.1544° W
Zip Code: 00603, 00604, 00605, 00690
Driving Distance from San Juan: 86.8 miles
Driving Time: 2 hours, 7 minutes