Arts and Crafts in Puerto Rico
Arts
There is a strong artistic presence among Puerto Ricans, whether from artists formally trained in art schools, or self-taught amateurs.
Serious students of Puerto Rican art always go to the Institute of Puerto Rican Culture in the Dominican Convent in Old San Juan. It's the best source of information on the island about Puerto Rican arts and crafts.
With its dozen or so museums and even more art galleries, Old San Juan is the greatest repository of Puerto Rican arts and crafts. Galleries sell everything from pre-Columbian artifacts to paintings by relatively contemporary artists such as Angel Botello, who died in 1986. The Galería Botello, at 208 del Cristo St., was his former home. He restored the colonial mansion himself; now his paintings and sculptures are on display there.
Another good place to see Puerto Rican art is the Museum of the University of Puerto Rico in Río Piedras. Because of space limitations, the museums galleries can exhibit only a fifth of their vast collection at one time, but the work is always of top-notch quality. The collection ranges from pre-Columbian artifacts to works by today's major painters.
The greatest art on the island is at the Museo de Arte de Ponce, Las Americas Avenue, in Puerto Rico's largest city. The collection, donated by former governor Luis A. Ferré, ranges from Jan van Eyck's Salvatore Mundi to Rossetti's confrontational Daugthers of King Lear. The museum building was designed by Edward Durell Stone, who also designed New York's Museum of Modern Art. Works are displayed here in a honeycomb of skylit hexagonal rooms. Puerto Rican artists who are represented include José Campeche (1751-1809) and Francisco Oller (1833-1917). In addition to such European masters as Rubens, van Dyck, and Murillo, the museum features works by Latin American artist, including some by the Mexican Diego Rivera.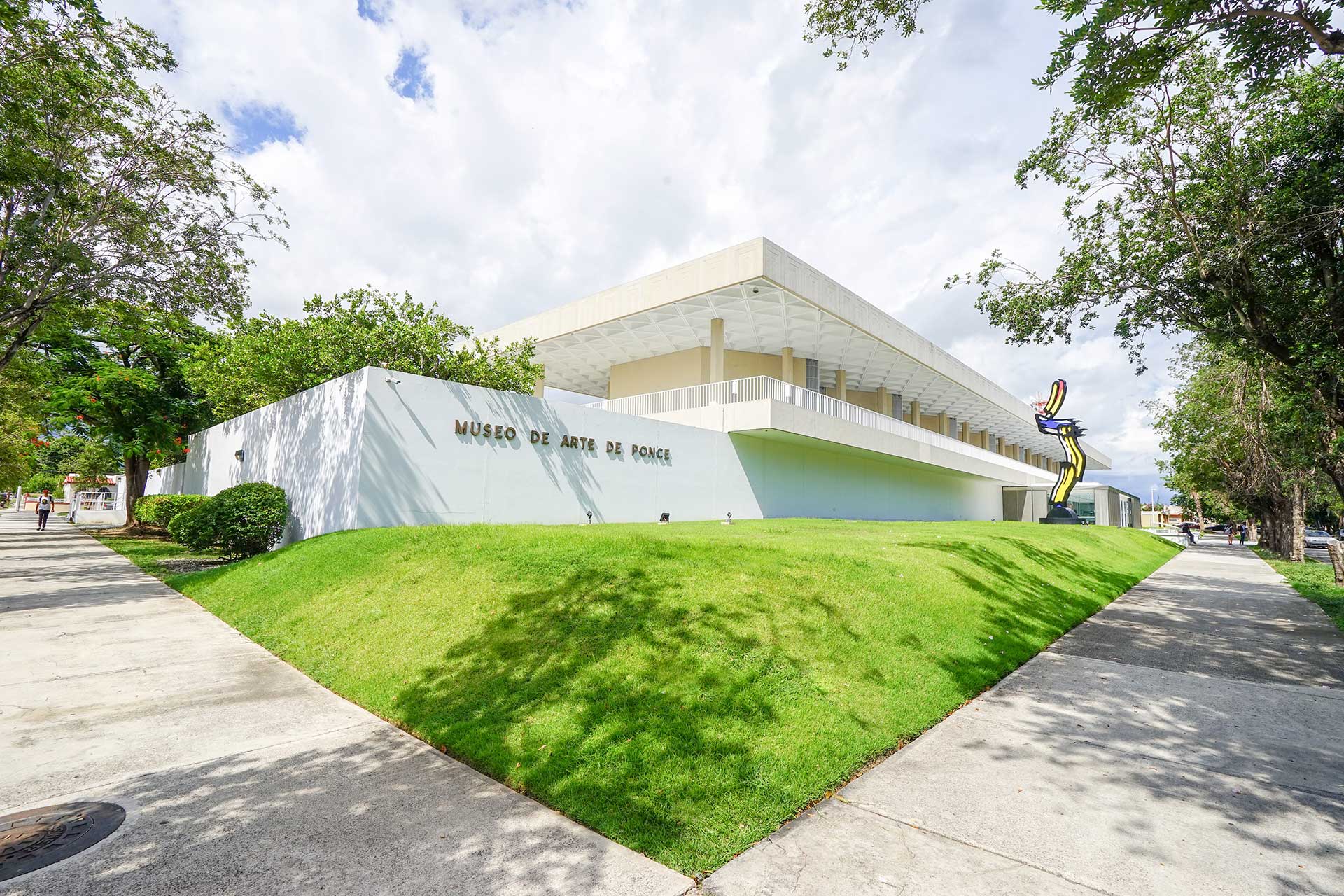 The first major Puerto Rican artist of note was José Campeche, an 18th-century "Sanjuanero" who lived his entire life in and drew inspiration from the city of his birth. The son of a freed slave and a immigrant from the Canary Islands; Campeche was greatly influenced by a Spanish court painter who was banished to San Juan. Since Campeche was fascinated by religious paintings, many of his 400 works were for churches. He was also a distinguished portrait painter, whose subjects ranged from governors of the colony to local personalities to members of well-to-do families. Some of his paintings are Birth of Christ, Vision of St. Francis of Assissi, Virgin of Mercy, Don Miguel Antonio de Ustariz, and many versions of the Virgin and Child. Many of Campeche's paintings are found in churches and in the Cathedral in old San Juan.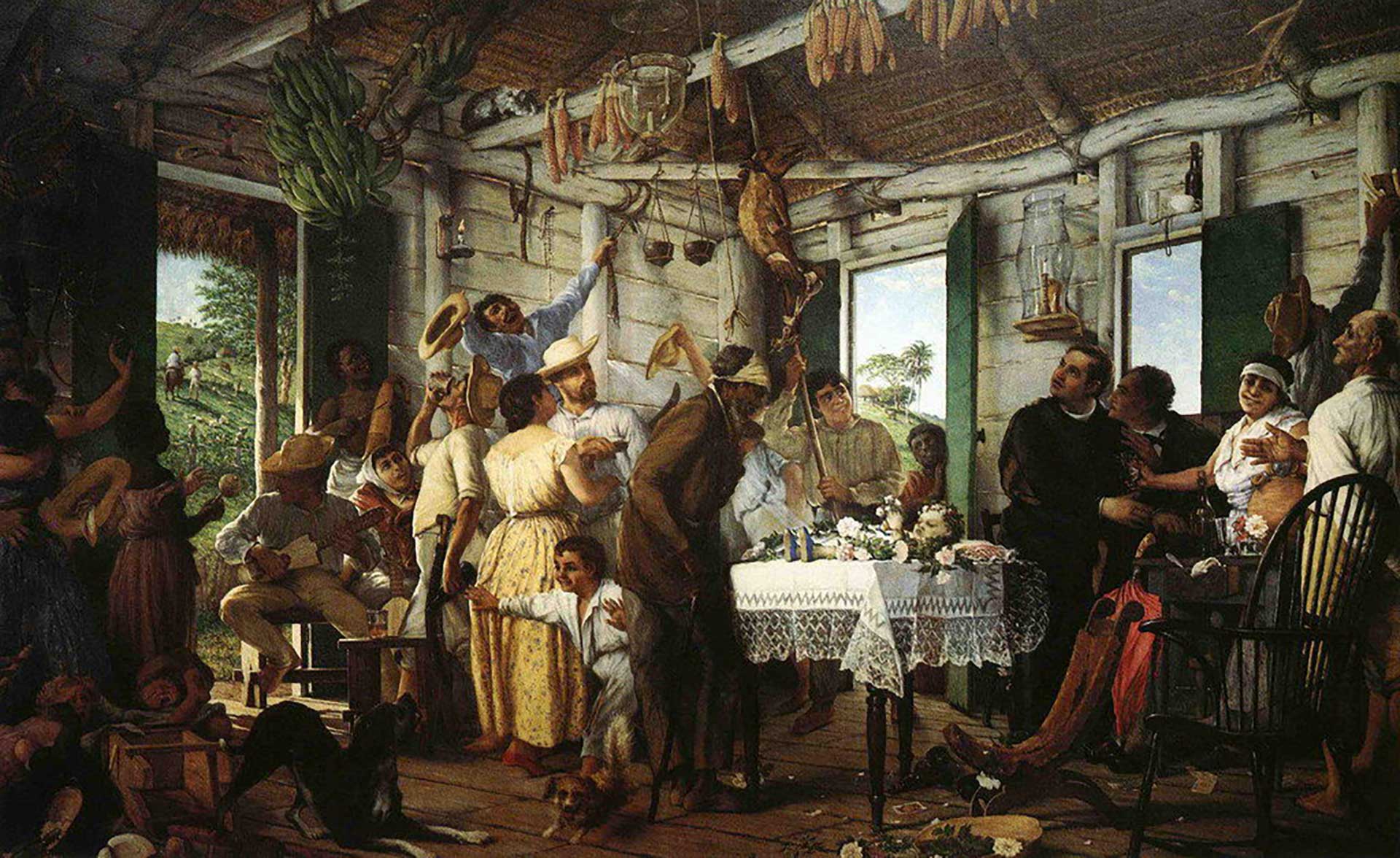 El Velorio, 1893
Francisco Oller y Cestero
Francisco Oller y Cestero, born in 1833, was also an eminent Puerto Rican painter. He was greatly influenced by European art, especially the works of Paul Cézanne (1839-1906, French painter) and Pablo Picasso (1881-1973, Spanish painter). Oller became the first Latin American artist to adapt the impressionists' interest in light and color to the tropical skies of Puerto Rico. Island scenes fascinated him, and he depicted everything from life on a sugarcane plantation to a funeral wake in the Puerto Rican countryside. His still lifes of local flora, including palm trees and bananas, are eagerly sought by collectors. Among his portraits: "Un mendigo" (A Beggar), "Un cesante" (Laid Off), "El almuerzo del rico" (The Luncheon of the Rich), "El almuerzo del pobre" (The Luncheon of the Poor), "La escuela del maestro Rafael" (Teacher Rafael's School), "Un boca abajo" (Face Down), among others.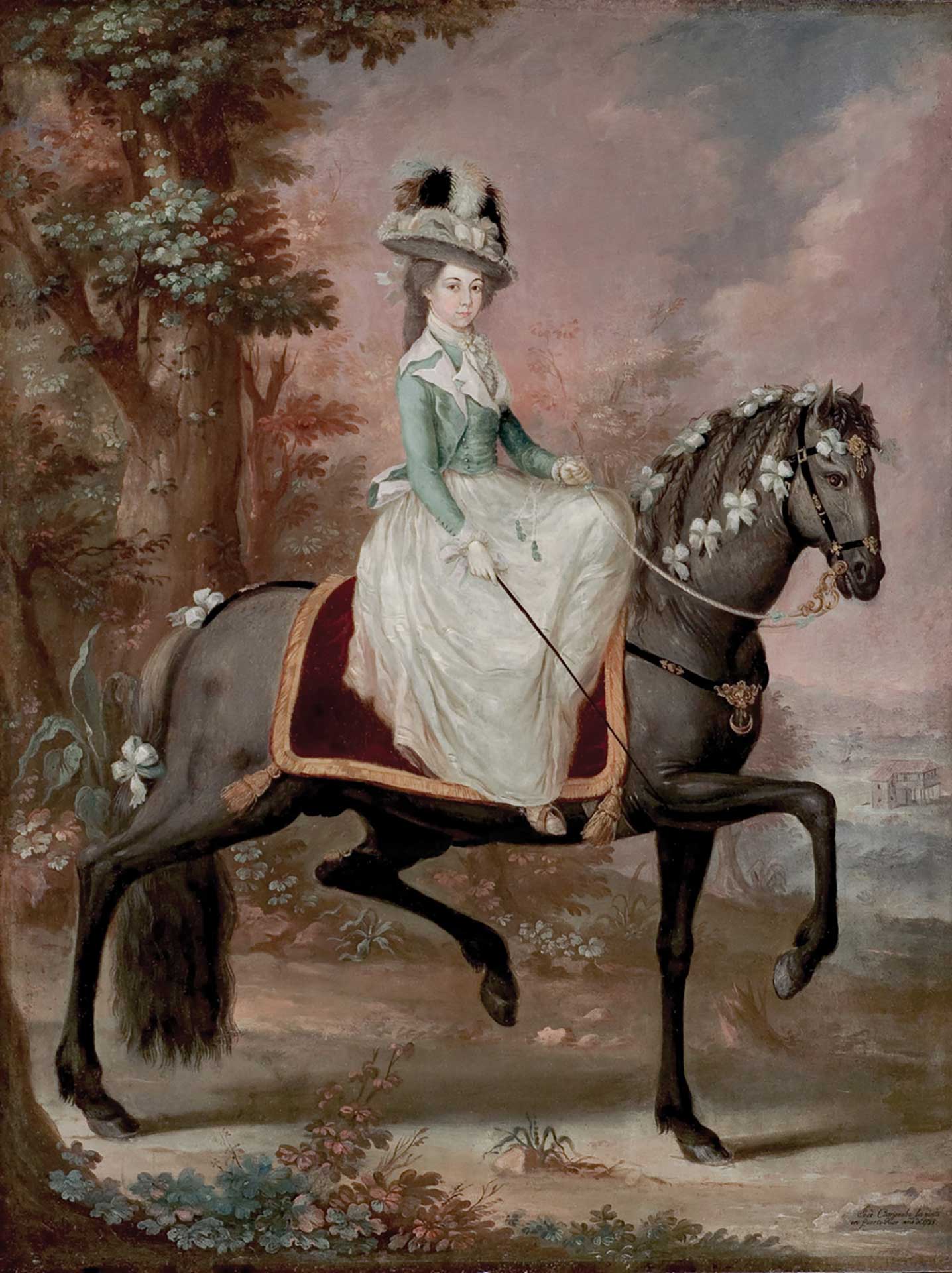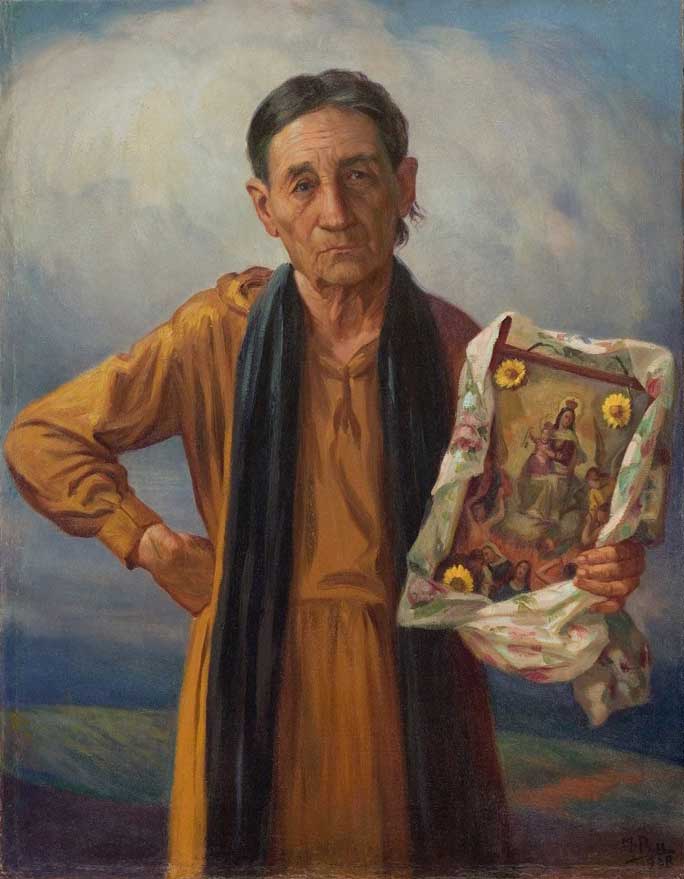 Many Puerto Rican artists have followed in Oller's footsteps, including Ramón Fradé (1875-1954) and Miguel Pou (1880-1968). Frade's painting of The Jíbaro pays homage to the country peasant farmer. There are other works by Frade, El Niño Campesino, El Pan Nuestro de Cada Día, Ensenada, La Poza, and many others. Outstanding paintings by Pou are: Los Coches de Ponce, La Promesa, La Calle Loíza, and La Catedral de Ponce.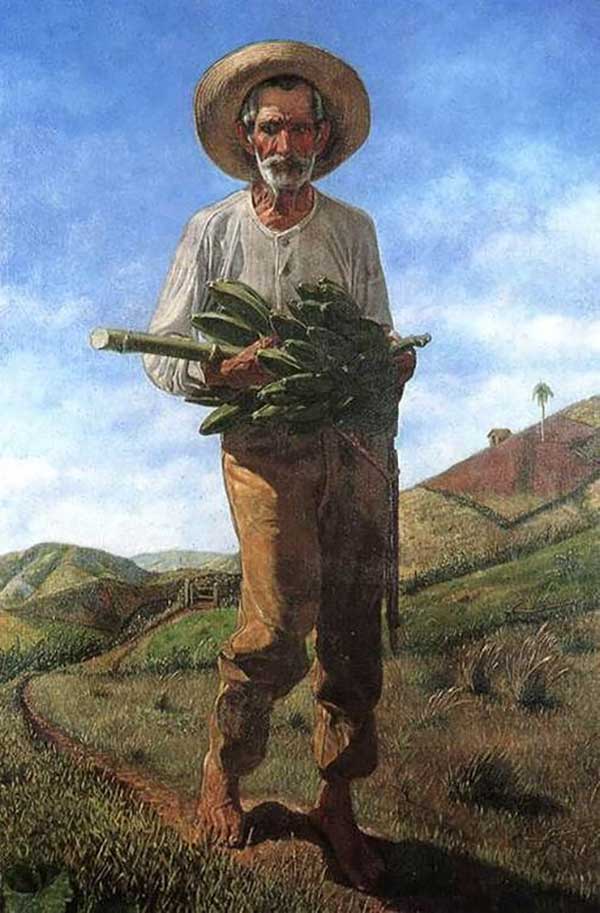 Funded by government, a tradition of artistic posters became popular in the 1940s. Printmaking still flourishes, and the field has attracted such artists as Antonio Martorell and José Rosa.
Since the 1960s, nearly every major Puerto Rican artist has studied abroad, in both Europe and America. Some artists prefer to live abroad, returning to the island from time to time for inspiration. One of them, Rafael Ferrer, is perhaps better known in New York art galleries than in San Juan. Savvy collectors are also buying the works of well-known contemporary artists as Ivette Cabrera, Consuelo Gotay, Juan Ramón Velázquez, Lorenzo Homar, Rafael Tufiño, and Jorge Zeno.
Crafts
The most impressive of the island's crafts are the Santos, carved religious figures that have been produced since the 1500s. Craftspeople who make these are called santeros; using clay, gold, stone, or cedar wood, they carve figurines representing saints, usually from 8 to 20 inches tall. Before the Spanish colonization, small statues called cemi stood in native tribal villages and camps as objects of veneration, and Puerto Rico's santos may derive from that pre-Columbian tradition. Every town has its patron saint and every home has its santos to protect the family. For some families, worshiping the santos replaces a traditional mass.
Art historians view the carving of santos as Puerto Rico's greatest contribution to the plastic arts. The earliest figures were richly baroque, indicating a strong Spanish influence, but as the islanders began to assert their own identity, the carved figures often became simpler.
In carving santos, craftspeople often used handmade tools. Sometimes such natural materials as vegetable dyes and even human hair were used. The saints represented by most santos can be identified by their accompanying symbols. For example, Saint Anthony is usually depicted with the infant Jesus and a book. Perhaps the most popular group of santos are the Three King. The Trinity and the Nativity are also depicted frequently. Art experts claim that santos-making approached its zenith at the turn of the century, although hundreds of santeros still practice their craft throughout the island.
Some of the best santos on the island can be seen at the Capilla del Cristo in Old San Juan. The most popular figures are the virgins, male saints, and the Three Kings.
Another Puerto Rican craft has undergone a big revival just as it seemed that it would disappear forever. Originating in Spain, mundillos (tatted fabrics) are the product of a type of bobbin lace-making. This particular kind of lace, five centuries old, exists only in Puerto Rico and Spain.
The first lace made in Puerto Rico was called torchon ("beggar's lace"). Early examples of beggar's lace were considered of inferior quality, but artisans today have transformed this fabric into a delicate art form, eagerly sought by collectors. Lace bands, called entrados have two straight borders, whereas the other traditional style, puntilla, has both s straight and a scalloped border. The best place to see the craft of the mundillo is the Folk Arts Center at Dominican Convent in Old San Juan. This center has information on island shops that make and sell mundillos. You can also attend the Puerto Rican Weaving Festival, held annually at the end of April in the town of Isabela.
Perhaps the most popular of all Puerto Rican crafts are the frightening caretas-papier-maché masks worn at island carnivals. Tangles of menacing horns, fang-toothed leering expression, and bulging eyes of these half-demon, half-animal creations send children running screaming to their parents. At carnival time, they are worn by costumed revelers called vejigantes (bay-he-GAHN-tay). The name comes from the Spanish words vejiga, meaning bladder, and gigante, meaning giant. Vejigantes often wear bat-winged jump-suits, roam the streets either individually or in groups and carry inflated cow bladders (vejigas) at the end of a stick. With these bladders they harmlessly hit people during the festivities.
The origins of these masks and carnivals may go back to medieval Spain and/or tribal Africa. A processional tradition in Spain, dating from the early 17th century, was intended to terrify sinners with marching devils in the hope that they would return to church. The vejigantes represented the Devil in the holy battle between good and evil. Originally the vejigante were demons who appeared at the Spanish patronal festival of Santiago (St. James), as representatives of the Moors fought by Spanish knights. Puerto Rico blended this Spanish procession with the marked tradition brought by slaves from Africa. Some historians believe that the Taínos also were accomplished mask makers, which would make this a very ancient tradition indeed.
The Vejigante is such an old character that he is even described in the classic novel Don Quixote written by Miguel de Cervantes in 1605. Today the vejigante have been recreated by Puerto Rican popular tradition as figures of resistance against colonialism and imperialism.
The predominant mask colors, at least traditionally, were black, red and yellow, all symbols of hellfire and damnation. Today, pastels are more likely used. Each vejigante sports at least two or tree horns, although some masks may have hundreds of horns in all shapes and sizes. A carnival is held in Loiza each year, where vejigantes are the main attraction, there are 4 main costumed characters: el Caballero (the knight), los vejigantes, los viejos, (the elders), and las locas (the crazy women).
Mask making in Ponce, the major center for this craft, and in Loíza Aldea, a palm-fringed town on the island's northeastern coast, has since led to a renaissance of Puerto Rican folk art.
You can purchase these masks year-round at various places, even in the homes of the mask makers, providing that you have their addresses. Although many masks are extremely elaborate and expensive, they typically range in price from $10 to $75. The premier store selling these masks is Puerto Rican Art and Crafts, 204 Fortaleza Street, in Old San Juan. Masks can be seen in action at the three big masquerade carnivals on the island: the Ponce Festival in February, the Festival of Loíza Aldea in July, and the Día de las Mascaras at Hatillo in December.
Sources:
Porter, Darwin and Danforth Prince, Frommer's Comprehensive Travel Guide - Puerto Rico '95-'96, New York, New York, Macmillan Travel, 1992, 1994, pp. 29-30.
Other Resources