Isabela, Puerto Rico

Isabela is known as "El Jardín del Noroeste" (garden of the northwest) and "El Pueblo de los Quesitos de Hoja".
In 1725 the first European settlers built a town near the Guajataca River and named it San Antonio de la Tuna. The area was later abandoned until the early 1800's when it was resettled. Isabela was founded on May 21, 1819. and named in honor of Isabel Queen of Spain.
Isabela is located in the north-western region of the island, north of San Sebastián; west of Quebradillas; and east of Aguadilla and Moca.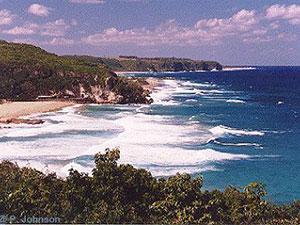 Tourism, industry, dairy products, livestock, leather goods and tobacco are the principal economic activities.
There are many well-known "isabelinos", among them: composer Noel Estrada.
Isabela is made up of 14 barrios (wards/districts):
Arenales Altos
Arenales Bajos
Bajuras
Bejucos
Coto
Galateo Alto
Galateo Bajo
Guayabos
Guerrero
Jobos
Llanadas
Mora
Planas
Pueblo
Restaurants
Eclipse Restaurant & Bar (Puerto Rican), (787) 872-9554
El Buen Mofongo (Puerto Rican), (787) 830-8496
Happy Belly's on the Beach (Puerto Rican), (787) 398-9452
Ocean Front Restaurant (International/Sea Food/Steak), (787) 872-0444
Punta Saldinera Sea Food (Sea Food), (787) 830-4766
Restaurante Flavor China (Chinese), (787) 830-8115
Accommodations
Costa Dorada Beach Resort (Small Inn), (787) 872-7255

Fusion Beach Villas (Villa), (787) 409-8368

Ocean Front Hotel and Restaurant (Hotel), (787) 872-0444

Parador Villas del Mar Hau (Parador), (787) 872-2045

Villa Montana Beach Resort (Resort), 1-888-780-9195
(787) 872-9554

Ocean Blue Villa (Rental), (787) 546-8038

Pelican Reef Apartments (Apartment/Condo), (787) 872-6518
(787) 830-0984
Toll-free 1-866-444-9818

Villa Bajandas (Rental), (787) 240-0545

Villa Tropical (Rental), (787) 872-7172

Festivals and Events
Dia de los Santos Inocentes - December

Fiesta del Gallo Isabelino - February

Fiesta de Reyes Isabelinos - January 5-6
Every year Isabela celebrates the holiday with a two-day festivity that includes dramatizations of the arrival of the three Magi and their pilgrimage to find the baby Jesus, adore him and present their gifts. The glorious outcome is celebrated with a fiesta at the town square (Plaza Manuel Maria Corchado y Juarbe) that includes a Velorio de Reyes, a traditional song fest in honor of the Magi; handcrafts fair, Trovadores contest with prizes, puppet shows for children, Christmas music and carolers, typical food and drinks. (787) 819-6555
Fiestas Patronales de San Antonio de Padua - June
Every year, Isabela celebrates a patron saint festival. The festivities include dances, food, parades and religious processions. (787) 872-2100
Education
There are 19 public schools in Isabela, education is handled by the Puerto Rico Department of Education. Isabela is also home of 2 colleges and universities.
Symbols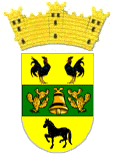 The coat of arms consists of two colors, gold and green. The gold represents the sun, Isabela is located in the island were the sun rises. Green symbolizes the native Indian heritage as well as the natural tropical valley where the city is located. The shield itself represents Isabela's native and Indian name origin.
Anthem: Isabela, permite que me inspire...
Climate
The annual precipitation is around 62.8 inches, and its average temperature is 84.7°F.
Demographics *
Population
42,337

Puerto Rico: 3,285,874
Land Area: 55.3 sq mi
Density: 742.8 per sq mi
Median Age: 43.1
Sex: 51% female
Economics **
Per capita income
$9,853
Puerto Rico: $21,058
Median household income: $16,996
Puerto Rico: $21,058
Persons below poverty line: 51.2%
Housing, families and educational attainment *
Number of households
15,159
Housing units density:
384.6 (2013)
Persons per household: 2.69
High school grad or higher: 71%
Marital status: 41% married
* U.S. Census Bureau 2020 data, unless otherwise noted - Source: Quick Facts Puerto Rico.
** U.S. Census Bureau 2016-2020

Map References
Coordinates: 18.5131° N, 67.0700° W
Zip Code: 662
Driving Distance from San Juan: 76.9 miles
Driving Time: 1 hours, 53 minutes