Moca
(MO-kah)

Moca is known as "La Ciudad del Mundillo" (bobbin lace capital). Moca was founded in June 22, 1772 by José de Quiñones.
Moca is located in the northwest region of the island, north of Añasco; southeast of Aguadilla; east of Aguada; and west of Isabela and San Sebastián.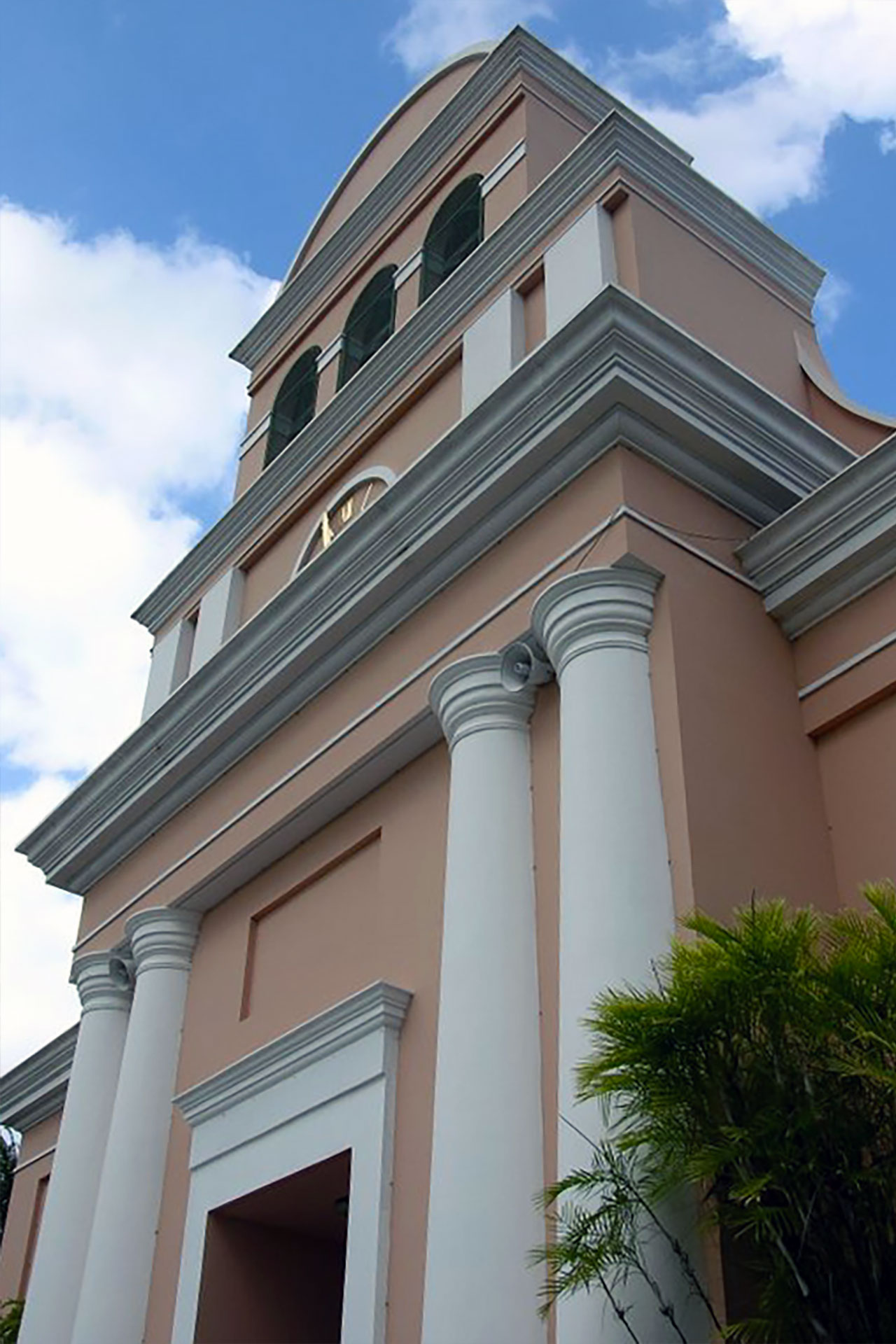 Iglesia San Juan Nepomuceno
(Photo: Manuel Santiago)
There are many well-known "mocanos", among them:
Antonio Caban Vale, "El Topo", folklore singer
Enrique A. Laguerre Vélez, writer and educator
Moca is made up of 17 barrios (wards/districts):
Aceitunas
Capá
Cerro Gordo
Cruz
Cuchillas
Marías
Naranjo
Plata
Pueblo
Rocha
Voladoras
Things to See and Do In Moca
Want to know what to see and do in Moca? Discover few ideas for exploring and enjoying the city.
Festivals and Events
Festival del Camaron - May

Festival del Mundillo - November
Moca welcomes everybody to its Bobbin Lace Festival. Exhibits of bobbin lace (mundillo) as well as other types of weaving and knitting take place at the plaza town. The festival also includes: weaving demonstrations, traditional music, food and drinks. (787) 818-0105
Fiestas Patronales Nuestra Senora de la Monserrate - September
Every year, Moca celebrates a patron saint festival. The festivities include dances, food, parades and religious processions. (787) 877-2270
Mundillo Festival - November
Moca celebrates every year this festival where you can view displays of delicate bobbin lace. (787) 877-2270
Parranda del Enchaquetao - December

Symbols

Anthem: Doce barrios, doce estrellas...
Education
There are 17 public schools in Moca, education is handled by the Puerto Rico Department of Education.
Climate
Demographics *
40,109
Population
39,153 (July 2013 est.)
Land Area: 50.34 sq mi
Density: 796.8 per sq mi
Median Age: 35.1
Economics *
$7,235
Per capita income (2013)
Puerto Rico: $11,068
Median household income: $14,717
Puerto Rico: $19,624
Persons below poverty line: 52.80 %
Housing, families and educational attainment *
14,360
Number of households
Housing units density: 333.7
Persons per household: 3.19
High school grad or higher: 66.0%
* U.S. Census Bureau 2010 data unless otherwise noted.
Map References
Coordinates: 18.3947° N, 67.1133° W
Zip Code: 00676
Driving Distance from San Juan: 87 miles
Driving Time: 2 hours, 11 minutes