Naguabo, Puerto Rico
(nah-GWAH-bo)

Naguabo is known as "El Pueblo de los Enchumbaos" (the town of the soaked ones). Naguabo was founded in July 15, 1821. Derives its name from a local Indian Chief Naguabo.
Naguabo is located in the east coast of the island, north of Humacao; south of Río Grande and Ceiba; and east of Las Piedras.
There are many well-known "naguabeños", among them:
Pedro C. Timohee
Orlando Rodríguez Cabreras
Arturo Gallardo Woods
former first lady Inés María Mendoza
composer Pedro Flores
comedian Ramon del Rivero "Diplo"
singer Carmen Delia Dipini
Tito Henriquez
Naguabo is made up of 10 barrios (wards/districts):
Cubuy
Daguao
Duque
Húcares
Santiago y Lima
Maizales
Mariana
Peña Pobre
Pueblo
Río Blanco
Accommodations
Casa Cubuy Bed and Breakfast (Small Inn), (787) 874-6221

Casa Flamboyant (Guest House), 787-874-6074

Playa Hucares Getaway (Rental), (732) 536-8996

Festivals and Events
Festival de Diplo - June

Festival del Chapin - June

Fiestas del Carmen - July

Fiestas Patronales de Nuestra Virgen del Rosario - October
Every year, Naguabo celebrates a patron saint festival. The festivities include dances, food, parades and religious processions. (787) 874-3040
Semana de Pedro Flores - March

Symbols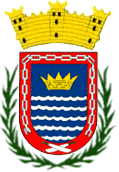 Anthem: Hacia el este de las Islas Antillanas...
Education
There are 13 public schools in Naguabo, education is handled by the Puerto Rico Department of Education.
Climate
Demographics *
Population
23,386

Puerto Rico: 3,285,874
Land Area: 51.66 sq mi
Density: 501.9 per sq mi
Median Age: 39.4
Sex: 53% female
Economics **
Per capita income
$9,337
Puerto Rico: $21,058
Median household income: $19,224
Puerto Rico: $21,058
Persons below poverty line: 48.1%
Housing, families and educational attainment *
Number of households
8,276
Housing units density:
232.8 (2013)
Persons per household: 3.13
High school grad or higher: 74.9%
Marital status: 37% married
* U.S. Census Bureau 2020 data, unless otherwise noted - Source: Quick Facts Puerto Rico.
** U.S. Census Bureau 2016-2020

Map References
Coordinates: 18.2194° N, 65.7367° W
Zip Code: 00718, 00744
Driving Distance from San Juan: 34.9 miles
Driving Time: 1 hour, 19 minutes