Dorado
(do-RAH-do)

Dorado is known as "La Ciudad Ejemplar". Dorado was founded in 1842 by Jacinto López Martínez.
The town is a touristic centre with many residential resort communities and prestigious hotels. Dorado is home of the most famous hotels in the Metropolitan area, the Hyatt Dorado Beach Hotel and the Hyatt Regency Cerromar Hotel.
Dorado is located in the norther region of the island, bordering the Atlantic Ocean, north of Toa Alta, east of Vega Alta, and west of Toa Baja.
There are many well-known "doradeños", among them: José A. Alegría.
Dorado is made up of 6 barrios (wards/districts):
Espinosa
Higuillar
Maguayo
Mameyal
Pueblo
Río Lajas
Festivals and Events
Feria de Accion de Gracias - November

Festival de la Plata - December

Fiestas Patronales de San Antonio de Padua - June
Every year, Dorado celebrates a patron saint festival. The festivities include dances, food, parades and religious processions. (787) 796-1230
National Championship Motors - March
4th event of the Puerto Rican National Motocross Championship; new and high level circuit, big show assured. (787) 726-3162
Symbols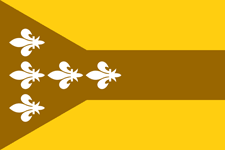 Education
There are 13 public schools in Dorado, education is handled by the Puerto Rico Department of Education.
Anthem: Por fin, en las riberas...
Climate
Demographics *
38,165
Population
38,509 (July 2013 est.)
Land Area: 23.09 sq mi
Density: 1652.9 per sq mi
Median Age: 36.4
Economics *
$7,235
Per capita income (2013)
Puerto Rico: $11,068
Median household income: $28,306
Puerto Rico: $19,624
Persons below poverty line: 35.80 %
Housing, families and educational attainment *
13,342
Number of households
Housing units density: 722.7
Persons per household: 3.26
High school grad or higher: 75.9%
* U.S. Census Bureau 2010 data unless otherwise noted.
Map References
Coordinates: 18.4589° N, 66.2678° W
Zip Code: 00646
Driving Distance from San Juan: 25.1 miles
Driving Time: 43 minutes