Dorado, Puerto Rico
(do-RAH-do)

Dorado is known as "La Ciudad Ejemplar". Dorado was founded on November 22, 1842 by Jacinto López Martínez. In 1902, Dorado was appended to Toa Baja. However, in 1905 it regained its status as a separate town.
The Casa Alegria Museum, built in 1913 and former residence of master painter Marco Juan Alegria, features an exhibit hall with art school and memorabilia from past decades. Located on 192 Mendez Vigo St. Open Monday-Friday, 8:00am - 4:30pm, (787) 796-1030.
The Casa del Rey Museum (King's House), originally built in 1823 to house Spanish government personnel, it is believed to be the oldest building in the city. This Spanish military neoclassical building houses the local history museum, features exhibits about Puerto Rico's early history, from the Taino culture to the Spanish conquest. In 1978, the Puerto Rican Institute of Culture restored the building and in 1989, the museum was listed on the U.S. National Register of Historic Places. Located on 292 Mendez Vigo St. Open Monday-Friday, 8:00am - 4:30pm, (787) 796-1030.
The Cerro Gordo Beach is a very attractive beach just a short ride from San Juan on route 690 off Route 22 or Route 2. (787) 883-2730.
The Dorado Del Mar Golf Club was designed under the expertise of world-renowned Puerto Rican golfer, Chi Chi Rodriguez in 1998. This 18-hole course is located in Dorado, just 20 miles west of San Juan. The course is characterized by its narrow fairways and magnificently shaped greens. It features 4 sets of tees, water on 12 holes and numerous bunkers. The signature hole is #10, a 525-yard, par 5, featuring stunning views of the Atlantic Ocean. The tropical trade winds will test even the best players. At night, the course is lighted up for a night game. Located on 200 Dorado del Mar. Green fees: 9 holes $85 and 18 holes $95.00. Driving range hours: Tuesday-Thursday 6:00am to 9:00pm and Friday-Saturday from 6:00am to 10:00pm, (787)796-3070.
The Hyatt Regency Cerromar Beach Resort Golf features 36 holes of championship golf spread over two courses designed by Robert Trent Jones, Sr. back in 1970. Located on Route 693. Admission $75-110. Open Mon-Sun 7:30am - 5:30pm, (787) 796-8915.
Economy
Dorado is the home of several clothing and medical equipment manufacturers, among them: Boston Scientific, Pfizer and Heraeus.
Geography
Dorado is located in the northern region of the island, bordering the Atlantic Ocean, north of Toa Alta, east of Vega Alta, and west of Toa Baja.
Dorado is made up of 6 barrios (wards/districts):
Espinosa
Higuillar
Maguayo
Mameyal
Pueblo
Río Lajas
Climate
Dorado annual precipitation is 68 inches, and its average temperature is 78°F.
Notable People
There are many well-known "doradeños", among them: José A. Alegría.
Restaurants
Club House (American), (787) 796-1234
Clubhouse Restaurant (International), (787) 796-1234 ext. 3719
El Catador Wine Cellar (International), (787) 796-1234
El Navegante Restaurant (International), (787) 796-7177
Jewel of China (Chinese), (787) 796-4644
La Casa de los Pastelillos (Puerto Rican/Sea Food), (787) 864-5171
Ladrillo (International), (787) 796-2120
Mange're Ristorante (Italian), (787) 796-4444
Palma Dorada (Sea Food), (787) 796-3152
Steak Co. (Steak), (787)796-1234
Su Casa Restaurant (Puerto Rican), (787) 278-1653
Terraza (Sea Food), (787) 796-1242
Trattoria Gargani (Italian), (787) 796-0414
Zen Garden (Chinese), (787) 796-1176
Accommodations
The town is a touristic centre with many residential resort communities and prestigious hotels.
Embassy Suites Dorado del Mar Beach & Golf Resort Hotel (Hotel), 1-800-EMBASSY
(787) 796-6125

Hyatt Hacienda Del Mar (Hotel), 1-800-926-4447
787-796-3000

Villas de Costa Mar (Rental), (302) 598-1387

Festivals and Events
Feria de Accion de Gracias - November

Festival de la Plata - December

Fiestas Patronales de San Antonio de Padua - June
Every year, Dorado celebrates a patron saint festival. The festivities include dances, food, parades and religious processions. (787) 796-1230
National Championship Motors - March
4th event of the Puerto Rican National Motocross Championship; new and high level circuit, big show assured. (787) 726-3162
Symbols
Flag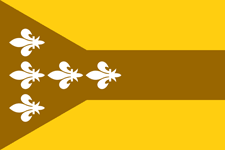 The flag is composed of three stripes of equal width: the upper and lower stripes are golden, and the center one is brown.
Education
There are 13 public schools in Dorado, education is handled by the Puerto Rico Department of Education.
Anthem: Por fin, en las riberas...
Demographics *
Population
35,879

Puerto Rico: 3,285,874
Land Area: 23.09 sq mi
Density: 1,577.90 per sq mi
Median Age: 41.9
Sex: 53% female
Economics **
Per capita income
$17,204
Puerto Rico: $21,058
Median household income: $29,852
Puerto Rico: $21,058
Persons below poverty line: 33%
Housing, families and educational attainment *
Number of households
11,842
Housing units density:
722.7 (2013)
Persons per household: 3.08
High school grad or higher: 80.9%
Marital status: 43% married
* U.S. Census Bureau 2020 data, unless otherwise noted - Source: Quick Facts Puerto Rico.
** U.S. Census Bureau 2016-2020

Map References
Coordinates: 18.4589° N, 66.2678° W
Zip Code: 646
Driving Distance from San Juan: 25.1 miles
Driving Time: 43 minutes