Yauco, Puerto Rico
('yau-"ko)

Yauco is known as El Pueblo del Café (coffee city). Yauco was founded in February 29, 1756 by Fernando Pacheco. Yauco derives its name from a name given by the Indians to a river close by, Coayuco River.
Located in the Cordillera Central region, Monte Guilarte Forest Reserve is a beautiful and lush tropical reserve. The Forest is divided into seven segments and fall within the municipalities of Adjuntas, Guayanilla, Peñuelas and Yauco. The trails are excellent for hiking and the views at the pinnacle are breathtaking. On a clear day you can see both Ponce and San Juan without the aid of binoculars. Monte Guilarte (3,953 ft) is the third highest mountain peak on the island. (787) 724-3647.
Also located in the foothills of Cordillera Central the Susua Forest in between the municipalities of Yauco and Sabana Grande. The highest elevation is 473 m. Facilities include: 15 campgrounds, a half basketball court, bathrooms, and showers. Mon-Fri 7:00 am - 3:30 pm, Sat, Sun & Holidays 9:00 am - 5:00 pm, (787) 999-2200.
Yauco is also home to the Lucchetti Lake, facilities include: boat ramp, fish cleaning station, gazebos, BBQs, restrooms with showers and a camping area. Open Tue-Sun from 6:30am to 6:30pm. Road 128 Km. 12.3, (787) 844-4660.
Economy
The surrounding areas produces sugar, coffee, tobacco, cotton and oranges. Yauco also produces textiles and other light manufactures.
Geography
Yauco is located in the southern coast of the island, south of Maricao, Lares and Adjuntas; east of Sabana Grande and Guánica; and west of Guayanilla.
Yauco is made up of 20 barrios (wards/districts):
Aguas Blancas
Algarrobo
Almácigo Alto
Almácigo Bajo
Barina
Caimito
Collores
Diego Hernández
Duey
Frailes
Jácana
Naranjo
Pueblo
Quebradas, Ranchera
Río Prieto
Rubias
Sierra Alta
Susúa Alta
Susúa Baja
Vegas
Climate
Notable People
There are many well-known "yaucanos", among them:
Amaury Veray Torregrosa
José Enamorado Cuesta
Franciso Lluch Mora
Loaiza Cordero
Amelia Agostini Carmelo Filardi
Franciso Mattei
Restaurants
Hacienda Restaurante Campo Alegre (Puerto Rican), (787) 856-2609
La Guardarraya (Puerto Rican), (787) 856-4222
Festivals and Events
Festival Nacional del Cafe - February
Yauco celebrates "la toma de cafe" every year. The festival takes place in the plaza town (Plaza Fernando de Pacheco) and features folkloric music, crafts displays, typical cuisine and demonstrations of coffee preparations. The delicious aroma of coffee fills the air and visitors are able to taste some of the area's finest blends. (787) 856-1345
Fiestas Patronales de Nuestra Virgen del Rosario - October
Every year, Yauco celebrates a patron saint festival. The festivities include dances, food, parades and religious processions. (787) 856-1340
Puerto Rican Race Festival - November

Symbols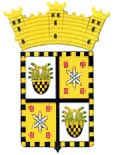 Anthem: Pueblo de gestas gloriosas...
Education
There are 28 public schools in Yauco, education is handled by the Puerto Rico Department of Education. Yauco is also home of 1 university.
Demographics *
Population
34,172

Puerto Rico: 3,285,874
Land Area: 67.7 sq mi
Density: 509.5 per sq mi
Median Age: 45.1
Sex: 52% female
Economics **
Per capita income
$9,124
Puerto Rico: $21,058
Median household income: $14,813
Puerto Rico: $21,058
Persons below poverty line: 48.9%
Housing, families and educational attainment *
Number of households
11,654
Housing units density:
264.3 (2013)
Persons per household: 2.94
High school grad or higher: 75.8%
Marital status: 37% married
* U.S. Census Bureau 2020 data, unless otherwise noted - Source: Quick Facts Puerto Rico.
** U.S. Census Bureau 2016-2020

Map References
Coordinates: 18.0369° N, 66.8503° W
Zip Code: 69
Driving Distance from San Juan: 95.7 miles
Driving Time: 2 hours, 14 minutes