Culebra
(koo-LAI-brah)

Culebra is located 27 km (17 miles) east of Puerto Rico and 19 km (12 miles) west to Saint Thomas, its dimensions are about 11 km (7 miles) long and 5 km (3.5 miles) wide. Its total area including surrounding Cays is 7,000 acres.
This small island is known as "Isla Chiquita" (small island) and "Ultima Virgen" (last virgin). Culebra was founded on October 27, 1880 by Cayetano Escudero.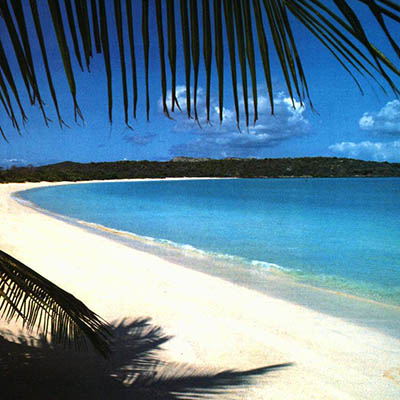 Culebra original names were "Isla Pasaje" and "Isla de San Idelfonso" in honor of Bishop San Idelfonso de la Culebra. Cayetano Escudero was the first Delegate of Culebra appointed by a Governmental order from Vieques on August 2, 1881.
The capital is Dewey, which contains most of the archipelagoes 2000 souls. The municipality of Culebra includes all surrounding islets: Cayo Norte, Cayo Ballena, Cayos Geniqui, Culebrita, Arrecife Culebrita, Cayo de Luis Peña (named after its second owner), Las Hermanas, El Mono, Cayo Lobo, Cayo Lobito, Cayo Botijuela, Alcarraza, Los Gemelos, and Piedra Steven.
On June 26, 1903, President Theodore Roosevelt established the Culebra Naval Reservation. With the outbreak of WWII in 1939, the Culebra Archipelago became the primary gunnery and bombing practice site for the U.S. Navy and continued to be used for these purposes until 1975.
On February 27, 1909, a bird refuge was established, making it one of the oldest refuges in the system. Since then much of the island and the surrounding 23 islets including Culebrita are protected by the U.S. Fish and Wildlife Service as a nature preserve, making the islands one of only two nesting sites for giant sea turtles in the U.S. The Culebra National Wildlife Refuge, 600 ha, protects large colonies of sea birds (with approx. 85 species), particularly terns, red-billed tropic birds and boobies, and nesting sea turtles. The refuge is accessible by ferry from the east coast or by plane from San Juan.
Culebrita is the largest cay near Culebra. Culebrita's beach is the finest of white sand and the water visibility is almost unlimited. It is accessible only by boat, and boasts the oldest operating lighthouse in the Caribbean. The Culebrita Lighthouse was built in 1886. In 1975, the Navy and Coast Guard closed the facility. Since then, the lighthouse has sustained heavy damage from hurricanes and vandalism. In 1981, the old lighthouse was registered on the National Register of Historical Monuments of the United States.
Luis Peña is the second largest cay near to Culebra. Many sandy beaches can be found on this cay, as well as wonderful coral reef located on the SW side, perfect for snorkeling.
Marejada Beach it's also known as Turtle Watch beach.
Millenniums ago, two-ton leather back turtles were lumbering onto its beaches. In the 18th century, pirates its cays as secluded, protected hideaways.
Today, snorkelers wander through its coral kingdoms, nodding good-day to an astounding variety of sea creatures. Culebra with its 23 offshore islands forms a miniature archipelago. Coral reefs in this area are considered some of the most spectacular of the entire Caribbean region. Culebra's rugged countryside, outrageous beaches and small-scale tourist industry make the 25-square-mile island a Caribbean treasure for travelers.
Culebra has sparse, thin soils and no permanent rivers or streams; water is obtained from a desalinization plant. Grazing and fishing are the principal activities of its few inhabitants.
The Mount Resaca Refuge insures the preservation of one of the few remaining large blocks of dry sub-tropical forest on Culebra.
The Puerto del Manglar is surrounded by mangroves, which form a unique habitat which is vital for coastal wildlife. It is known that this area is a favorite roosting site for the endangered brown pelican.
You can visit the surrounding cays by chatting up the local fishermen or by arranging dives through local operators. There's a ferry to Dewey from Fajardo that takes two hours, and air connections to Culebra from both Fajardo and San Juan. The surrounding cays require special use permits available from the Fish and Wildlife Service, Box 510, Boquerón, PR 00622. Visits to the lands administered by Culebra National Wildlife Refuge are regulated to insure protection of the rich and diverse resources. For information write to: Refuge Manager, U.S. Fish and Wildlife Service, General Delivery - Lower Camp Culebra, Puerto Rico 00775.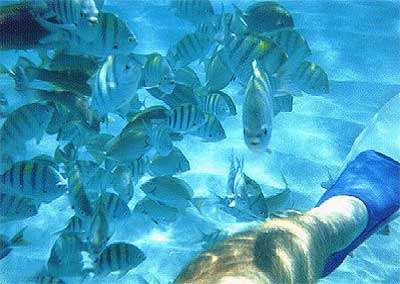 (Photo: Peter Johnson)
The island's most popular beach is Flamenco Beach, because of its white and soft sands. Camping is available at Flamenco Beach on the north shore. Culebra Campgrounds are government-run, for reservations contact: Autoridad de Conservación y Desarrollo de Culebra, Attn: Playa Flamenco, Apartado 217, Culebra, PR 00775.
The island has a small airport with domestic service to the mainland and to Vieques. The airport is served by Air Culebra from San Juan's Luis Munoz Marin International Airport and by Vieques Air Link from San Juan, Fajardo and Vieques. To get to the island, you can also take a ferry boat from Fajardo, available twice a day.
For information about Ferry Schedules you may contact the Puerto Rico Ports Authority at (787) 863-0705, (787) 863-0852 or (787) 742-3161.
For information about Air Travel Schedules you may contact Isla Nena Air Services, Inc., Vieques Air Link, Air Culebra (Charter) at (787) 268-6951, or Flamenco Airways Inc. (Charter) at (787) 723-8110 or (787) 725-7707.
Culebra is made up of 6 barrios (wards/districts):
Dewey
Flamenco
Fraile
Playa Sardinas 1
Playa Sardinas 2
San Isidro
Things to See and Do In Culebra
Want to know what to see and do in Culebra? Discover few ideas for exploring and enjoying the city.
Festivals and Events
Fiesta de Artesania - November

Fiestas Patronales de Nuestra Sra. del Carmen - July
Every year, Culebra celebrates a patron saint festival. The festivities include dances, food, parades and religious processions. (787) 742-3521
Torneo de Pesca - March

Symbols
Ahthem: Culebra Isla preciosa...
Climate
Education
There are 3 public schools in Culebra, education is handled by the Puerto Rico Department of Education.
Demographics *
1,818
Population
1,828 (July 2013 est.)
Land Area: 11.62 sq mi
Density: 156.5 per sq mi
Median Age: 39.4
Economics *
$7,235
Per capita income (2013)
Puerto Rico: $11,068
Median household income: $16,188
Puerto Rico: $19,624
Persons below poverty line: 53.60 %
Housing, families and educational attainment *
749
Number of households
Housing units density: 138.0
Persons per household: 3.16
High school grad or higher: 60.0%
* U.S. Census Bureau 2010 data unless otherwise noted.
Map References
Coordinates: 18.3169° N, 65.2900° W
Zip Code: 00775
Driving Distance from San Juan: 29.1 miles
Driving Time: 52 minutes to Fajardo, take a Ferry
Other Resources