Camuy, Puerto Rico
(kahm-WEE)

Camuy is known as "La Ciudad Romántica" (romantic city) and "La Ciudad del Sol Taíno" (city of the Taino sun). The town was founded in 1807, when it was disassociated from Arecibo by Petrolina Matos.
It is said that Camuy derives its name from a word used by the Indians "camuy", which means sun, at the same time others think that it was the name that the Indians gave to the river that crossed this region.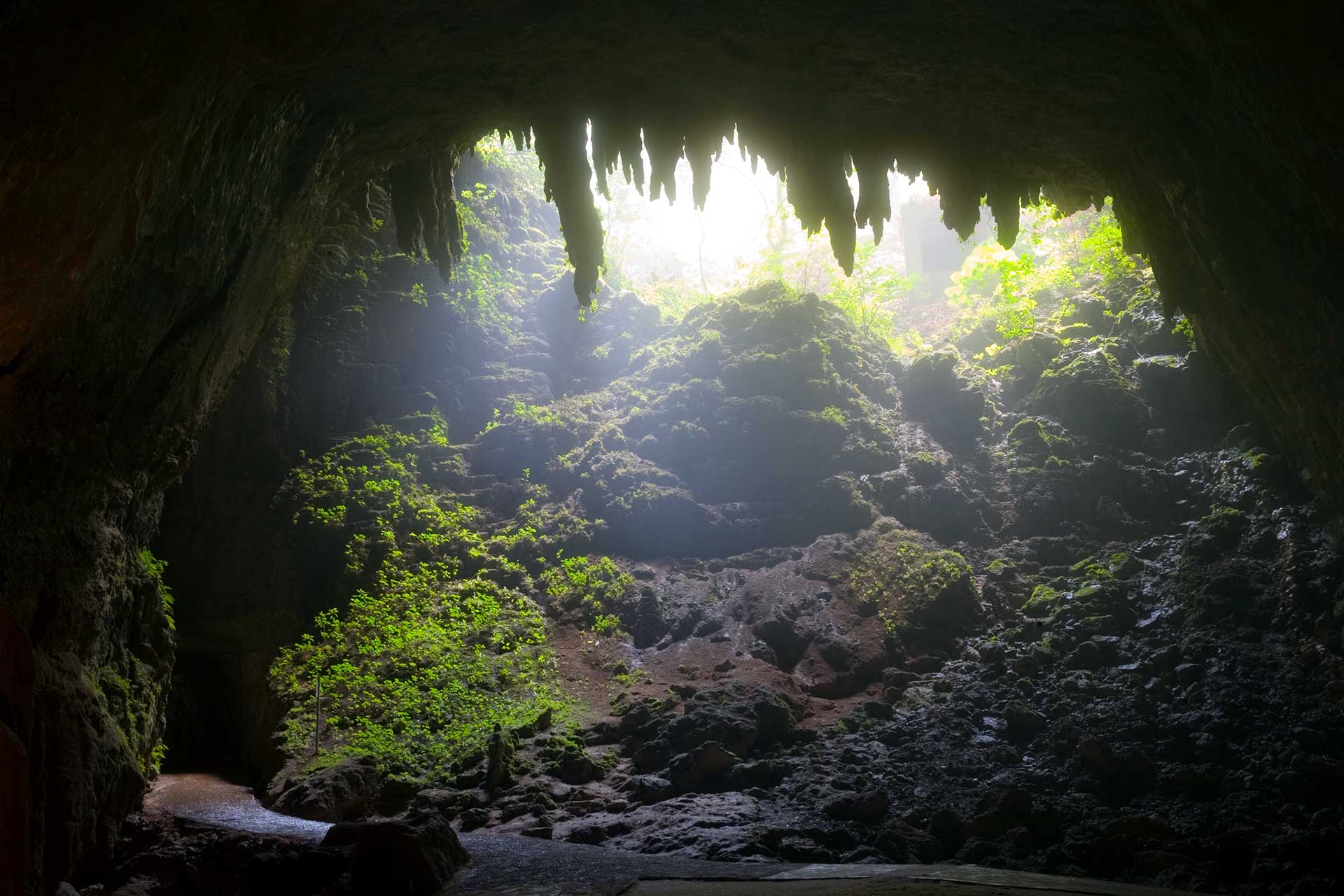 If you take only one sightseeing trip from San Juan, this should be it. From Arecibo, on the north shore, go southwest along Route 129 to the Río Camuy Cave Park. This incredible 268-acre park is the site of the great subterranean caverns carved out by the Camuy River over one million years ago. The impeccably maintained trails gently descend 200 feet through a fern filled ravine to the yawning, cathedral-like caverns. The caves are home to a unique species of fish that is totally blind. To visit this pristine site is to be transported to another, hidden world. Rio Camuy Cave Park is the third-largest cave system in the world. Sixteen entranced have been found and 11 kilometers (7 miles) of passages explored so far. One special attraction is the Cueva Clara, which measures 695 feet (210m) in length.
The park is equipped with picnic areas, walking trails, food facilities, and exhibition hall and a souvenir shop, making it the perfect place to spend a day. Reservations are essential, as this place is understandably popular. Open Wednesdays through Sundays and holidays; 8am to 4pm. For information call: (787) 898-3100 or (787) 763-0568.
If you are looking for an architecture delight, Iglesia La Piedra, also known as the Stone Church was built in 1912 by locals with unworked limestone rocks. This unique small church was declared a historic monument by the Puerto Rican Culture Institute in 1990.
Another place worth to mention is the Guajataca Lake, a reservoir created by the Puerto Rico Electric Power Authority in 1929. It supplies water San Sebastian, Camuy, Isabela and Quebradillas. The dam lies across the Guajataca River to form the reservoir that can hold roughly 11 billion gallons of water. Located on Route 119, (787) 280-0430.
Additional Places and Sights
Other places worth exploring include:
Hacienda Morell
Paseo Tablado del Río Camuy (Boardwalk)
Camuy History Museum
Peñon Brussi Beach
Geography
Camuy territory is mostly flat because the city it is located on the Valley of Quebradillas, bordering the Atlantic Ocean, north of Lares; east of Quebradillas; and west of Hatillo. Its rivers are: Cibao and Camuy.
Camuy is made up of 12 barrios (wards/districts):
Abra Honda
Camuy Arriba
Ciénagas
Cibao
Membrillo
Piedra
Gorda
Pueblo Puente
Puertos
Quebrada
Santiago
Yeguada
Zanja
Climate
Camuy annual precipitation is 51 inches, and its average temperature is 78°F. Precipitation is the lowest in March, with an average of 2.83 inches. Most precipitation falls in November, with an average of 5.9 inches. July is the hottest month of the year, and February the coolest.
Restaurants
Chilangos Mexican Grill (Mexican), (787) 262-4774
El Fogon de Abuela (Puerto Rican), (787) 262-0781
Palace China (Chinese), (787) 262-1392
Sandwichera El Boricua (Deli/Sandwich), (787) 262-0576
Festivals and Events
Carnaval Camuyano - February

Feria de la Cultura - September

Festival Playero Pena Brusi - July

Fiestas Patronales de San Jose - May
Every year, Camuy celebrates a patron saint festival. The festivities include dances, food, parades and religious processions. (787) 898-2160
Velorio de los Reyes - January

Symbols
Flag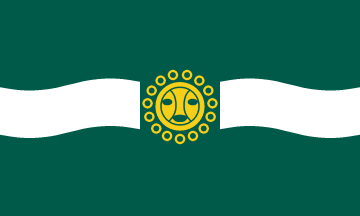 Anthem
The anthem of Camuy was written by Ramon Jovito Barreto. The title is Pedazo de Borinquen.
Education
There are 15 public schools in Camuy, education is handled by the Puerto Rico Department of Education.
Demographics *
Population
32,827

Puerto Rico: 3,285,874
Land Area: 46.35 sq mi
Density: 670.2 per sq mi
Median Age: 43.3
Sex: 52% female
Economics **
Per capita income
$11,339
Puerto Rico: $21,058
Median household income: $18,571
Puerto Rico: $21,058
Persons below poverty line: 45.6%
Housing, families and educational attainment *
Number of households
11,349
Housing units density:
311.3 (2013)
Persons per household: 2.73
High school grad or higher: 72.5%
Marital status: 47% married
* U.S. Census Bureau 2020 data, unless otherwise noted - Source: Quick Facts Puerto Rico.
** U.S. Census Bureau 2016-2020

Map References
Coordinates: 18.4839° N, 66.8450° W
Zip Code: 627
Driving Distance from San Juan: 63.1 miles
Driving Time: 1 hour, 30 minutes