Manatí, Puerto Rico
(mah-nah-TEE)

Manatí is known as "La Ciudad Metropolitana" (metropolitan city) and "La Atenas de Puerto Rico" (Puerto Rico's athens). Manatí was founded in 1738 by Don Pedro Menéndez Valdéz.
It was the ninth town recognized by the Spanish Crown in Puerto Rico. As a result of its cultural eminence, it began to be called the "Athens of Puerto Rico" during the early part of this century.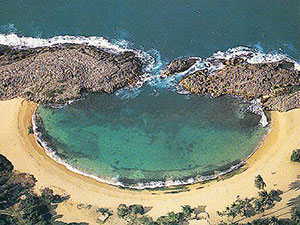 The first Spanish settlement was made by Juan Ponce de León, who was attracted to the area by the promise of gold in the Manatuabón River. After building the first structures on the shore of the river, Ponce de León moved on to found Villa Caparra.
The area is generously bathed in the waters of springs, lakes, streams, lagoons and rivers, the most impressive of which is the Río Grande de Manatí. Manatí is said to have been named for the many manatees that were sighted in its waters. It may also have had an indigenous origin, derived from the Indian-named Manatuabón River.
Manatí is located in the northern coast, north of Morovis and Ciales; east of Florida and Barceloneta; and west of Vega Baja. The annual precipitation is approximately 62 inches and the average temperature is 78ºF.
Manatí is the pineapple center of Puerto Rico. In addition, grows in its surroundings fruits, sugar cane, and coffee.
Manatí is also a good jumping-off place for a visit to the interior.
There are many well-known "manatieños", among them: Clemente Ramírez de Arellano.
Manati is made up of 9 barrios (wards/districts):
Bajura Adentro
Bajura Afuera
Coto Norte
Coto Sur
Pueblo
Río Arriba
Saliente
Tierras Nuevas Poniente
Tierras Nuevas Saliente
Restaurants
Atenas Gyros (International), (787) 854-4487
Su Casa (Puerto Rican), (787) 884-0047
Festivals and Events
Festival de Halloween - October

Festival de los Manaties - July

Festival de Navidad - December

Festival Playero - July

Fiestas de Cruz - May

Fiestas Patronales Virgen de la Candelaria - February
Every year, Manati celebrates a patron saint festival. The festivities include dances, food, parades and religious processions. (787) 854-2024
Symbols

Anthem: Atenas de Borinquen
Education
There are 20 public schools in Manati, education is handled by the Puerto Rico Department of Education. Manati is also home of 6 colleges and universities.
Climate
Demographics *
Population
39,492

Puerto Rico: 3,285,874
Land Area: 45.13 sq mi
Density: 843.2 per sq mi
Median Age: 42.6
Sex: 53% female
Economics **
Per capita income
$11,627
Puerto Rico: $21,058
Median household income: $18,885
Puerto Rico: $21,058
Persons below poverty line: 46%
Housing, families and educational attainment *
Number of households
14,815
Housing units density:
426.8 (2013)
Persons per household: 2.55
High school grad or higher: 74.5%
Marital status: 40% married
* U.S. Census Bureau 2020 data, unless otherwise noted - Source: Quick Facts Puerto Rico.
** U.S. Census Bureau 2016-2020

Map References
Coordinates: 18.4325° N, 66.4844° W
Zip Code: 674
Driving Distance from San Juan: 32 miles
Driving Time: 37 minutes