Luquillo, Puerto Rico
(loo-KEE-yo)

Luquillo is known as "La Capital del Sol" (sun capital) and "La Riviera de Puerto Rico" (Puerto Rico's riviera). Luquillo was founded in 1797 by Cristóbal Guzmán. The town was named after the Indian cacique Loquillo, who died a few years after the last Indian rebellion in 1513.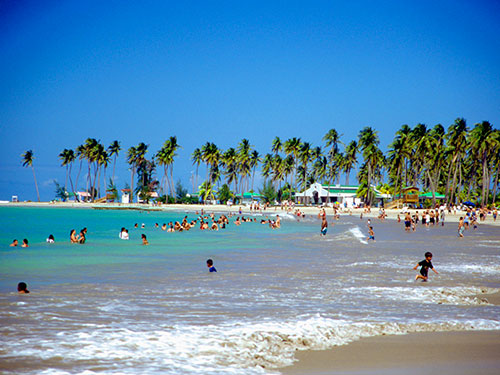 El Yunque National Forest, formerly known as the Caribbean National Forest is located in the rugged Sierra de Luquillo, 40 km southeast of San Juan (latitude 18'19"N, longitude 65'45"W). The forest covers lands of the municipalities of Canovanas, Las Piedras, Luquillo, Fajardo, Ceiba, Naguabo, and Rio Grande. It is the only tropical forest in the United States National Forest System. The total area is 28,000 acres and has an estimated of 240 types of tree, and many other plants. Hiking trails and rest areas available. Located on Route 191 Km. 4.2.
At the foothills of the El Yunque rain forest, Hacienda Carabalí offers two-hour horse rides, the scenic trip includes a river swim. (787) 889-5820.
If you return to or stay on the coastal highway, you'll soon reach Luquillo Beach. This huge plantation of majestic coconut palms shades more than a mile of fine and shimmering sand. It is one of the most popular and nicest public beaches in the San Juan area. It offers cafeterias, public bathrooms with showers, access for disabled people, and an ample parking lot. Locted on Rte. 3, Km 35.4.
Nearby you will also find: La Bandera Beach, Mameyes Beach, La Pared Beach, Las Pailas Beach, and Monserrate Beach, one of the public beaches most frequented by the locals.
You can't leave Luquillo without stopping by the Luquillo Kiosks to sample the local cuisine and scenery. The kiosks are located parallel to the Luquillo Beach along PR-3 highway, just past the Route 191 entrance to El Yunque.
Geography
Luquillo is located in the northeast coats, northwest of Fajardo; and east of Río Grande.
Luquillo is made up of 6 barrios (wards/districts):
Juan Martín
Mameyes I
Mata de Plátano
Pitahaya
Pueblo
Sabana
Climate
Notable People
There are many well-known "luquillenses", among them: sculptor Tomás Batista.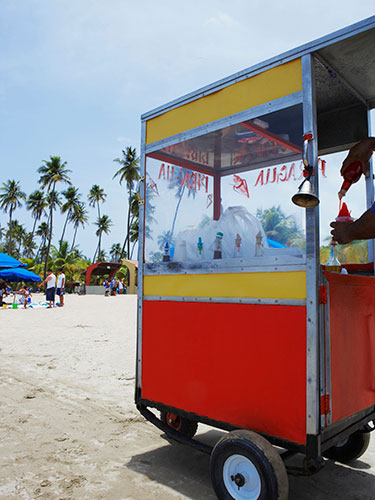 Restaurants
Brass Cactus Bar & Grill (American), (787) 889-5735
Lolita's (Mexican), (787) 889-5770
Accommodations
Coqui Villa (Villa), (787) 889-2098

Luquillo Sunrise Beach Inn (Small Inn), (787) 889-1713

Playa Azul Apartment Rental (Apartment/Condo), (787) 594-9400

Festivals and Events
Festival del Coco - September

Festival de Platos Tipicos - December

Fiestas Patronales de San Jose - March
Every year, Luquillo celebrates a patron saint festival. The festivities include dances, food, parades and religious processions. (787) 889-2525
Symbols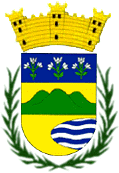 Anthem: Junto a las costas del mar Atlántico...
Education
There are 10 public schools in Luquillo, education is handled by the Puerto Rico Department of Education.
Demographics *
Population
17,781

Puerto Rico: 3,285,874
Land Area: 25.81 sq mi
Density: 694.4 per sq mi
Median Age: 43.1
Sex: 53% female
Economics **
Per capita income
$11,479
Puerto Rico: $21,058
Median household income: $21,805
Puerto Rico: $21,058
Persons below poverty line: 42.2%
Housing, families and educational attainment *
Number of households
6,660
Housing units density:
425 (2013)
Persons per household: 2.69
High school grad or higher: 78.6%
Marital status: 39% married
* U.S. Census Bureau 2020 data, unless otherwise noted - Source: Quick Facts Puerto Rico.
** U.S. Census Bureau 2016-2020

Map References
Coordinates: 18.3725° N, 65.7167° W
Zip Code: 773
Driving Distance from San Juan: 23.3 miles
Driving Time: 45 minutes