Cataño
(kah-TAH-no)

Cataño is known as "La Antesala de la Capital" (prelude of the capital), because of its location across the bay from the capital Puerto Rico, the city of San Juan.
Cataño was founded in 1927 by Hernando de Cataño. Cataño was named after its founder, who lived and helped to develop the region at the beginning of the Spanish colonization. Originally, the town was known as the "Hato de las Palmas de Cataño" (cluster of the palms), but shortened to Cataño when the city was established.
Among the many picturesque reminders of the past preserved here is the old train used for transporting the sugar cane crop which stops between the green trees on the modern urban development area of Levittown, a residential area belonging to the city of Toa Baja.
Cataño is home of the Bacardi Rum Plant, the largest rum distillery in the world, processing some 100,000 gallons daily and ships 21 million cases per year worldwide. The distillery is also known "Cathedral of Rum", because of its six-story distillation tower. It began operations in 1936, and today, the plan produces around 85% of Bacardi's total rum production (others distilleries located in Mexico and India). Visitors may tour the plant, the tour will take you through special exhibits explaining the fermentation, distilling and bottling processes, a small museum exhibits Bacardi's history and a free rum cocktail. Located on Carr. 165 Km. 6.2. Open for tours Mon-Sat. except holidays, from 9am to 4:30pm. Sunday from 10:00am to 4:30pm. Admissions $15, Seniors $12. You can reach the plant from Old San Juan Pier #2 via a 10 minutes ferry ride, .50 cents each way. The ferry operates 7 days a week: Monday-Friday 6 am to 7 pm; Saturday, Sunday and Holidays 8 am to 8 pm.
One interesting fact about the city, the second filmed movie in Puerto Rico was realized in Catano (1924-25) "Aloha de los Mares del Sur".
Geography
Cataño is located on northern coast, within the Metropolitan Area. Bordering the Atlantic Ocean, north of Bayamón and Guaynabo; east of Toa Baja and west of Guaynabo. Cataño is the smallest city in the island.
The city is bathed by Bayamón, Hondo and El Caño de Cataño rivers.
Cataño is made up of 8 barrios (wards/districts):
Babote
Cucharillas
Juana Matos
Palmas,
Pueblo
Puente Blanco
Puntilla
William Fuentes
Climate
Cataño annual precipitation is 67.6 inches, and its average temperature is 78°F. The driest month is March, most of the precipitation here falls in August. August is the warmest month of the year. February is the coldest month.
Notable People
There are many well-known "catañeses", among them:
Ileana Colon Carlo, first woman contralor
Pedro Juan Soto
Restaurants
Bar Restaurant Los Cano (Puerto Rican), (787) 788-0785
Boya No 4 (Puerto Rican), (787) 788-5005
La Casita Restaurant (Puerto Rican), (787) 788-5080
La China (Puerto Rican), (787) 788-3968
Morgan's (Continental), (787) 275-0850
Festivals and Events
Encuentro de Pescadores - July

Fiestas Patronales de Nuestra Sra. del Carmen - July
Every year, Catano celebrates a patron saint festival. The festivities include dances, food, parades and religious processions. (787) 788-0404
Noche de San Juan - June

Symbols
Flag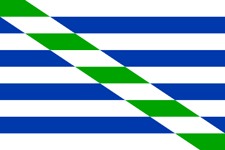 The flag consists of nine horizontal stripes: four blue stripes and five white stripes A white and green band traverses diagonally the drape in all its extension, from the upper hoist to the lower fly.
The green color represents the palm trees that are also present in the coat of arms. The flag was officially adopted on September 5, 1974.
Anthem
The anthem of Catano was writter by Carmen I. Guzman and Nick Jimenez Olmeda. The title is Cataño.
Demographics *
28,140
Population
26,919 (July 2013 est.)
Land Area: 4 .84 sq mi
Density: 5814.0 per sq mi
Median Age: 35.1
Economics *
$7,235
Per capita income (2013)
Puerto Rico: $11,068
Median household income: $18,977
Puerto Rico: $19,624
Persons below poverty line: 49.00 %
Housing, families and educational attainment *
10,108
Number of households
Housing units density: 2314.7
Persons per household: 3.25
High school grad or higher: 70.2%
* U.S. Census Bureau 2010 data unless otherwise noted.
Map References
Coordinates: 18.4450° N, 66.1178° W
Zip Code: 00962, 00963
Driving Distance from San Juan: 13.6 miles
Driving Time: 25 minutes
Other Resources