Puerto Rico's History
1950 - 2019
1950
On April 1, the U.S. Census Bureau reported that the island's total population increased 18.3%, from 1,869,255 in 1940 to 2,210,703.
On July 4, President Harry S. Truman signed what is known as Public Act 600, which allowed Puerto Ricans to draft their own constitution establishing the Commonwealth of Puerto Rico. The U.S. Congress had conferred commonwealth status on Puerto Rico and upgraded Puerto Rico's political status from protectorate to commonwealth.
The first Health Center is founded in Adjuntas.
The first Social Security cards were issued.
On October, Nationalists attempt to assassinate the governor. Guards resisted the attack, killing four of the five Nationalists. (Raimundo Diaz Pacheco, Domingo Hiraldo, Roberto Acevedo and Manuel Torres. Gregorio Hernandez was badly wounded.)
On November 1, two Puerto Ricans nationalist from New York, Oscar Collazo and Griselio Torresola, attempt to kill President Harry S. Truman at Blair House in Washington in hopes of bringing their country closer to independence. One of the assailants and one White House policeman died.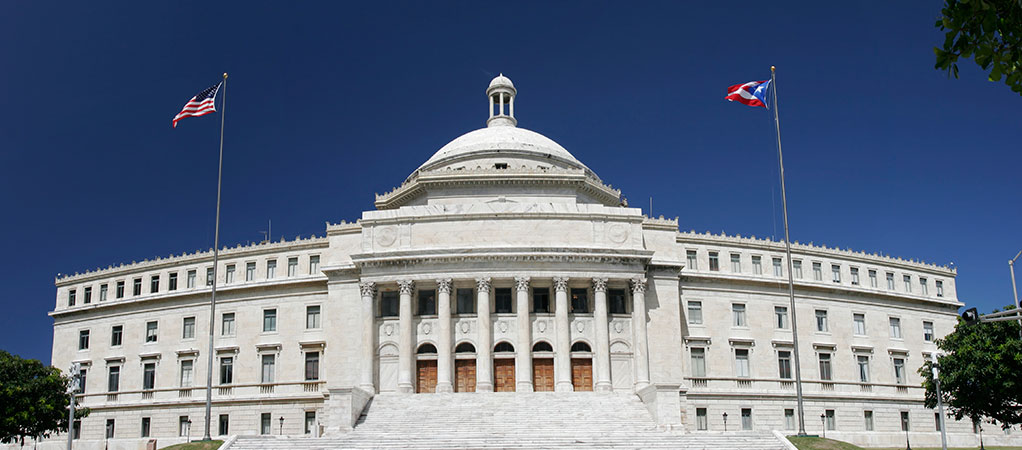 1951
On July 4, the 600 Law is passed, giving Puerto Rico the right to establish a government with proper constitution.
1952
On March 3, the flag of the Commonwealth of Puerto Rico is officially adopted - based on a flag designed by a group of patriots in the year 1895.
On July 25, the New Constitution is approved by voters in a referendum in March, and Puerto Rico is proclaimed as Commonwealth of Puerto Rico, although remained a territory of the United States. As a United States commonwealth, it is still treated by Congress as one of the last remaining colonies in the world. With the institution of Commonwealth status, US administrations were freed from the obligation of reporting on Puerto Rico's status to the UN Decolonization Committee.
On November 4, Luis Muñoz Marín is re-elected governor to his second 4-year term, with 64.9% of the vote.
1953
The largest migration of Puerto Ricans to the United States mainland occurred, with 69,124 emigrating (mostly to New York, New Jersey and Florida).
On November 27, the United Nations stopped listing Puerto Rico as a colony or "Non-Self-Governing Territory".
1954
First experimental transmissions of television occurred.
On March 1, Puerto Rican nationalists (Lolita Lebron, Rafael Cancel Miranda, Irvin Flores and Andres Figueroa) opened fire in the U.S. House of Representatives, wounding five Congressmen. They are sentenced to 50 years imprisonment.
1955
On June 21, the Institute of Puerto Rican Culture is founded.
The first Pueblo supermarket is established (located in Puerto Nuevo, San Juan).
1956
On August 12, Hurricane Saint Clare strikes the island.
On November 6, Luis Muñoz Marín is re-elected governor to his third 4-year term, with 62.5% of the vote.
1957
El Comandante horse race track is inaugurated.
On April 22, the first Pablo Casals Music Festival took place in University of Puerto Rico Theater, Río Piedras.
1958
In 1958, Laurance Rockefeller built the Dorado Beach Resort, the first Caribbean luxury eco-resort.
1959
Bacardi y Compañía is moved to Cataño.
Ponce Art Museum is inaugurated.
The San Juan Star newspaper is founded.
Pablo Casals founded the Puerto Rico Symphony Orchestra.
1960
On November 8, Luis Muñoz Marín is re-elected to his fourth 4-year term with 58.2% of the vote.
1961
President John F. Kennedy visited the island.
Rita Moreno wins an Oscar for her acting performance in the motion picture West Side Story.
The newspaper San Juan Star wins the Pulitzer prize under the category of Journalism and Editorial Writing. William J. Dorvillier obtained the prize for his editorials on clerical interference in the 1960 gubernatorial election in Puerto Rico.
1963
Roberto Sanchéz Vilella is elected governor.
Observatory of Arecibo is inaugurated (the world largest radio telescope of its type).
1964
On November 3, Roberto Sanchez Vilella is elected governor, with 59.2% of the vote.
1965
Pedro Albizu Campos leader of the Nationalist Party dies.
1967
On July 23, first plebiscite on the political status of Puerto Rico is held. Voters overwhelmingly affirm continuation of Commonwealth status.
| | |
| --- | --- |
| Commonwealth | 60% |
| Statehood | 39% |
| Independence | 1% |
On August 27, Partido Estadistas Unidos (United Statehooders Party) is founded by Luis A. Ferré, to campaign for statehood for Puerto Rico to become the fifty-first state in the Union in the 1967 plebiscite.
1968
On November 5, Luis A. Ferré, leader of a pro-statehood party, is elected governor, with 43.6% of the vote, becoming the first time a pro-statehood governor has received a majority. Ferré is elected governor under the slogan "Esto tiene que cambiar" ("This must change".)
Formal research efforts to save the endangered Puerto Rican parrot began in the Forest with collaboration of U.S. Fish and Wildlife, the PR Department of Natural Resources and the World Wildlife Fund.
On September 12, the shopping mall Plaza Las Americas is inaugurated. It is the largest shopping center in Puerto Rico, the largest in Latin America and the 13th largest in the US with 2,173,000 square feet (201,900 m2). The project is inaugurated with a total of 79 establishments, a twin cinema and parking for 4,000 vehicles.
1969
On March 16, José Feliciano wins a Grammy.
1970
On May 18, El Nuevo Día newspaper is founded.
Marisol Malaret wins the Miss Universe Pageant.
The resident commissioner gains the right to vote in committee via an amendment to the Legislative Reorganization Act of 1970
1971
United States army takes possession of almost all of Culebra Island.
President Richard Nixon declared Christopher Columbus day a federal public holiday on the 2nd Monday in October.
1972
The Puerto Rican Socialist Party is founded.
On November 7, Rafael Hernández Colón is elected governor, with 50.7% of the vote, becoming the youngest elected governor, at age 36.
On September 30, Roberto Clemente became the first Hispanic to reach 3,000 hits and the first Puerto Rican to be enshrined in the National Baseball Hall of Fame and Museum.
On December 31, Roberto Clemente a baseball player with the Pittsburgh Pirates, who is declared the league's Most Valuable Player, died at age 38 in a plane accident.
1973
On March 5, Luis Aponte Martínez became the first Puerto Rican Cardinal

.
Roberto Clemente is inducted into the National Baseball Hall of Fame.
1974
For the sake of controlling the costs of the marine transport in the island, the administration of Rafael Hernandez Colón decided to buy by $176 million the operations of the marine company Is Land to form Navieras de Puerto Rico (npr).
1975
On January 24, a bomb set off in historical Fraunces Tavern, New York City, killed four and injured more than 50 persons. Puerto Rican nationalist group (FALN) claimed responsibility and police tied 13 other bombings to it.
Igneri and pre-Taíno ruins found at Tibes, north of Ponce.
1976
On November 2, Carlos Romero Barceló is elected governor, with 48.3% of the vote.
The 936 section of the United States Internal Revenue Tax Code is implemented. This new code allowed American companies to make profit in the island without paying taxes. Banks on the island experienced an unprecedented growth. About 100,000 Puerto Ricans were directly dependent on employment generated by Section 936 companies.
The Ateneo Puertorriqueño is founded.
After numerous investigations and amendments to that statute, the coat of arms final version is approved and signed into law.
1978
On March 22, Karl Wallenda died while crossing a wire between two hotels in San Juan, he is knocked off balance by a gust of wind and fell to his death ten stories below.
On July 25, the Cerro Maravilla incident took place. Police officers were responsible for the death in execution manner of two pro-independence men.
1979
Pan-American Games are held in San Juan.
On September 6, President Jimmy Carter as part of an agreement with Fidel Castro to secure the release of American CIA agents imprisoned in Cuba, he grants executive clemency to the four Puerto Rican nationalists who opened fire on the U.S. House of Representatives back in 1954. Lolita Lebrón, Andrés Figueroa Cordero, Rafael Cancel Miranda and Irving Flores were freed from prison. who were in prison since 1954.
1980
On April 30, Luis Muñoz Marín founder of the Popular Democratic Party and first elected governor of Puerto Rico dies.
On November 4, Carlos Romero Barceló is re-elected governor, to his second 4-year term with 47.2% of the vote, securing his election by only 0.2% over Rafael Hernández Colón.
The U.S. Congress recommends the Navy leave Vieques.
1981
On January 11, the "Macheteros" blow up 11 jet fighters of Puerto Rico's National Guard near San Juan.
1983
The San Juan National Historic Site (El Morro) is declared a World Heritage Site

by the United Nations.
The Partido Renovación Puertorriqueña is founded.
1984
On October, The Pope, Juan Pablo II visited the island.
On November 6, Rafael Hernández Colón is elected governor, with 47.8% of the vote.
1985
Deborah Carthy Deu wins the Miss Universe Pageant.
On February 18, the Puerto Rico International Airport was renamed Luis Muñoz Mar&iacuteln International Airport.
Destileria Serrallés acquired the right to manufacture and distribute the Ronico and Captain Morgan brands in Puerto Rico.
On October, Ponce suffered a great tragedy, when at least 129 people lost their lives to an avalanche in an area known as Mameyes.
1986
On December 31, a tragic fire took place at the Dupont Plaza Hotel, in San Juan, 97 persons died.
1987
On October 1st, Ileana Colón Carlo became first woman controller in Puerto Rican politics.
1988
On November 8, Rafael Hernández Colón is re-elected governor to his second 4-year term with 48.7% of the vote.
1989
On September 18, Hurricane Hugo strikes the island as it cuts a path of destruction across the Caribbean.
President Bush appointed Antonia Novello, a native of Puerto Rico, to be Surgeon General of the United States.
1990
The U.S. Postal Service issued an commemorative stamp portraying Luis Muñoz Marín.
1991
In an island wide vote, Puerto Ricans reject an amendment that would have "reviewed" their commonwealth status.
Puerto Rico declares Spanish the only official language of the island.
Puerto Rico receives the Asturias Award from Spain for declaring Spanish the official language.
The LOTO is inaugurated.
In 1991, Isla Grande Airport was renamed in honor of United States Air Force Major Fernando Luis Ribas-Dominicci, an F-111 pilot who was killed in action during Operation El Dorado Canyon; the 1986 air strike of Libya (a country in North Africa).
1992
The government sold 80% of the stock in "Telefónica Larga Distancia de Puerto Rico" to "Telefónica Internacional de España" for more than $140 million dollars.
Pedro Roselló is elected governor.
Tall ships from all over the world come to celebrate the Christopher Columbus Grand Regatta in old San Juan as part of the festivities of the Fifth Centenary of the Discovery of the New World.
Kumagai Gumi Company, a Japanese firm, backed by the Mitsubishi Bank, joined in a 50% share of the $225 million development of the El Conquistador Resort in Fajardo.
1993
Law Number 1 of 1993 declares English and Spanish as the official languages of Puerto Rico.
On April 6, Act Number 5, known as Executive Reorganization Act of 1993 is approved. The act established reorganization plans for the following sectors: Security, Correctional procedures, Natural resources, Agricultural activities, Industrial activities, Human resources, Public finance and Family and community services.
The government began an experimental project to provide basic health care services to the poor. The plan, known as "La Tarjeta de Salud".
Dayanara Torres wins the Miss Universe Pageant.
XVII Centro American and Caribbean Games are held in the island.
Major League Baseball player Orlando Cepeda is inducted into the Puerto Rico Sports Hall of Fame.
In the Referendum, Commonwealth status is reaffirmed by voters.
Statehood.......... 788,296 (46.3%)
Commonwealth....... 826,326 (48.6%)
Independence........ 75,620 ( 4.4%)
Nulls............... 10,748 ( 0.7%)
The U.S. Postal Service issued an stamp to commemorate the 500th anniversary of Columbus's landing on Puerto Rico.
1995
On March 5, Navieras de Puerto Rico is sold, due to considerable amount of company generated losses (around $375 million). The public corporation is acquired by the organization Bankers Trust Investment Partners by $29,5 million in cash and $102,9 million that assumed in current liabilities.
Hurricane Marilyn strikes the island.
1996
On July 8, Hurricane Bertha strikes the island.
On August 20, the U.S. Congress repealed Section 936 of the U.S. Internal Revenue Code, with a clause that retains its benefit for ten years of existing corporations. Section 30A is created to substitute Section 936. It essentially retains the wage credit component of Section 936.
On July 25, the U.S. government recognized Puerto Rican citizenship. In, 1994, Juan Mari Bras renounced his U.S. citizenship before a consular agent in the US Embassy of Venezuela for Puerto Rican citizenship. Puerto Rican citizenship was granted to Puerto Ricans by the US Congress in the 1900 Foraker Act, but later revoked by the Jones Act in 1917, Puerto Ricans are granted U.S. citizenship at birth.
Puerto Rican citizenship exists only as an equivalent to residency: Puerto Rican citizens are those US citizens who reside in Puerto Rico. Any US citizen can gain Puerto Rican citizenship after a year of residence on the island (Santini 1).
Juan Mari Bras the world's only Puerto Rican citizen.
On November 4, Pedro Roselló is re-elected to his second 4-year term with 51.8% of the vote, the largest margin of any pro-statehood governor in Puerto Rico history.
1996
On September 9, Hurricane Hortense strikes the island, killing five people and knocking out electricity to 85 percent of the island.
1997
U.S. Congress introduced Project Young, to provide a process leading to full self-government for Puerto Rico. (introduced Feb. 27 by Rep. Don Young, H.R.856)
1998
The Puerto Rico Telephone Company (PRTC) is sold to GTE and a group of local investors for $2,250 million.
Caribe Hilton, located in San Juan, has been sold by the government to Hilton International.
Fort Buchanan became home to U.S. Army South.
On September 21, Hurricane George with 120 mph winds strikes the island, killing seven people and leaving more than 24,000 in shelters. Virtually the entire island was left without electricity (99.5%), most without water service (77%) and without phone services (25%). President Clinton on Monday declared Puerto Rico and the U.S. Virgin Islands disaster areas, authorizing immediate release of federal recovery aid. Damage estimated at $2 billion.
On September 29, in a show of commitment to help the victims of hurricane Georges, U.S. First Lady Hillary Clinton travels on Tuesday to typhoon-ravaged Puerto Rico.
On December 13, in a non-binding referendum, which offered Puerto Rican voters will have five choices, which included: (1) remaining a U.S. commonwealth, (2) entering into a "free association" with the United States that would be somewhere between commonwealth and independence, (3) becoming a state, (4) declaring independence, and (5) or none of the above. The option 5 "none of the above" obtained the majority of votes.
| | | |
| --- | --- | --- |
| Option | Votes | Percent |
| 1 | 993 | 0.06% |
| 2 | 4536 | 0.29% |
| 3 | 728157 | 46.49% |
| 4 | 39838 | 2.54% |
| 5 | 787900 | 50.30% |
| Others | 4846 | 0.31% |
1999
On April 19, two US Marine jets in training dropped bombs over the island of Vieques and missed their targets. David Sanes Rodriguez, a civilian was killed and 4 people were injured. Days after, protesters began occupying the US Navy range at Vieques.
On June 27, the first heart transplant is accomplished.
On August 8, President Bill Clinton offers clemency to 16 Puerto Rican independence activists.
On September 11, eleven Armed Forces of National Liberation (FALN) members responsible for a wave of bombings across the United States (New York and Chicago) in the 1970s and 1980s have been released from Federal prisons after accepting a controversial clemency offer from President Bill Clinton.
On November 17, Hurricane Lenny strikes the island.
2000
On June 25, the US Navy bombing resumes in Vieques, using nonexplosive dummy bombs.
On November 7, Sila M. Calderón is elected governor (Puerto Rico's first female governor).
| Party | Votes | Percent |
| --- | --- | --- |
| Sila M. Calderon (PPD) | 812,277 | 48.8% |
| Carlos I. Pesquera (PNP) | 758,998 | 45.6% |
| Ruben Berrios Martinez (PIP) | 86,398 | 5.3% |
| Others | 7,887 | 0.5% |
Presient Clinton issues E.O. 13183l established the President's Task Force on Puerto Rico's Status.
2001
On March 1, the Pentagon suspended Navy bombing on Vieques.
On April 27, the US Navy resumed bombing exercises on Vieques Island.
On May 11, Denise Quiñones wins the Miss Universe Pageant, held in Bayamõn.
On June 14, President George W. Bush ordered a stop to the Navy bombing exercises on Puerto Rico's Vieques Island. Cleanup is estimated to cost hundreds of millions and take decades. Bombing practice is set to stop by May, 2003.
2002
On April 12, Telemundo was purchased by NBC for $2.7 billion.
2004
On November 2, Aníbal Acevedo Vilá is elected governor.
| Party | Votes | Percent |
| --- | --- | --- |
| Aníbal Acevedo Vilá (PPD) | 953,459 | 48.4% |
| Pedro Rosselló (PNP) | 949,579 | 48.2% |
| Rubén Berríos Martínez (PIP) | 52,660 | 2.7% |
| Others | 7,887 | 0.5% |
2005
On June 6, the Tren Urbano (urban train) was inaugurated. The Tren Urbano is a 10.7 mile (17.2 km) metro system which links the municipalities of San Juan, Bayamón, and Guaynabo.
2006
On May, schools and government offices across the island shut down after an estimated $740m deficit in public funds near the end of the 2005-2006 fiscal year. The financial crisis left only essential services such as police and hospitals in operation. The shut down lasted for two weeks (from May 1 through May 14), leaving nearly 100,000 public employees without pay and closing more than 1,600 public schools. The major cause of the crisis lies on the inability of the legislature and the governor to agree on a spending plan since 2004.
On July 23, Zuleyka Rivera Mendoza was crowned Miss Universe.
On October 25, Juan Mari Brás became the first person to receive a Puerto Rican citizen certificate from the Puerto Rico State Department.
On November 15, the Act No. 117 of July 4, 2006 (known as the "Taxpayer Justice Act"), amended the Puerto Rico Internal Revenue Code of 1994 in order to establish a sale tax system in Puerto Rico to address major budget deficits. Act 117 eliminates the infamous 5% (6.6% effective rate) general excise tax.
The sales tax will be divided up as follows:
5.5% to the central government, effective on November 15, 2006,
1.5% to the municipalities, effective immediately,
an additional 1% to the central government, available in the event that the governor determines an insufficiency in collections for the general fund.
2007
On January 23, Americans are required to carry passports when traveling to Mexico, Bermuda, and most of the Caribbean islands. Because Puerto Rico is a U.S. territory, it is exempt from the new regulation.
On May 5, Concerns are raised that the newly implemented Sales and Use Tax and the reduction in budgeted expenditures will not be enough to reduce the Puerto Rico Government's fiscal deficit for the 2006-2007 year.
On May 20, former Governor and current Senator Pedro Rosselló officially announced his intentions to seek the New Progressive Party's nomination for Governor in the 2008 general elections.
On October 12, communities and activists protest the apparent mass killing of pet animals by a government contractor by throwing them of a 50 ft high bridge in Barceloneta.
2008
On January 5, over 100 cockfights in Puerto Rico are canceled due to the prohibition of various birds from the Dominican Republic, after discovery of various animals with the avian flu. The loss from such canceled activities is estimated in the millions.
On March 8, Luis Fortuño obtains 59% of the primary votes and wins the New Progressive Party gubernatorial candidacy over opponent and former Gov. Pedro Rossello.
On November 4, Luis Fortuño is elected governor.
| Party | Votes | Percent |
| --- | --- | --- |
| Luis Fortuño (PNP) | 1,025,965 | 52.77% |
| Aníbal Acevedo Vilá (PPD) | 801,071 | 41.29% |
| Rogelio Figueroa (PPR) | 53,693 | 2.76% |
| Edwin Irizarry Mora (PIP) | 39,590 | 2.04% |
| Pedro Rossello (Write-In) | 13,215 | 0.64% |
| Others | 8,170 | 0.49% |
2009
On May 26, US President Barack Obama has chosen Sonia Sotomayor, a United States Court of Appeals judge, as his first nominee to the United States Supreme Court. Sotomayor is the Court's 111th justice, its first Hispanic justice, and its third female justice. Sotomayor was born in The Bronx, New York City and is of Puerto Rican descent.
2010
On May 16, an earthquake occurred, the epicenter was in Moca.
On July 15, the 2010 Central American and Caribbean Games are being held in Mayagüez, Puerto Rico, from July 17 to August 1.
On September 10, Juan Mari Brás, Founder of the Puerto Rican Socialist Party and the first Puerto Rican to formally renounce U.S. citizenship, died of complications from lung cancer.
As of October 30, 2010 the United States Department of State does not accept Puerto Rican birth certificates issued prior to July 1, 2010 as primary proof of citizenship for a U.S. passport.
2011
On June 14, President Obama traveled to San Juan for the first official visit by a sitting U.S. President to the island since President Kennedy visited in 1961. The visit follows a comprehensive report of the President's Task Force on Pu erto Rico's Status, which provides a meaningful way forward on the question of status while making significant recommendations important to Puerto Rico's economic development.
On August 11, tropical storm Irene passes through Puerto Rico and its surrounding islands while becoming a hurricane just north of San Juan, the first of the 2011 Atlantic season.
2012
On August, the number of Puerto Ricans on the U.S. mainland reached a record - 4.9 million.
On November 6, Alejandro García Padilla is elected governor.
| Party | Votes | Percent |
| --- | --- | --- |
| Alejandro García Padilla (PPD) | 896,060 | 47.73% |
| Luis Fortunõ (PNP) | 884,775 | 47.13% |
| Juan Dalmau Ramirez (PIP) | 47,331 | 2.52% |
| Rafael Bernabe (PPT) | 18,312 | 0.98% |
| Arturo Hernandez (MUS) | 10,523 | 0.56% |
| Rogelio Figueroa (PPR) | 6,668 | 0.36% |
| Others | 13,386 | 0.71% |
On November 8, for the first time Puerto Rican voters support US statehood in a non-binding referendum with a 54%. Puerto Ricans voted on their political status in 1967, 1993, and 1998.
2014
On March 27, the U.S. Census Bureau reported that the island's total population fell from about 3.7 million in 2010 to 3.6 million in 2013.
2015
On August 3, Puerto Rico defaults on its monthly debt for the first time in its history, paying only $628,000 toward a $58 million debt.
2016
On January 4, Puerto Rico defaults on its debt for the second time.
On April 13, 2016, the 65th Infantry, the first body of native troops in Puerto Rico was awarded the Congressional Gold Medal.
On June 30, President Barack Obama signs the Puerto Rico Oversight, Management, and Economic Stability Act (PROMESA), a bill that establishes a seven-member board to oversee the commonwealth's finances. The following day Puerto Rico defaults on its debt payment.
On July 1, Puerto Rico general sales and use rate increased from 7% to 10.5% with an effective total tax rate of 11.5 percent on many transactions when combined with the municipal sales and use tax of 1 percent (as of July 1, 2015). Puerto Rico now has the highest sales tax in America.
On November 8, Ricky Rossello is elected governor.
| Party | Votes | Percent |
| --- | --- | --- |
| Ricky Rosello (PNP) | 655,626 | 41.76 |
| David Bernier (PPD) | 610,956 | 38.92% |
| Alexandra Lugaro (Independent) | 174,529 | 11.12% |
| Manuel Cidre (Independent) | 89,890 | 5.73% |
| Maria de Lourdes Santiago (PIP) | 33,452 | 2.13% |
| Rafael Bernabe Riefkohl (WPP) | 5,374 | 0.34% |
| Invalid/blank votes | 9,797 | |
2017
On May 3, Puerto Rico files for bankruptcy. It is the largest municipal bankruptcy in US history.
On June 11, a non-biding referendum on the political status of Puerto Rico was held, which offered Puerto Rican voters with three choices: (1) becoming a state of the United States, (2) independence/free association, or (3) maintaining the current territorial status. Although 97% of the ballots cast were in favor of statehood, turnout for the Puerto Rico referendum was really low, only 23%, where voter participation often averages around 80%.
No Congressionally-mandated plebiscite has ever been held in Puerto Rico. Puerto Ricans have voted on their political status in 1967, 1993, and 1998 and 2012. Since these votes were nonbinding, no action had to be taken, and none was. Ultimately, however, Congress must pass a law admitting them to the union.
On September 7, Hurricane Irma's eye passes just north of Puerto Rico at 16 mph as a Category 5 storm with 185 mph winds. About a million people were without power and nearly 50,000 also were without water.
On September 20, Hurricane Maria makes landfall near Yabucoa in Puerto Rico as a Category 4 hurricane. It is the strongest storm to hit the island in 85 years. The energy grid is heavily damaged, with an island-wide power outage.
On September 22, The National Weather Service recommends the evacuation of about 70,000 people living near the Guajataca River in northwest Puerto Rico because a dam is in danger of failing.
2018
On May 29, a study published by The New England Journal of Medicine estimates that roughly 4,600 of deaths were caused by last year's devastating Hurricane Maria, many of them from delayed medical care.
On July, population estimates reveals a sharp population decline, according to a Pew Research Center analysis of U.S. Census Bureau data. With a -3.9%, the decline marks a 40-year low after hurricanes Maria and Irma hit the island (largest year-to-year drop since 1950).
By August 13, due to the damage caused by Hurricane Maria in 2017, a shrinking population, deteriorating infrastructure, and the Puerto Rican government-debt crisis, 283 schools have been closed.
On December 20, the Agriculture Improvement Act of 2018 (2018 Farm Act) was signed. The Parity in Animal Cruelty Enforcement (PACE) Act was passed as part of the bill and amends the Animal Welfare Act to extend the existing federal ban on dogfighting and cockfighting to U.S. territories.
Cockfighting is a centuries-old tradition, dating back to the Spanish colonial period. Today, the Government of Puerto Rico regulates about 80 cockfighting clubs, and it has been regulating the industry of cockfighting since 1933. Opponents of the measure stated that the act will have a devastating effect on the islands' economy, noting that in Puerto Rico's cockfighting industry represents more than $18 million a year and employs some 27,000 direct and indirect jobs (2018).
2019
On July 13, demonstration protests against Governor Ricardo Rossello, starts and continues for several days in Old San Juan. Following a leak of hundreds of pages of misogynistic and homophobic texts between the governor and his main advisers. In addition, several of his officials have been under investigation on corruption charges.
On July 25, Governor Ricardo Rossello resigns after 12 days of protests, announcing he would step down on August 2. Justice Secretary Wanda Vazquez will take Rossello place until the elections in 2020. Although the secretary of state is traditionally next in line to succeed a governor, the position is currently vacant after Luis Rivera Marin resigned over his participation in Rossello's vulgar group chats.
The protests have made history: Not only were they the largest ever seen on the island, but it's also the first time a governor has been pushed out of office without an election.
On August 7, Justice Secretary Wanda Vázquez is sworn in as Puerto Rico's governor, hours after the island's Supreme Court overturned the swearing in of Pedro Pierluisi as governor. The unanimous ruling said Pierluisi must step aside immediately.
2020
On January 6, a 5.8-magnitude quake hits the island, causing power outages and severaly cracking several homes and structures.
On January 7, a 6.4-magnitude quake hits the island, the strongest in a series of earthquakes over the past week (December 28) and the most powerful to strike the island in 102 years.
Puerto Rico's governor, Wanda Vazquez, declared a state of emergency and activated the national guard.
The quake killed one person and caused an island-wide power outage as well as structural damage to homes, schools, roads and bridges, especially in the southwestern part of the island.
The island is still recovering from the devastation of 2017's Hurricane Maria, which killed about 3,000 people and destroyed a significant amount of infrastructure.
On November 3, in a non-binding referendum of the status of Puerto Rico, which asked Puerto Rican voters the following: "Should Puerto Rico be immediately admitted into the Union as a state?" Voters had the option to answer "Yes" or "No." The option "Yes" obtained the majority of votes, 52.52%.
Other Resources