Golf in Puerto Rico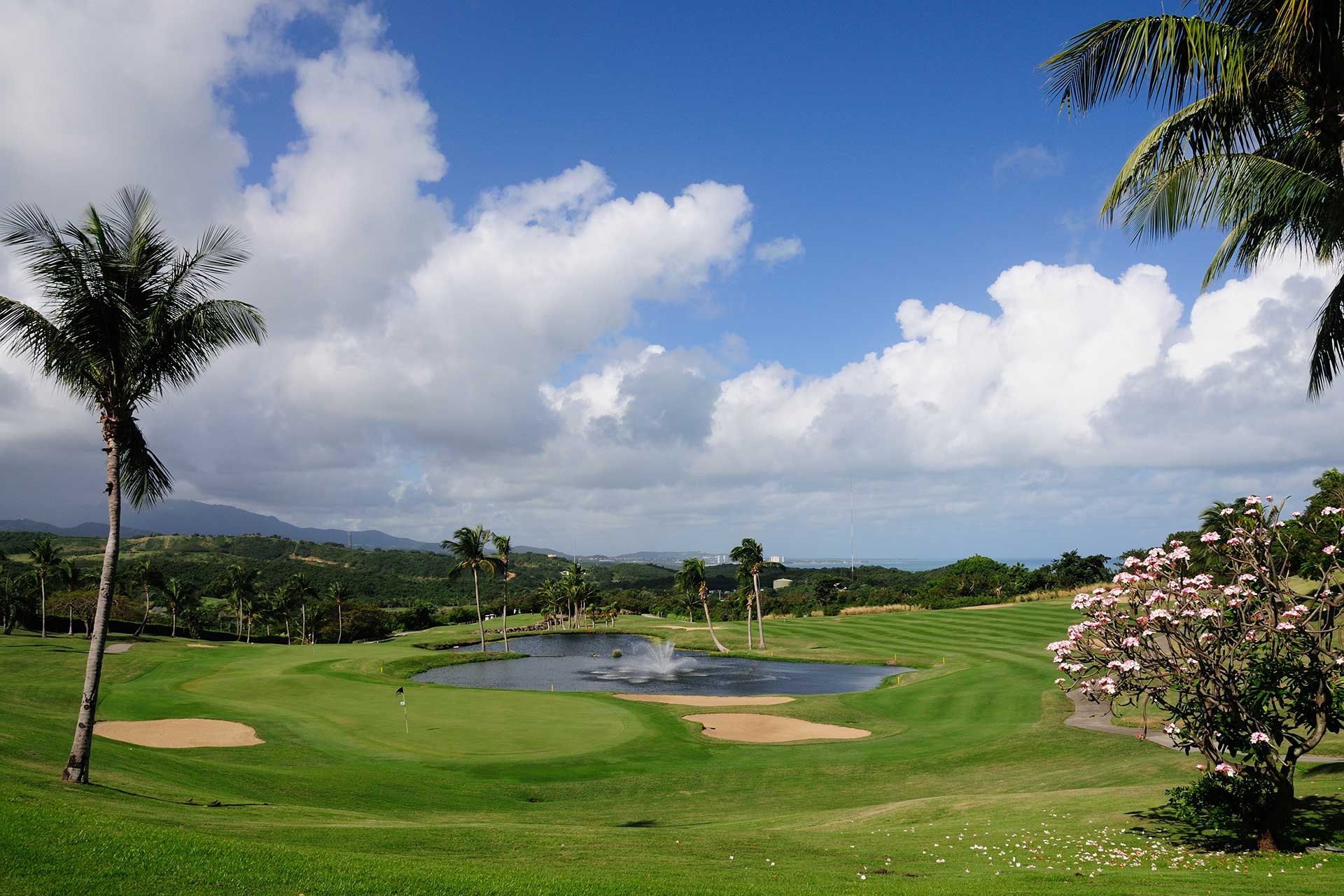 With nearly 30 golf courses, including some of the world's most prestigious tournaments, Puerto Rico is known as the "golf capital," of the Caribbean.
Puerto Rico's year-round warm weather makes our golf season 365 days of tee time. No wonder, Puerto Rico is a popular spot for golf vacations.
Where to Golf in Puerto Rico?
Trump International Golf Club - Championship


100 Clubhouse Drive
Río Grande, Puerto Rico
787-657-2000

Located in Rio Grande, on 1,200 acres of glistening waterfront. This is the only Puerto Rico golf facility that can provide you with 36-holes of golf that allows you to play the mountains, play along the ocean, play among the palms, and play along the lakes.



Dorado Beach Resort & Club


500 Plantation Drive
Dorado, Puerto Rico
787-626-1001




Gran Melia Golf Resort Puerto Rico


200 Coco Beach Blvd
Rio Grande, Puerto Rico
787-809-1770




St. Regis Bahia Beach Resort


Km4.2 Road 187
Rio Grande, Puerto Rico
787-809-8920




Hilton Ponce Golf & Casino Resort


1150 Caribe Ave
Ponce, Puerto Rico
787-259-7676




Caribe Golf


PMB 298
425 Carr. 693, Dorado, PR
787-278-3442




El Conquistador Resort Golf Club


El Conquistador Resort
1000 El Conquistador Ave.
Fajardo, Puerto Rico
787-863-6784

Course designed by Arthur Hills in 1993. It features changes in elevation more than 200 feet with strategic bunkering and water features. Its 15th hole is the one with the most elevation. Ths golf course is managed by Troon, a world's luxury brand of golf only dealing with 4 and 5 stars hotels. Green Fees: $75.00 Cart Fee included. Open daily 6:30am to 7:30pm.



Bahia Beach Plantation Golf Course


Road 187, Km. 4.2
Río Grande, Puerto Rico
Toll Free 1-866-529-3996
1-787-809-8890

Bahia Beach Plantation is the only 18 hole golf course in the San Juan area available for unrestricted play by the general public and tourists. The layout features dramatic views of the neighboring El Yunque Rain Forest, 75 acres of freshwater lakes, 13 water holes, and the final three holes run along one of Puerto Rico's most beautiful beaches.
Open 7 days a week from 7am to 7pm. Admission $35-75.




Berwind Country Club


Road 187 Km 4.7
Río Grande, PR 00745
787-876-3056

Course designed by Bob Holoman in 1960 (7,011 yd). Members only Lunch & Bar facilities with air conditioning. Green Fees: 9 or 18 holes guest $35.00, occasional $50.00 cart fees included. Open daily 6:30am to 7:30pm.




Coamo Spring Golf & Tennis Club


Road 546 KM 1
Coamo, Puerto Rico 00769
787-825-1370

Get your driver out and get ready to play an exciting round of golf in a course that you will soon discover, is like no other in our beautiful and sunny Island a favorite vacation spot in the Caribbean! Open Monday - Sunday 7:30am - 3:30pm




Dorado Del Mar Golf Club


Urb. Dorado Del Mar
200 Dorado Del Mar Bvld.
Dorado, PR 00646-2344
787-796-3070

This golf course was designed under the expertise of world renowned Puerto Rican golfer, Chi Chi Rodríguez in 1998. This 18-hole course is located in Dorado, just 20 miles west of San Juan. The course is characterized by its narrow fairways and magnificently shaped greens. It features 4 sets of tees, water on 12 holes and numerous bunkers. The signature hole is #10, a 525-yard, par 5, featuring stunning views of the Atlantic Ocean. The tropical trade winds will test even the best players.At night, the course is lighted up for a night game. Green fees: 9 holes $85 and 18 holes $95.00. Driving range hours: Tuesday-Thursday 6:00am to 9:00pm and Friday-Saturday from 6:00am to 10:00pm.




Ft. Buchanan Golf Club


Building 171
Fort Buchanan
San Juan, Puerto Rico 00934
787-707-3852

Built in 1941. Designed by Military Personnel. Located on a military base in the heart of San Juan. Civilians can play when accompanied by a person from the military. 9-hole Bermuda Grass course with water in play. Carts available. Open daily 6:00am-6:00pm.




Hyatt Regency Cerromar Beach Resort Golf


Route 693
Dorado, Puerto Rico 00646
787-796-8915

This course features 36 holes of championship golf spread over two courses designed by Robert Trent Jones, Sr. back in 1970. Admission $75-110. Open Mon-Sun 7:30am - 5:30pm.




Palmas del Mar Golf Course


Humacao, PR 00792
787-285-2255
787-285-6000

Course designed by Gary Player for the Palmas del Mar Resort, the Palmas course features 4 par-5 holes. Green Fees: low season $64.00 - $76.00 weekends & holidays. Weekdays guest $80.00 - $96.00, cart fees included. Course designed by Pete Dye around 1940. Green Fees: $18 weekdays and $20.00 weekends. Open Mon-Sun 7:00am - 5:00pm.




Punta Borinquen Golf Course


Golf Road,Ramey Base
Aguadilla, PR 00603
787-890-2987

Built in 1940 for the US Air Force golf aficionados stationed at the former Ramey Base, this course was played by such well-known generals as Dwight D. Eisenhower. Course designed by Pete Dye around 1940. Punta Borinquen is now a public golf course. Green Fees: $31 weekdays, $33 on weekends. Open Mon-Sun 7:00am - 6:00pm.




Rio Mar Country Club


787-888-6000

Designed by George and Tom Fazio, the Ocean Course at Rio Mar Country Club is the elder of the two courses on property and plays only slightly easier than the River Course.




Las Bambuas Golf Course


Road 189 Km. 10.1 Jardin
Gurabo, Puerto Rico 00778
787-712-0018

Las Bambuas Golf Course, a 9-hole golf course, is located at the prestigious Ciudad Jardín Resort & Country Club, this challenging course has all the elements a serious golfer is constantly seeking: a fair amount of bunkers and water hazards and a breathtaking landscape preserved with constant care. Las Bambuas Golf Course is the only course in Puerto Rico that features the Tif Eagle Grass on its greens which makes it a unique golf experience. Open Daily 7:00am-7:00pm.




Costa Caribe Golf and Country Club


1300 Sancho's Ave
Ponce, Puerto Rico 00716
787-812-2650

Designed by Bruce A. Besse, Jr. of Willowbend Golf & Land Design, this spectacular course features the first island green in Puerto Rico. Set on a former sugar cane filed, its physical setting provides breathtaking views of the Caribbean and the Central Mountains coupled with the natural beauty of its 14 man-made lakes and numerous species of birds. Total Holes: 18.