A Day in Old San Juan, Puerto Rico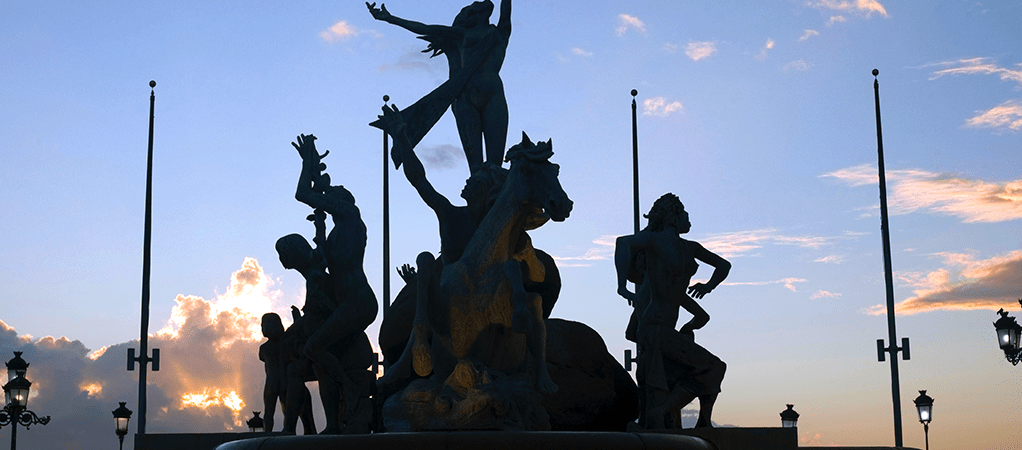 Old San Juan is a 465-year-old neighborhood originally conceived as a military stronghold, it is contained within 7-square-block and includes more than 400 carefully restored 16th- and 17th-century Spanish colonial buildings.
Old San Juan is not a big area and the best way to fully submerge yourself into its culture is walking through its streets. You want to see all the details - the architecture, people, food and street life. Most attractions are within walking distance of each other.
Your first stop should be the Castillo de San Cristóbal, this is El Morro's partner in the city's defense. Built in the 18th century, was considered the Gibraltar of the West Indies. San Cristobal was supported by a massive system of outworks which provided defense in depth and is is one of the largest defenses ever built in the Americas. Guided tours show visitors through the maze Tue, Thu-Fri at 10am, 11am, 2pm and 3pm. Open daily 9am - 5pm. (787) 729-6653
After your visit to San Cristobal continue on Norzagaray Street toward Fort El Morro.
You can't miss the massive Castillo de San Felipe del Morro ("El Morro") across the old city. This six-level fortress rises 140 feet above the sea with its massive 18-foot-thick wall proved a formidable defense.
El Morro is a National Historic Site administered by the National Park Service. The fort is open to the public everyday from 9am to 6pm (except on Thanksgiving, Christmas and New Years). Admissions US$3 adults, children under free, (787) 729-6960.
After you complete your tour of the fort, walk across the street and continue into the Plaza de Ballaja, this building housed Spanish soldiers and their families in the late 1800s, and later was the quarters for American soldiers following the Spanish-American War. Open Mon-Fri 10am - 4pm, Sat-Sun 11am - 5pm, guided tours available weekdays 10:30am, 11:30am, 12:30pm and 2pm. Admission is free. (787) 724-5052
Now walk to the Plaza de Beneficiencia along San Sebastián Street until you get to Cristo Street. Check out La Catedral de San Juan, El Convento, La Capilla del Cristo and the Parque de las Palomas. Continue on Cristo Street and you will find the San José Plaza, nearby the Casals Museum and the San José Church.
Soon enough you will reach Plaza the Armas where you can seat across the city hall and enjoy the view, this is Old San Juan's main square, on San José Street.
Walk to Plaza Colón then into San Francisco Street, where you can stop for lunch or grab a quick snack. Along the way take your time and browse all the stores and sights.
Do not forget to stroll Paseo de la Princesa, a 19th-century esplanade situated just outside the city walls. Make sure to do this walk during sunset, I guarantee many breathtaking photos.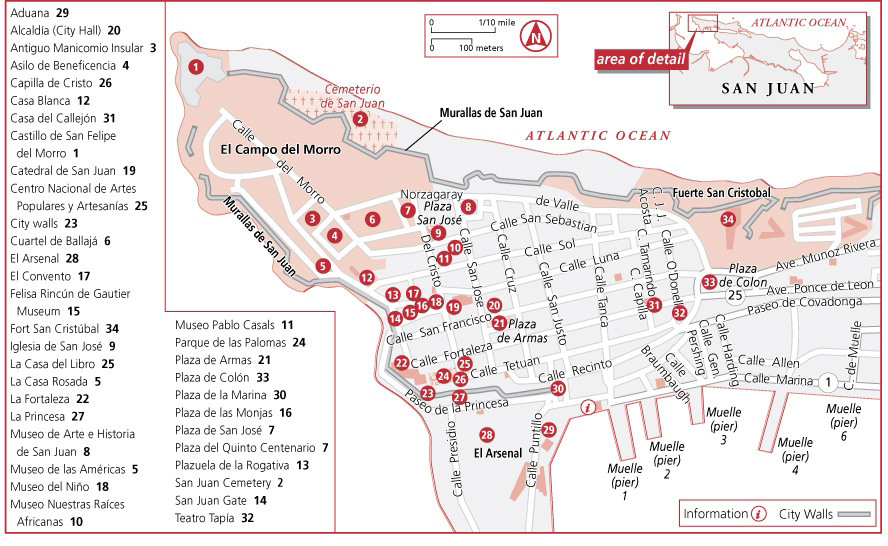 Best Souvenir Bacardi or Don Q rum
Best Cocktail Piña Colada
Best Street Food Coconut water or a piragua
Resources:
Frommer's Puerto Rico, 5th Edition (October 27, 1998)