People
The 3.989 million people that inhabit the island of Puerto Rico make it one of the most densely populated islands in the world. There are about 1,000 people per square mile, a ratio higher than within any of the 50 states in the United States. It is estimated that some 2 million Puerto Ricans have migrated to the United States. Had these people remained in Puerto Rico, the island would be so densely populated that there would be virtually no room for people to live. Because of the massive migration to the mainland, more Puerto Ricans are said to live in New York City than in San Juan. In recent years, many Puerto Ricans have returned to their island home, in large part because of inadequate economic opportunity in the United States.
On the island, one-third of the population is concentrated in the San Juan-Carolina-Bayamón metropolitan area.
The people of Puerto Rico represent a cultural and racial mix. When the Spanish forced the Taíno people into slavery, the entire indigenous population was virtually decimated, except for a few Amerindians who escaped into the remote mountains. Eventually they inter-married with the poor Spanish farmers and became known as jíbaros. Because of industrialization and migration to the cities, few jíbaros remain.
Interesting Fact
Puerto Ricans are known for their warm hospitality, often considered very friendly and expressive to strangers. Greetings are often cordial and genuine. When people are first introduced, a handshake is usual, however, close friends and family members always greet you hello or goodbye with a kiss on the cheek or a combination hug and kiss. This happens between female friends and between men and women, but not between male friends.
Puerto Ricans are best known by speaking using lively hand and facial gestures, as hand and body language are important forms of communication.
Besides the slaves imported from Africa (Sudan, Kongo, Senegal, Guinea, Sierra Leona, and the Gold, Ivory, and Grain coasts), other ethnic groups brought to work on the plantations joined the island's racial mix. Fleeing Simón Bolívar's independence movements in South America, Spanish loyalists fled to Puerto Rico - a fiercely conservative Spanish colony during the early 1800s. French families also flocked here from both Louisiana and Haiti. As changing governments or violent revolutions depressed the economies of Scotland and Ireland, many farmers from those countries also journeyed to Puerto Rico in search of a better life.
When the United States acquired the island in 1898, American influence was added to culture.
During the mid-19th century, labor was needed to build roads, initially, Chinese workers were imported for this task, followed by workers from such countries as Italy, France, Germany, and even Lebanon. American expatriates came to the island after 1898. Long after Spain had lost control of Puerto Rico, Spanish immigrants continued to arrive on the island. The most significant new immigrant population arrived in the 1960s, when thousands of Cubans fled from Fidel Castro's Communist state. The latest arrivals to Puerto Rico have come from the economically depressed Dominican Republic.
The new and the old merged, where two worlds and many culture fused, creating an island of sharp contrasts. Today, this mix of culture can be perceived in the island's architecture, which mixes Spanish colonial with ultra-modern, shown on the abundance of North American-style malls and fast-food restaurants that compete with small, family-run stores and restaurants.
Interesting Facts
Criollo (creole) is a word used today by Puerto Ricans to describe things native to the island, such as: music, cuisine, language, arts, people, religion, and other aspects of the island culture.
It is known that Puerto Rican descendants call themselves Puerto Ricans. "I am Puerto Rican, but I wasn't born there."
The term "Nuyorican" is used to identify New Yorkers born in Puerto Rico or of Puerto Rican descent who live in or near New York City. The word Nuyorican derives from a combination of the words "New York" and "Puerto Rican."
Nationality: Noun Puerto Rican(s). Adjective Puerto Rican.
Puerto Rico is a territory (Commonwealth) of the United States of America and Puerto Ricans have common citizenship, currency and defense. Although Puerto Ricans are U.S. citizens, residents of Puerto Rico pay no federal income tax, nor can they vote in presidential elections. As citizens, Puerto Ricans do not require a work visa (also known as green cards) to live and/or work in the United States. Over 2 million Puerto Ricans live in the United States, primarily in the northeast.
Puerto Ricans consider themselves American but are fiercely proud of their island and their culture. They don't usually call themselves Americans or "Americanos", but "Puertorriqueños" or "Boricuas." To most Puerto Ricans, "my country" means "Puerto Rico", not the United States.
Population: 3,674,209 (July 2013 est.)
3,725,789 (2010 U.S. Census) Summary: 1980 to 2006 (PDF) (projections) (PDF)
Population Density: 1,163 density per sq mi/449 persons per sq km (2009 est.)
Puerto Rico's population density is among the world's highest - only Bangladesh, The Maldives, Barbados, Taiwan, South Korea and the city-states of Hong Kong and Singapore are more crowded.
Population Split: Urban 71%; Rural 29%
Interesting Fact
The population is 3.8 million, although about another 2 million Puerto Ricans live in the USA.

The Census Bureau publishes estimates of total population and demographic components of change (births, deaths, and migration) for the Commonwealth of Puerto Rico and its 78 municipios (municipalities). A municipio is the government unit that is the primary legal subdivision of Puerto Rico; the Census Bureau treats the municipio as the statistical equivalent of a county.
Population Growth Rate: -0.47% (2013 est.)
Population Projection: 4,438,000 (for 2010).
Population Doubling Time: 88 years (2002)
Primary Ethnicity: Hispanic
Ethnic Composition:
white (mostly Spanish origin) 76.2%, black 6.9%, Asian 0.3%, Amerindian 0.2%, mixed 4.4%, other 12% (2007)
The racial composition of Puerto Rico's population has not changed significantly. The first census by the United States in 1899 reported a population of 953,243 inhabitants, 61.8% of them classified as white, 31.9% as mixed, and 6.3% as black.
Total Urban Population: 2,664,000
Migration:
According to the 1990 Census of Population and Housing, 2.7 million Puerto Ricans reside in the U.S., of which approximately one half are second and third generation, having been born in the mainland.
Net Migration Rate: -7.73 migrant(s)/1,000 population (2013 est.)
Urbanization:
urban population: 99% of total population (2010) rate of urbanization: 0.5% annual rate of change (2010-15 est.)
Birth Rate: 11.28 births/1,000 population (2013 est.)
Death Rate: 8.23 deaths/1,000 population (2013 est.)
Major causes of death per 100,000 population: (1993)

142.6 heart and cardiovascular disease
95.4 cancers
55.1 diabetes
38.0 cerebrovascular disease
29.2 pneumonia and influenza
Age Structure:

0-14 years: 18.4% (male 346,794/female 330,221)
15-24 years: 14.6% (male 272,689/female 264,761)
25-54 years: 38.6% (male 675,854/female 743,449)
55-64 years: 11.9% (male 198,952/female 239,538)
65 years and over: 16.4% (male 261,345/female 340,606) (2013 est.)
Median Age:

total: 38.2 years
male: 36.4 years
female: 40 years (2013 est.)
Sex Ratio:

at birth: 1.06 male(s)/female
0-14 years: 1.05 male(s)/female
15-24 years: 1.03 male(s)/female
25-54 years: 0.91 male(s)/female
55-64 years: 0.83 male(s)/female
65 years and over: 0.77 male(s)/female
total population: 0.92 male(s)/female (2013 est.)
Marriage Rate: 9.2 per 1000 persons
Divorce Rate: 4.47 per 1000 persons (2004)
Contraceptive Use: 78% of married women (2002)
Maternal Mortality Rate: 20 deaths/100,000 live births (2010)
Infant Mortality Rate:

total: 8 deaths/1,000 live births
male: 8.82 deaths/1,000 live births
female: 7.14 deaths/1,000 live births (2013 est.)
Life Expectancy at Birth:

total population: 79.07 years
male: 75.56 years
female: 82.79 years (2013 est.)
Total Fertility Rate: 1.64 children born/woman (2013 est.)
HIV/AIDS - people living with HIV/AIDS: 7,397 (1997)
Family Average Size: 3.5 people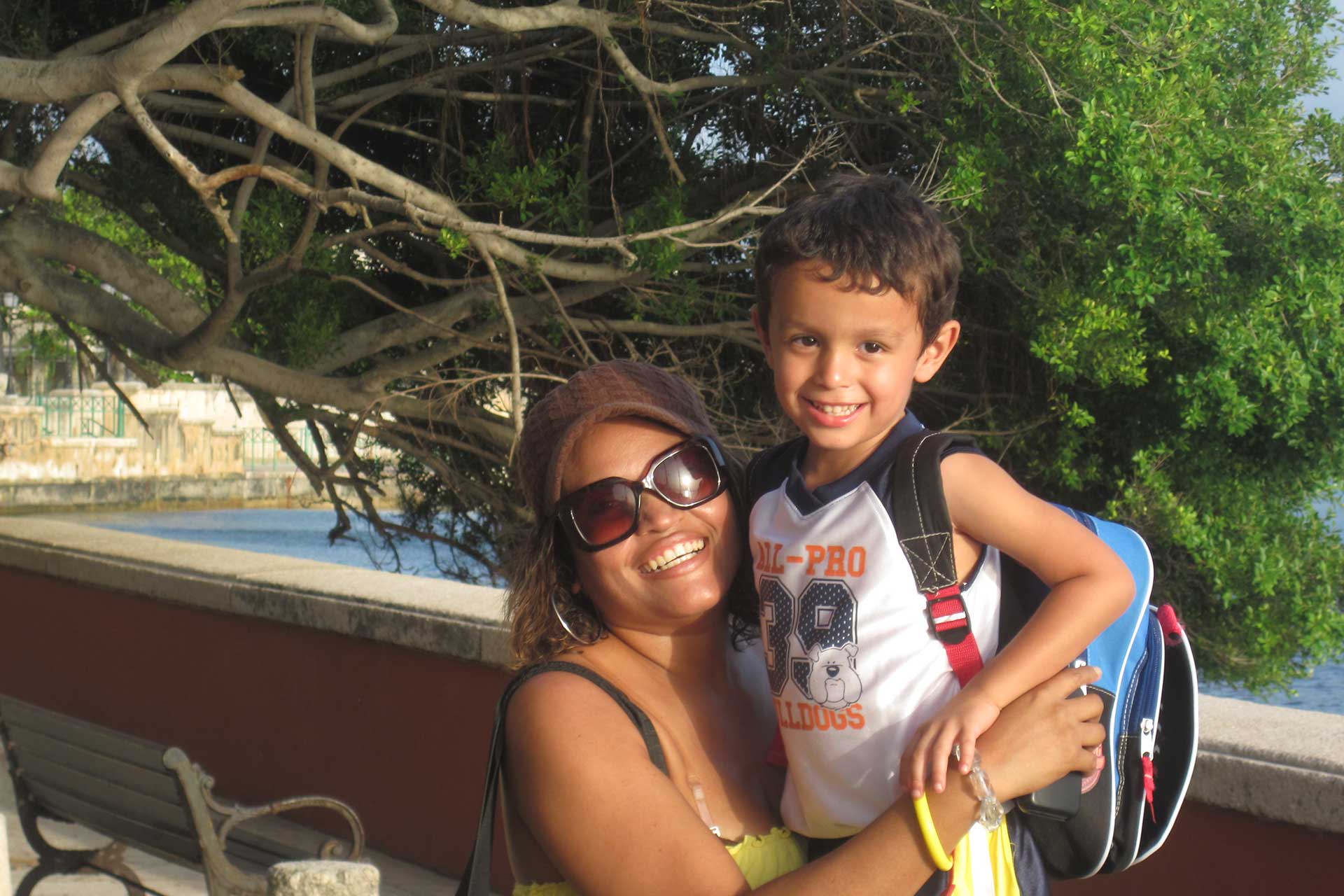 Education:
During the first three hundred years of Spanish rule education in the Island was limited to the teaching of Christian doctrine, arts, and grammar. The first text book published in the island was the "Catecismo de Doctrina Cristiana", which appeared during the 1850's written by Bishop Gil Esteve. Classes were held only in main cities (San Juan, Arecibo, San German and Coamo). Almost the entire population was illiterate. During the revolutionary period (1800-1840), the Spanish Government imposed a rigorous censorship on the colonies. Books were rare, importation was opposed by the authorities, who believed them to be instruments of sedition. This fact explains why, prior to 1840, there was very little printed matter in the Island.
After the American occupation in 1898 education was entirely provided in English with Spanish treated as a special subject. In 1915, under Commissioner of Education Dr. Paul G. Miller direction the method of teaching was changed, establishing Spanish as the medium of instruction in the four lower grades, English in the three higher grades, and both English and Spanish for the middle grades. This method was used until November 1934, when Commissioner José Padín ordered that instruction be given in Spanish in all elementary grades with English taught as a special subject from the first grade.
With the appointment of Dr. José M. Gallardo as Commissioner of Education in June 1937, a new school program was adopted with special stress placed on the teaching of English in accordance with the views of President Roosevelt, expressed in a letter addressed to Dr. Gallardo shortly after his appointment: "It is an indispensable part of American policy that the coming generation of American citizens in Puerto Rico grow up with complete facility in the English tongue. It is the language of our nation. Only through the acquisition of this language will Puerto Rican Americans secure a better understanding of American ideals and principles." Instruction is given in Spanish in the first two grades, with English as a subject; in the third and fourth grades the ratio is two-thirds Spanish and one-third English; in the fifth and sixth grades, half Spanish and half English; while in the seventh and eighth grades, the division is one-third Spanish and two-thirds English.
Today, education is a matter of high priority for Puerto Rico, it is evident in the island's overall literacy rate of 90 percent and its budget for education, approximately 40 percent. Education is obligatory between 6 to 17 years old. Primary school consists of six grades; the secondary levels is divided into 2 cycles of 3 years each. The school term in public schools starts in August through mid-December and January through late May. As of 2012, there are 1,319 public schools and another 500 private schools throughout the island.
The school system is administered by the Department of Education and has several levels of learning. The language used in the schools is Spanish, however, English is taught from kindergarten to high school as part of the school curriculum. Some private schools provide English programs where all classes are conducted in English except for the Spanish class.
Puerto Rico has more than 50 institutions of higher education, including universities, colleges, community colleges and technical institutes. Puerto Rico has achieved one of the highest college education rates in the world (6th) with 56% of its college-age students attending institutions of higher learning, according to World Bank data.
Registered Students by Education Levels: (1998-99 academic year)

Elementary ........ 350,714
Secondary ........ 144,157
High School ........ 114,684
University ........ 168,000 (estimate)
Registered Students by School Groups: (1999-2000 academic year)

Public Schools ....... 612,793
Private Schools ....... 149,000
Schools: 1,532 public schools, 569 private schools and 44 universities. (1999)
Literacy Rate:

definition: age 15 and over can read and write
total population: 94.1%
male: 93.9%
female: 94.4% (2011 est.)
Unemployment, youth ages 15-24:

total: 29.9%
male: 33.3%
female: 24.5% (2011)
Religion:
The Constitution guarantees freedom for all faiths. The major religions are: Catholic (85%), Protestants (8%), non religious (2.3%), and others (3%).
Churches of many denominations can be found throughout the island.
Some islanders ascribe to spiritualism (espiritismo), and others practice Santeria, an Afro-Caribbean belief system brought to Puerto Rico from Cuba. There is also a small Jewish community.
Definitions
Hispanic - relating to, or being a person of Latin American descent; especially: Cuban, Mexican, Puerto Rican, South or Central American, or other Spanish culture or origin, regardless of race.
Latin - relating to the peoples or countries using Romance languages; specifically: of or relating to the peoples or countries of Latin America.
Other Resources