Yauco
('yau-"ko)
Yauco is known as "El Pueblo del Café" (coffee city). Yauco was founded in February 29, 1756 by Fernando Pacheco. Yauco derives its name from a name given by the Indians to a river close by, Coayuco River.
Yauco is located in the southern coast of the island, south of Maricao, Lares and Adjuntas; east of Sabana Grande and Guánica; and west of Guayanilla.
The surrounding areas produces sugar, coffee, tobacco, cotton and oranges. Yauco also produces textiles and other light manufactures.
There are many well-known "yaucanos", among them: Amaury Veray Torregrosa, José Enamorado Cuesta, Franciso Lluch Mora, Loaiza Cordero, Amelia Agostini, Carmelo Filardi, and Franciso Mattei.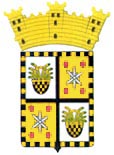 Land Area:
177 sq km (68.3 sq mi)
Water Area:
0.62 sq mi
Population:
45,579
Density:
261.3 per sq km (679.1 per sq mi)
Housing Units:
17,062
Housing Density:
250.4
Per Capita Income:
$6,434
Source: 2000 Census
Hymn:
Pueblo de gestas gloriosas...
Wards:
Aguas Blancas, Algarrobo, Almácigo Alto, Almácigo Bajo, Barina, Caimito, Collores, Diego Hernández, Duey, Frailes, Jácana, Naranjo, Pueblo, Quebradas, Ranchera, Río Prieto, Rubias, Sierra Alta, Susúa Alta, Susúa Baja and Vegas.
Driving Distance:
95.7 miles *
Driving Time:
2 hours, 14 minutes *
Festivals and Events
Festival Nacional del Cafe - February
Yauco celebrates "la toma de cafe" every year. The festival takes place in the plaza town (Plaza Fernando de Pacheco) and features folkloric music, crafts displays, typical cuisine and demonstrations of coffee preparations. The delicious aroma of coffee fills the air and visitors are able to taste some of the area's finest blends. (787) 856-1345
Fiestas Patronales de Nuestra Virgen del Rosario - October
Every year, Yauco celebrates a patron saint festival. The festivities include dances, food, parades and religious processions. (787) 856-1340
Puerto Rican Race Festival - November
Quick Links
* The distance was calculated from San Juan.