Vieques
(vee-AI-kais)

Vieques is known as "La Isla Nena" (little girl island) and "Isabel Segunda" (Isabel II). Vieques was founded in 1843 by Francisco Saínz.
It's 21 miles (34 km) long and 3 miles (5 km) wide, and it is 52 square miles (135 square km) in area. It was annexed to Puerto Rico in 1854. Vieques derives its name from the Taino Indian word for small island (bieques).
Beach of Esperanza (Photo: Mark Collins)
The island is located between Puerto Rico and St. Thomas (USVI), and is separated from the southeast coast of Puerto Rico by approximately 8 miles of sea, although if you are taking a ferry from Fajardo the distance will be 18 miles. Numerous other small cays (islets) lie offshore of Vieques.
Beauty and history merge on this 21 by 4 mile island. Arawak Indians once lived here and it was an infamous heaven for pirates during the 17th century. Various European powers fought for control of Vieques. The Punta Mulas Lighthouse also known as Morropó was built in 1893. This old lighthouse still protects the port, boasts a reflector imported from Paris in 1895, which extends a beam that can be seen from as far as 16 miles.
Snorkeling is excellent, especially at Blue Beach. The island is also the home of phosphorescent Mosquito Bay. This rare and remarkable phenomenon is caused by millions of luminescent dinoflagellates lighthing up when disturbed by movement. The dinoflagellates, a tiny form of marine life, have characteristics of both plants and animals, their size range from about 5 to 2,000 micrometres (0.0002 to 0.08 inch). Trips leave every night from the bar at Casa Del Frances (Island Adventures, Inc., (787) 741-0717 or (787) 741-3751).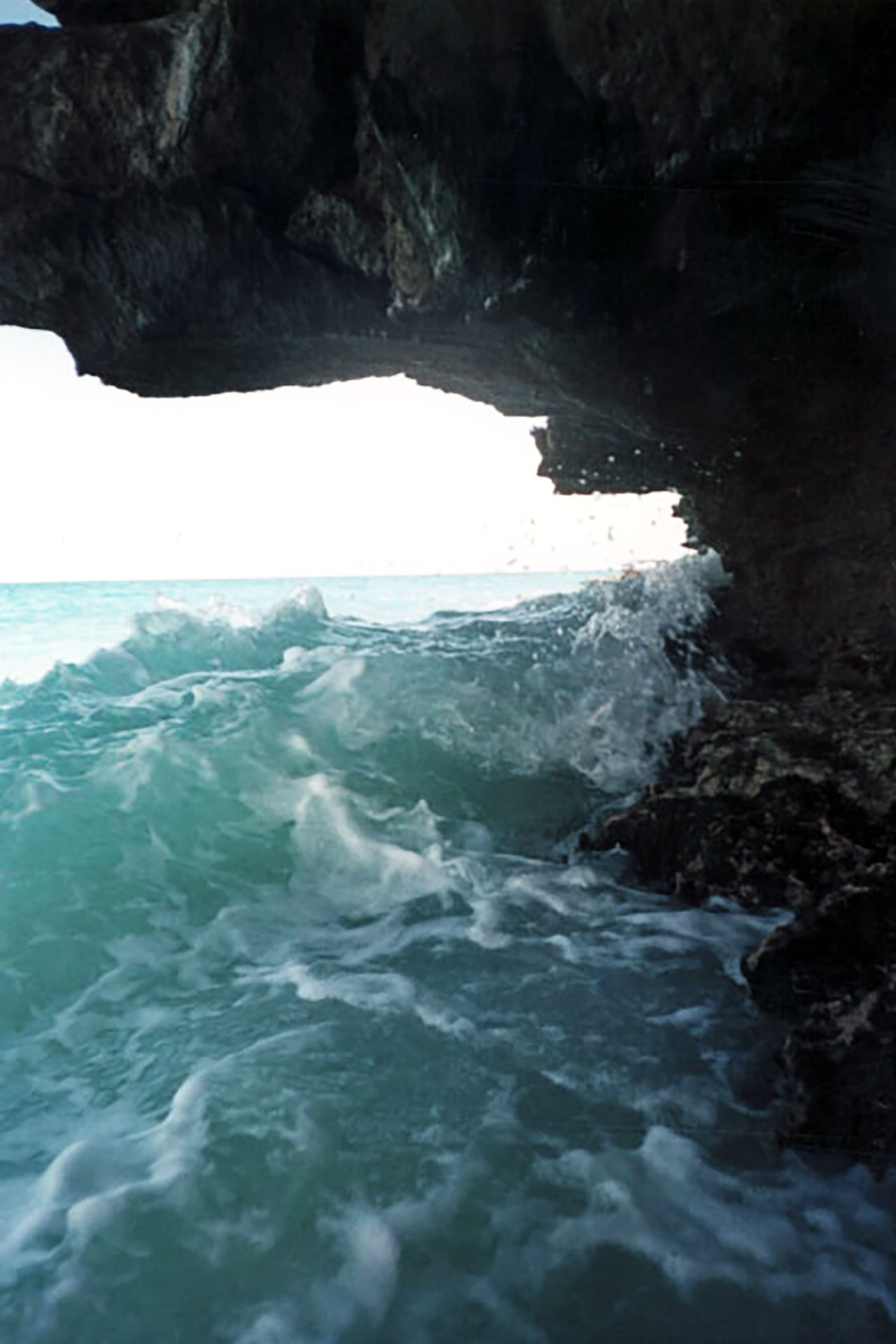 Vieques Wave (Photo: Paul Olivelli)
After pressure from the people of Vieques, the U.S. Navy left the island of Vieques in Puerto Rico on May, 2003, after more than 60 years of use as a testing ground. The U.S. Navy came to Vieques in 1941, taking jurisdiction of about 70% (27,000 of the island's 33,000 acres) of Vieques, which it was used as a training area (target practice with live ammunition and war games). As a result, Vieques has inherited a legacy of toxic pollution. In May of 1999, the U.S. Navy admitted that it had tested radioactive depleted uranium shells in the island. Many in the island blame the high cancer rate (26 percent over Puerto Rico's average) on the Navy's pollution.
Isabel Segunda port, holds the distinction of being the last fort built by the Spaniards in the New World.
There is an excellent historical museum at the beautifully restored fort, El Fortin Conde de Mirasol, located in Isabel Segunda. This fort holds the distinction of being the last fort constructed during the Spanish Empire in the New World, over time also served as a jail. After it's careful restoration in 1991 by the Institute of Puerto Rican Culture, the fort serves as the island's main museum, housing the Vieques Museum of Art and History and the Vieques Historic Archives. The museum contains the Vieques Historic Archives, which includes thousands of documents and other materials related to Vieques' history. Open Wed-Sun 10am - 4pm, weekdays by appointment, free admission (donations are encouraged), (787) 741-1717.
To get to the island, you can either take a small plane from San Juan International Airport (20-30 minute flight), or a ferry boat from Fajardo (75-90 minute ferry ride), available four times a day. Fees US$4 round trip, US$2 one way, (787) 801-0251. You can also get a flight from St. Croix or St. Thomas (St. Thomas - Fajardo - Vieques).
For information about Air Travel Schedules contact Isla Nena Air Service Inc. at 1-888-263-6213, (787) 741-6362 or (787) 741-1577, Vieques Air Link at (787) 722-3736, (787) 723-9882 or (787) 863-3020, and Air St. Thomas 1-800-522-3084. For information about Ferry Schedules contact the Port Authority Marine Transportation at (787) 741-4761 or (787) 863-0705 ext. 476.
Get around St. Thomas or enjoy an island tour, make sure to contact JR or "Road Runner" for a delightful and knowledgeable tour to the island. JR offers island tours and taxi services, he is friendly and very reliable (340-690-8839).
Accommodations on Vieques are comfortable and readily available. Camping is permitted at Sun Bay with a free permit. Cars are available for rent through most hotels. Its reefs are popular with sport divers and several Puerto Rico dive operators schedule trips here.
The island produces sugar cane (principal crop), coconuts, grains, sweet potatoes, avocados, bananas, and papayas.
There are many well-known "viequenses", among them: Jaime Benítez.
Vieques is made up of 8 barrios (wards/districts):
Isabel Segunda
Florida
Puerto Diablo
Puerto Ferro
Puerto Real
Llave
Mosquito
Punto Arenas
Things to See and Do In Vieques
Want to know what to see and do in Vieques? Discover few ideas for exploring and enjoying the city.
Festivals and Events
Festival Cultural - April

Fiestas Patronales de Nuestra Sra. del Carmen - July
Every year, Vieques celebrates a patron saint festival. The festivities include dances, food, parades and religious processions.
Festival de la Arepa - November

Symbols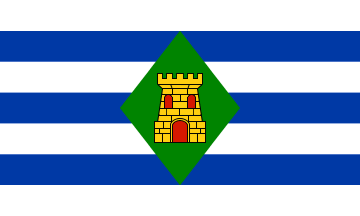 Education
There are 10 public schools in Vieques, education is handled by the Puerto Rico Department of Education.
Climate
Demographics *
9,301
Population
9,241 (July 2013 est.)
Land Area: 50.77 sq mi
Density: 183.2 per sq mi
Median Age: 40
Economics *
$7,235
Per capita income (2013)
Puerto Rico: $11,068
Median household income: $17,355
Puerto Rico: $19,624
Persons below poverty line: 43.20 %
Housing, families and educational attainment *
3,666
Number of households
Housing units density: 109.1
Persons per household: 3.17
High school grad or higher: 61.8%
* U.S. Census Bureau 2010 data unless otherwise noted.
Map References
Coordinates: 18.1167° N, 65.4167° W
Zip Code: 00765
Driving Distance from San Juan: 29.1 miles
Driving Time: 52 minutes to Fajardo, take a Ferry
Books
Other Resources