Vega Baja
(VAI-gah BAH-hah)

Vega Baja is known as "La Ciudad del Melao Melao" (syrup city). Vega Baja was founded in October 3, 1776 by Antonio Viera, with the name of "Vega-baxa del Naranjal de Nuestra Señora del Rosario".
Vega Baja is located in northern coast, north of Morovis; east of Manatí; and west of Vega Alta.
There are many well-known "vegabajeños", among them: Rafael Balseiro Dávila.

Land Area:
122 sq km (46.7 sq mi)
Water Area:
22.28 sq mi
Population:
63,355
Density:
510.1 per sq km (1,326.1 per sq mi)
Housing Units:
21,990
Housing Density:
479.2
Per Capita Income:
$7,279
Source: 2000 Census
Hymn:
Más dulce que la miel es tu recuerdo...
Wards:
Algarrobo, Almirante Norte, Almirante Sur, Cabo Caribe, Ceiba, Cibuco, Pueblo, Puerto Nuevo, Pugnado Adentro, Pugnado Afuera, Quebrada Arenas, Río Abajo, Río Arriba and Yeguada.
Driving Distance:
30.9 miles *
Driving Time:
49 minutes *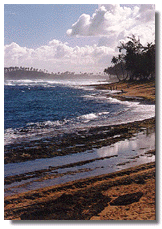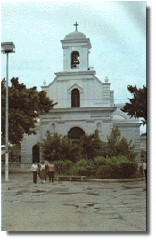 Festivals and Events
Feria Socio-Cultural - May
Festival Navideno - December
Fiestas Patronales de Nuestra Virgen del Rosario - October
Every year, Vega Baja celebrates a patron saint festival. The festivities include dances, food, parades and religious processions. (787) 855-2500
Maraton Melao Melao - October
Quick Links
* The distance was calculated from San Juan.