(ke-brah-DEE-yahs)
Quebradillas is known as "La Guarida del Pirata" (the pirate's hideout) and "La Ciudad del Cooperativismo" (the cooperativism city). The town was founded in 1823 by Felipe Ruiz. This town derives its name from the large amount of streams that run through the town. The name literally means "small streams".
Quebradillas is bordering the Atlantic Ocean, north of San Sebastiánl; east of Isabela; and west of Camuy.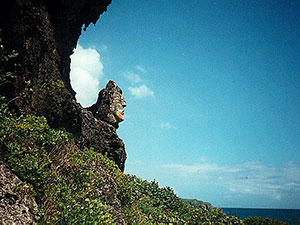 Quebradillas is home of one of the 20 designated forest reserves in Puerto Rico. The Guajataca State Forest, an example of Puerto Rico's more unusual topography. Karst country as it is known, is characterized by haystack-shaped hills and sinkholes. Over 40 walking trails, 25 miles of maintained footpaths through the karst region. Take expressway 52 and Route 2 to the road 446 exit between Quebradillas and Isabela (787) 890-4050; (787) 890-2050.
Northwest of Quebradillas lies beautiful Guajataca Beach, with its white sands, wild and deep waters. Perfect for sunning and collecting shells. You can also visit "Lago Guajataca" (Guajataca Lake), another beautifull spot and a lovely place for hiking. This man-made lake (2.5 mi/4 km long) was completed in 1929 by the Puerto Rico Electric Authority. Built primarily as a water reservoir, the lake was created by damming the River Guajataca.
There are many well-known "quebradillanos", among them: basketball player Raymond Dalmau.

Land Area:
60 sq km (23.0 sq mi)
Water Area:
11.66 sq mi
Population:
25,338
Density:
424.1 per sq km (1,106.5 per sq mi)
Housing Units:
9,095
Housing Density:
401.5
Per Capita Income:
$6,209
Source: 2000 Census
Hymn:
De lejos canto, porque anhela el corazón...
Wards:
Cacao, Charcas, Cocos, Guajataca, Pueblo, San Antonio, San José and Terranova.
Driving Distance:
70.1 miles *
Driving Time:
1 hour, 40 minutes *
Festivals and Events
Carnaval del Guajataca - February
Festival de Chiringas - February
Fiestas Patronales de San Rafael Arcangel - October

Every year, Quebradillas celebrates a patron saint festival, San Rafael Arcangel. The festivities include dances, food, parades and religious processions. (787) 895-3088
Velorio de Reyes - January
Quick Links
* The distance was calculated from San Juan.