(nah-GWAH-bo)
Naguabo is known as "El Pueblo de los Enchumbaos" (the town of the soaked ones). Naguabo was founded in July 15, 1821. Derives its name from a local Indian Chief Naguabo.
Naguabo is located in the east coast of the island, north of Humacao; south of Río Grande and Ceiba; and east of Las Piedras.
There are many well-known "naguabeños", among them: Pedro C. Timohee, Orlando Rodríguez Cabreras, Arturo Gallardo Woods, former first lady Inés María Mendoza, composer Pedro Flores, comedian Ramon del Rivero "Diplo", singer Carmen Delia Dipini, and Tito Henriquez.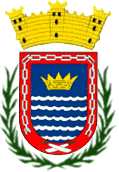 Land Area:
134 sq km (51.7 sq mi)
Water Area:
20.57 sq mi
Population:
24,803
Density:
175.6 per sq km (456.7 per sq mi)
Housing Units:
8,875
Housing Density:
171.7
Per Capita Income:
$6,960
Source: 2000 Census
Hymn:
Hacia el este de las Islas Antillanas...
Coordinates:
Latitude 18° 00' 00" N Longitude 65°00'00" W
Barrios (Districts/Wards):
Cubuy, Daguao, Duque, Húcares, Santiago y Lima, Maizales, Mariana, Peña Pobre, Pueblo, and Río Blanco.
Driving Distance:
34.9 miles *
Driving Time:
1 hour, 19 minutes *
Festivals and Events
Festival de Diplo - June
Festival del Chapin - June
Fiestas del Carmen - July
Fiestas Patronales de Nuestra Virgen del Rosario - October
Every year, Naguabo celebrates a patron saint festival. The festivities include dances, food, parades and religious processions. (787) 874-3040
Semana de Pedro Flores - March
Quick Links
* The distance was calculated from San Juan.
"-->