(mou-NAH-bo)
Maunabo is known as "La Ciudad Tranquila" or "La Ciudad de los Jueyeros". Maunabo was founded in 1799. Maunabo derives its name from an Taino Indian river name "Manatabón".
The Maunabo Lighthouse located on Punta Tuna, was built by the Spaniards in 1892.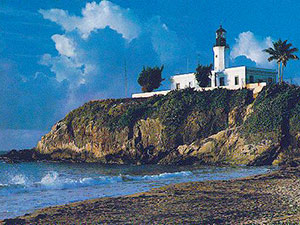 Maunabo is located in the southeastern coast, northeast of Patillas and south of Yabucoa. The annual precipitation is approximately 80 inches and the average temperature is 78ºF.
The surrounding areas produces sugar cane and fruits.
There are many well-known "maunabeños", among them: Rafael Dominguez, Gilberto Martorel, Maria Bodvin, Lios Gugo Suarez, and Jose G. Sugranes.
Land Area:
55 sq km (21.0 sq mi )
Water Area:
17.21 sq mi
Population:
14,425
Density:
235.9 per sq km (606.7 per sq mi)
Housing Units:
4,482
Housing Density:
213.0
Per Capita Income:
$5,400
Source: 2000 Census
Hymn:
Maunabo pueblito del sureste de mi amada patria Borinquén...
Wards:
Calzada, Emajagua, Lizas, Matuyas Alto, Matuyas Bajo, Palo Seco, Pueblo, Quebrada Arenas and Talante.
Driving Distance:
53.3 miles *
Driving Time:
1 hour, 21 minutes *
Quick Links
* The distance was calculated from San Juan.