Maricao
(mah-ree-KOU)
Maricao is known as "El Pueblo de las Indieras" (town of indian settlements). Maricao was founded on April 10, 1874 by Bernardo Collado, Julián Ayala, Francisco M. Sojo Napoleón Pietri and Leoncio S. Martínez.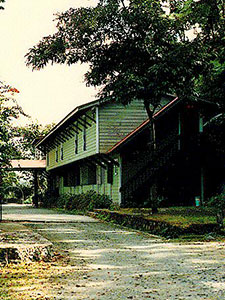 Maricao, at the western edge of the mountains, is a small town set around a small plaza in hilly terrain, north of San Germán;, Sabana Grande and Yauco; south of Las Marias and Lares; southeast of Mayagüez; and west of Adjuntas. The town borders the Maricao Fish Hatchery, a collection of tanks and ponds in a garden setting, where some 25,000 fish are raised yearly to stock farm fishponds and island lakes. The hatchery is part of the Maricao Forest 118, also known as Monte del Estado. Though of dryer vegetation than the other mountain forest, Maricao is home to large number of bird species. Its stone observation tower provides far-flung views to the coast and the Mona Passage.

Land Area:
96 sq km (37.0 sq mi)
Water Area:
0.00 sq mi
Population:
6,282
Density:
67.0 per sq km (174.2 per sq mi)
Housing Units:
2,272
Housing Density:
62.0
Per Capita Income:
$5,224
Source: 2000 Census
Hymn:
Sobre las verdes altura...
Wards:
Bucarabones, Indiera Alta, Indiera Baja, Indiera Fría, Maricao Afuera, Montoso and Pueblo.
Driving Distance:
86.5 miles *
Driving Time:
2 hours, 25 minutes
Festivals and Events
Coffee Harvest Festival - February
Maricao celebrates "la toma de cafe" every year. The festival takes place in the plaza town and features folkloric music, crafts displays, typical cuisine and demonstrations of coffee preparations. (787) 838-2290
Fiestas Patronales de San Juan Bautista - June
Every year, Maricao celebrates a patron saint festival. The festivities include dances, food, parades and religious processions. (787) 838-2290
Quick Links
* The distance was calculated from San Juan.