Maricao
(mah-ree-KOU)

Maricao is known as "El Pueblo de las Indieras" (town of indian settlements). Maricao was founded on April 10, 1874 by Bernardo Collado, Julián Ayala, Francisco M. Sojo Napoleón Pietri and Leoncio S. Martínez.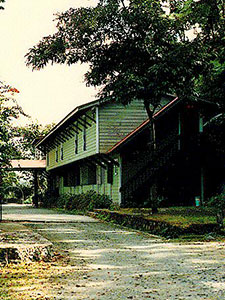 Maricao, at the western edge of the mountains, is a small town set around a small plaza in hilly terrain, north of San Germán;, Sabana Grande and Yauco; south of Las Marias and Lares; southeast of Mayagüez; and west of Adjuntas. The town borders the Maricao Fish Hatchery, a collection of tanks and ponds in a garden setting, where some 25,000 fish are raised yearly to stock farm fishponds and island lakes. The hatchery is part of the Maricao Forest 118, also known as Monte del Estado. Though of dryer vegetation than the other mountain forest, Maricao is home to large number of bird species. Its stone observation tower provides far-flung views to the coast and the Mona Passage.
Maricao is made up of 7 barrios (wards/districts):
Bucarabones
Indiera Alta
Indiera Baja
Indiera Fría
Maricao Afuera
Montoso
Pueblo
Things to See and Do In Maricao
Want to know what to see and do in Maricao? Discover few ideas for exploring and enjoying the city.
Festivals and Events
[an error occurred while processing this directive]
Symbols

Anthem: Sobre las verdes altura...
Education
There are 6 public schools in Maricao, education is handled by the Puerto Rico Department of Education.
Climate