Isabela
Isabela is known as "El Jardín del Noroeste" (garden of the northwest) and "El Pueblo de los Quesitos de Hoja".
In 1725 the first European settlers built a town near the Guajataca River and named it San Antonio de la Tuna. The area was later abandoned until the early 1800's when it was resettled. Isabela was founded on May 21, 1819. and named in honor of Isabel Queen of Spain.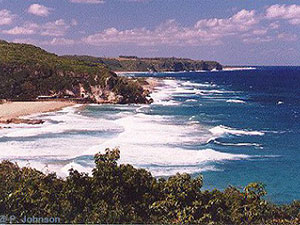 Isabela is located in the north-western region of the island, north of San Sebastián; west of Quebradillas; and east of Aguadilla and Moca. The annual precipitation is around 62.8 inches, and its average temperature is 84.7°F.
Tourism, industry, dairy products, livestock, leather goods and tobacco are the principal economic activities.
There are many well-known "isabelinos", among them: composer Noel Estrada.
Land Area:
146 sq km (56.0 sq mi)
Water Area:
36.58 sq mi
Population:
41,789
Density:
305.2 per sq km (793.6 per sq mi)
Housing Units:
17,166
Housing Density:
310.1
Per Capita Income:
$6,816
Source: 2000 Census
Hymn:
Isabela, permite que me inspire...
Wards:
Arenales Altos, Arenales Bajos, Bajuras, Bejucos, Coto, Galateo Alto, Galateo Bajo, Guayabos, Guerrero, Jobos, Llanadas, Mora, Planas and Pueblo.
Driving Distance:
76.9 miles *
Driving Time:
1 hours, 53 minutes *
Quick Links
* The distance was calculated from San Juan.