Humacao
(oo-mah-KOU)
Humacao is located in the eastern coast of the island, north of Yabucoa; south of Naguabo; east of Las Piedras; and west of Vieques Passage.
Humacao is known as "La Perla del Oriente" (pearl of the orient) and "La Cuidad Gris" (gray city). The city was founded on April, 1722 and became autonomous (town) in 1793. Humacao derives its name from a local Indian chief Jumacao.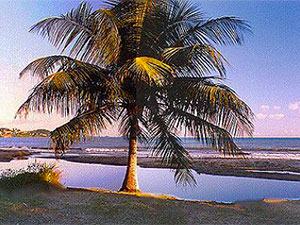 Off shore near (1 km) Humacao is an island inhabited by Rhesus monkeys once used for scientific experiments back in the 1930s. Cayo Santiago (15.2 ha (38 acres) host one of two field stations of the Caribbean Primate Research Center in the island. The small island contains a population of approximately 800 monkeys, which are direct descendants of the original 409 monkeys imported from India and released onto the island in 1938. Research policy strictly limits the number of visitors allowed on the island at any one time, but you can cruise around it and snorkel nearby, observing the monkeys from a distance that is safe for both you and the animals.
Humacao's small airport is served by Vieques Air Link with a daily flight from Vieques.
The annual precipitation is around 98 inches.
| | |
| --- | --- |
| Land Area: | 45.2 sq mi (117 sq km) |
| Water Area: | 10.3 sq mi (26.63 sq km) |
| Population: | 58,466 (2010) |
| Density: | 1,054.3 per sq mi (407.1 per sq km) (2010) |
| Housing Units: | 23,921 (2009 est.) |
| Per Capita Income: | $8,743 (2009 est.) |
| Coordinates: | 18°08'59"N 65°49'39"W |
| ZIP Codes: | 00791, 00792, 00741 |
| Driving Distance: | 30.8 miles * |
| Driving Time: | 1 hours, 2 minutes · Get Directions * |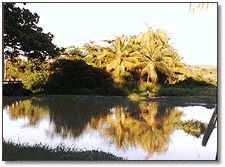 The town has light industry, including textiles, plastic products, and castor-oil extracting. The surrounding area produces coffee, sugarcane, rice, and tobacco.
There are many well-known "humacaeños", among them: Luis Rafael Sánchez, Osiris Delgado, Rita Moreno, Emilio E. Huyke, Felipe Janet, Antonia Saez, Juan Pena Reyes, Federico Acosta Velarde, Jus Luis rivers "Yoyo Boing", Lito Pena, Lucy Fabery, and Luis Somalea Iglesias.
Anthem:
Humacao, hijo de taíno bravío...
Wards:
Antón Ruiz, Buena Vista, Candelero Abajo, Candelero Arriba, Cataño, Collores, Mabú, Manbiche, Mariana, Pueblo, Punta Santiago, Río Abajo and Tejas
Rivers:
Antón Ruíz, Candelero and Humacao
Festivals and Events
Fiestas de Reyes - January
Fiestas de Cruz - March
Festival de Bomba y Plena - April
Festival de la Lancha Planua - June
Festival de la Pana del Barrio Mariana - August
Festival Comunitario de la Iglesia Católica - December
Fiestas Patronales Inmaculada Concepcion de Maria - December
Every year, Humacao celebrates a patron saint festival. The festivities include dances, food, parades and religious processions.
* Distance calculated from San Juan