Trujillo Alto
(troo-HEE-yo AHL-to)
Trujillo Alto is known as "El Pueblo de los Arrecostaos" (laid back town). Trujillo Alto was founded on January 8, 1801 by Alonso de Trujillo.
Located in the Northern Coastal Plain and in the karst zonem, north of Caguas and Gurabo; southeast of San Juan, and west of Carolina.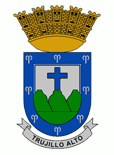 Land Area:
55 sq km (21.0 sq mi)
Water Area:
0.61 sq mi
Population:
76,808
Density:
1,386.9 per sq km (3,606.0 per sq mi)
Housing Units:
26,241
Housing Density:
1,264.8
Per Capita Income:
$10,936
Source: 2000 Census
Hymn:
Duerme mi lindo Trujillo...
Wards:
Carraízo, Cuevas, Dos Bocas, La Gloria, Pueblo, Quebrada Grande and Quebrada Negrito.
Driving Distance:
8.9 miles *
Driving Time:
20 minutes *
Festivals and Events
Feria de Paso Fino - November
Festival del Macabeo - December
Fiestas Patronales de Santa Cruz - September
Every year, Trujillo Alto celebrates a patron saint festival. The festivities include dances, food, parades and religious processions. (787) 755-6565
Quick Links
* The distance was calculated from San Juan.