Loiza
(loo-EE-zah)

Loíza is known as "El Pueblo de la Cacica". Loíza was proclaimed a town officially in 1692 and named in honor of Yuisa or Luisa, one of the women caciques on the island when the Spanish conquerors arrived. It was not until 1719 that the Spanish government declared it as an official town. It was founded by Gaspar de Arredondo.
Settled by Nigerian slaves of the Yoruba tribe in the 16th century, Loíza is a center for African-inspired traditions, retaining one of the highest percentages of African descendants of all island towns. Among those traditions Loíza celebrates the "Fiestas Patronales" where salsa dancing, masquerades, colorful parades and rich Puerto Rican food make this festival a classic. The nine days of this carnival pay homage to Loízas patron saint, St. James.
Loiza Flamboyan (Photo: Alberto DeJesus)
Loíza is a great place to sample the Puerto Rican variety of Afro-Caribbean cuisine.
Its San Patricio Church (begun in 1645) is the oldest on the island still active as a parish church.
Loíza is located in the northeastern coast, north of Canóvanas; east of Carolina; and west of Río Grande.
The surrounding areas produces sugar cane, fruits, and coconuts.
There are many well-known "loiceños", among them: Ramón Suarez and Belen Zequeria de Cuevas.
Loiza is made up of 6 barrios (wards/districts):
Canóvanas
Loíza Pueblo
Medianía Alta
Medianía Baja
Torrecilla Alta
Torrecilla Baja
Things to See and Do In Loiza
Want to know what to see and do in Loiza? Discover few ideas for exploring and enjoying the city.
Festivals and Events
[an error occurred while processing this directive]
Symbols

The flag is tricolor featuring undulating stripes in red, gold and green. A bell tower decorates the red area and symbolizes the Christian tradition.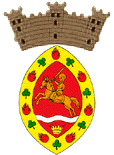 The local patron St. James on his horse is displayed prominently in the coat of arms. The wavy bar symbolizes the Rio Grande de Loiza river. The crown symbolizes the local woman chief Luysa, after which the town is named. The bordure shows some flames, symbolizes the Holy Spirit. The trebols symbolizes the other local patron saint, St. Patrick of Ireland.
Anthem: Loiceños en Acción
Education
There are 10 public schools in Loiza, education is handled by the Puerto Rico Department of Education.
Climate